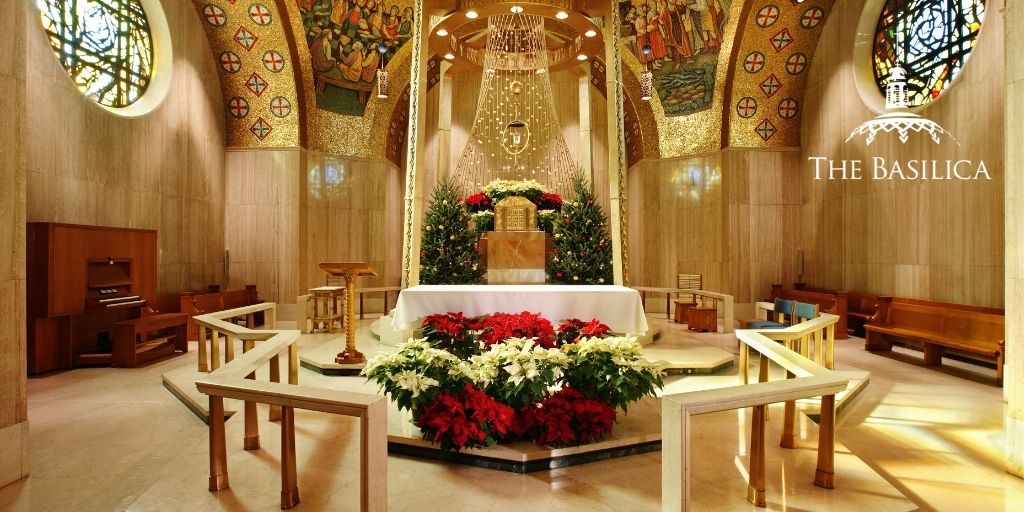 As we approach the season of Advent, we celebrate the hope that we have been given through the birth of Christ! Whether you're looking to count down to Christ's birth with an Advent calendar, or you're purchasing a gift to encourage a friend, the National Shrine Shops can help you bring the joy of Christmas into your home and the homes of your loved ones.
View Part II of the collection. 

Antiqued Nativity Advent Candle Holder
Count down to the Nativity with your very own Advent candleholder. This gilded decoration features the Holy Family, with Mary and Joseph gazing lovingly at the Christ Child beneath the shining star. Five arms hold candles — one for each of the four Sundays of Advent, and a center holder for Christmas Day.
Song of Angels Christmas Cards
Send your loved ones Christmas greetings with these lovely cards depicting the Blessed Mother and the Infant Jesus being serenaded by angels. The text inside reads:
"In His birth we are blessed, in His name we rejoice at Christmas and all through the year."
Each set includes 18 cards and envelopes measuring 6 in. by 8 in.

Mary with Child Christmas Ornaments
Decorate your tree with these sweet ornaments of the Blessed Mother and the Christ Child. Each depicts Mary tenderly embracing the Infant Jesus. Available in three different color schemes to complement your décor. Each ornament is 5 in. tall.
Memorial Cardinal Glass Ornament
Looking for a present for a friend who has recently lost a loved one? Honor their memory with this heartwarming glass cardinal ornament. Cardinals have long been a symbol of both devoted relationships – as they mate for life – and of hope in the darkness, as they weather out winters instead of migrating south. Let this ornament be a picture of the hope that we have of being reunited with our loved ones in eternity.
Divine Mercy Rosary
Handcrafted in Italy, this gold rosary with Bohemian and Murano glass beads features a Baroque-style crucifix with a red enamel Sacred Heart at its center. The centerpiece is a rendering of the Divine Mercy image, with red and blue stones representing the rays of light.
Advent Nativity Candleholder
Designed by illustrator Michael Adams, this resin candleholder depicts the Holy Family with the Magi, an angel, a shepherd, and a sheep. It provides a visual reminder to mark the Sundays of the Advent season as you count down to Christmas!
Little Lamb at the Manger Advent Calendar
This charming storybook calendar is a perfect tool for families with young children to celebrate the season of Advent. Based on Luke's account of the Nativity, the set contains an advent scene with a story excerpt and a window to open each day from December 1-25. The narrative follows Cabrio the lamb as he journeys with Mary and Joseph to Bethlehem.
Swarovski Multi Crystal Rosary Bracelet
Pray the Rosary with this delicate pastel Rosary bracelet. It features Swarovski crystal beads in soft shades of lavender, blue, pink, green, and yellow, as well as a 14k gold-plated Crucifix and Miraculous Medal.
Nativita Christmas Cards
These Christmas cards feature Carlo Maratta's Nativitá, a stunning depiction of the Blessed Mother and the Infant Jesus flanked by cherubim. Inside, the card reads:
"May the blessings of Christ be with you now and throughout the New Year. Merry Christmas!"
Each boxed set includes 18 cards and matching envelopes.
Virgin Mary Pendant Necklace
This gold-tone necklace from the Vatican Library Collection features a relief image of the Virgin Mary in a blue frame set with white crystals. The chain is 18 in. long and closes with a lobster clasp. Pendant measures 1 in. by 0.5 in.