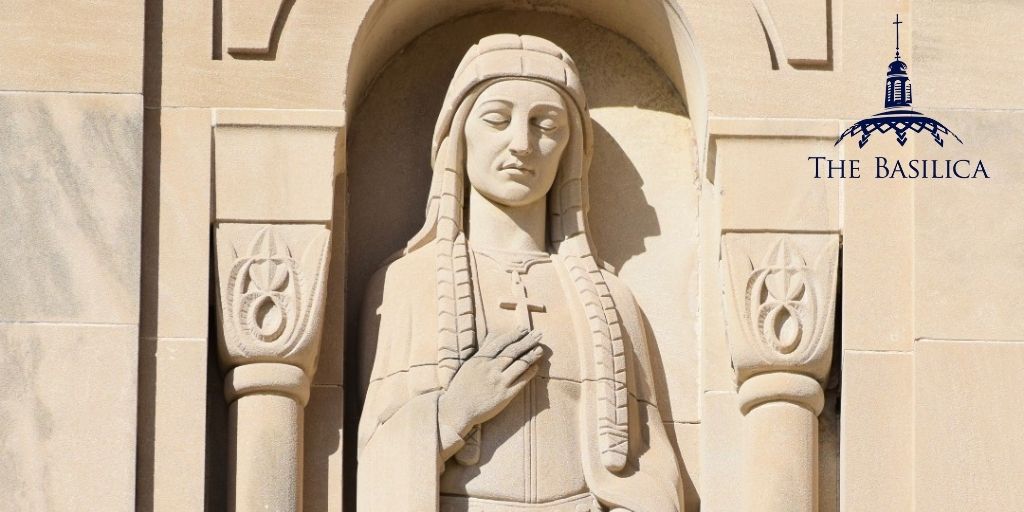 On November 17, we celebrate the Memorial of St. Elizabeth of Hungary. A selfless woman of faith, she dedicated herself to the service of others, even as she served in positions of governmental authority. Today, we invite you to learn more about her life and where you can find her in the Basilica.
Early Life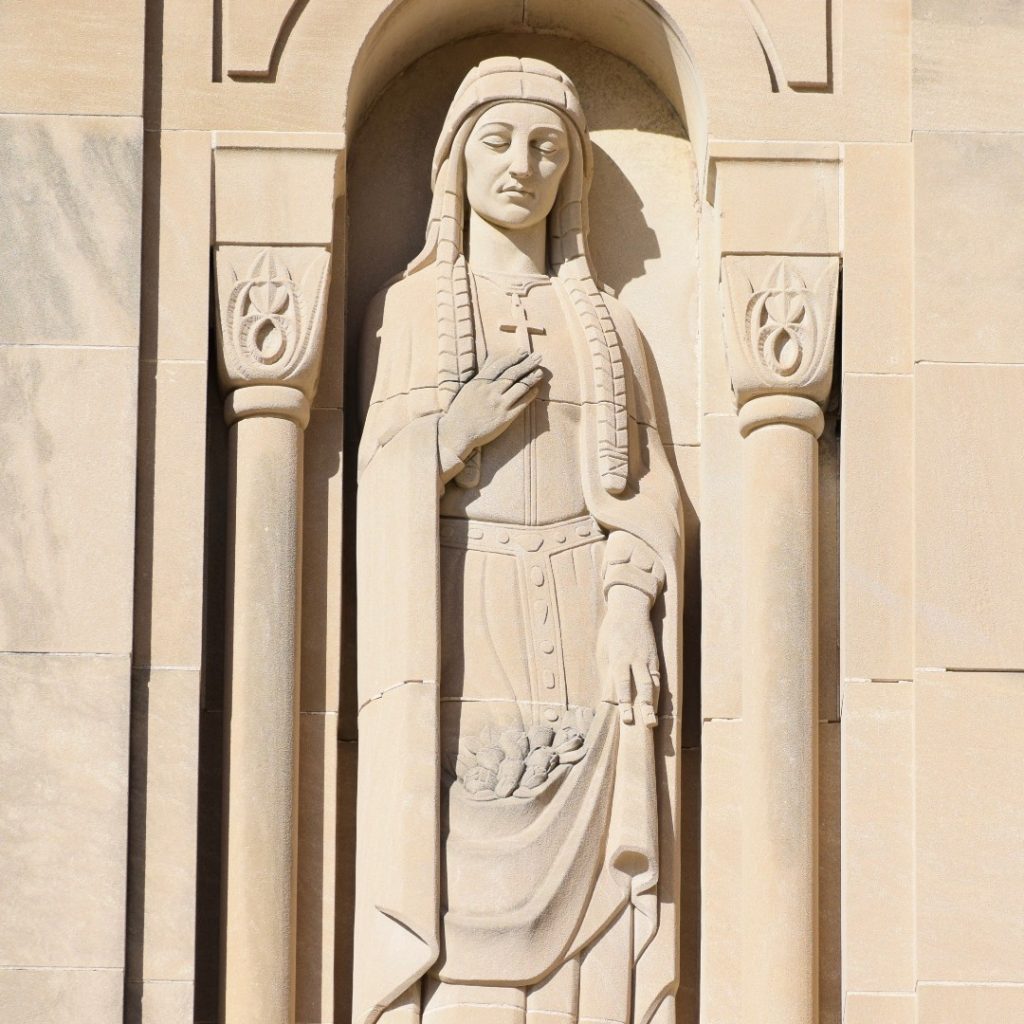 Born in 1207 to Andrew II, King of Hungary, St. Elizabeth lived at the Hungarian court for just four years before being sent to central Germany. There, she lived with Landgrave Hermann at his opulent castle in Thuringia, and became engaged to Hermann's son Ludwig. In order to give more funds to the poor, the couple decided to have modest wedding festivities. They celebrated their union in the castle at the Fortress of Wartburg, where Ludwig trained to be a knight, and Elizabeth studied languages and the arts. Though the engagement had been made for political interests, the couple grew genuinely fond of each other.
When Landgrave Hermann passed away, Ludwig became sovereign of Thuringia at just 18 years old. In their opulent life at court, he and Elizabeth had many servants and comforts – but the extravagance disquieted her. One day, when she was in church on the feast of the Assumption, she removed her crown and placed it in front of the crucifix before falling to the ground in contrition. Overwhelmed by the incongruence between the excesses of the court and the Christian principles she wished to honor, she exclaimed: "How can I, a wretched creature, continue to wear a crown of earthly dignity, when I see my King Jesus Christ crowned with thorns?"
Elizabeth Turns Over a New Leaf
From that day onward, she strived to practice justice and charity in her own living, caring for the sick and the poor, burying the dead, and offering debt relief. She would even leave the castle to personally deliver supplies to those in need. According to tradition, one day while she was carrying bread in her apron on a delivery round, she met her husband along the way. When he asked what she held, she showed him her apron, and the loaves of bread had turned to glorious roses.
Though others criticized her for giving away so much of the castle's resources, her husband always supported her works of charity. After concerned subjects reported Elizabeth's activities to him, he replied, "So long as she does not sell the castle, I am happy with her!" Elizabeth was also quite active with the Friars Minor, supporting their efforts to build a convent at Halberstadt.
Tragedy and Renewal
Tragically, Ludwig fell ill and died shortly before he was due to embark on a crusade of the Emperor, Frederick II. Elizabeth's distress only intensified when Ludwig's brother took over the rule of Thuringia, banishing her and her three children from the Castle of Wartburg. Fortunately, Elizabeth was blessed with two faithful ladies-in-waiting, who found homes for her children with Ludwig's friends. For about a year, she travelled around the towns caring for those in need until she was able to find refuge in the royal family's Marburg castle. There, she founded a hospital, where she labored for the last three years of her life.
Elizabeth also formed a religious community and became a Patroness of the Third Order Regular of St. Francis and of the Franciscan Secular Order. Less than five years after her husband's death, she contracted a severe fever and died on November 17, 1231. So many people came to see her in her final days that she requested the doors to be closed – "so that she might be alone with God," (Pope Benedict XVI).
Remembering St. Elizabeth of Hungary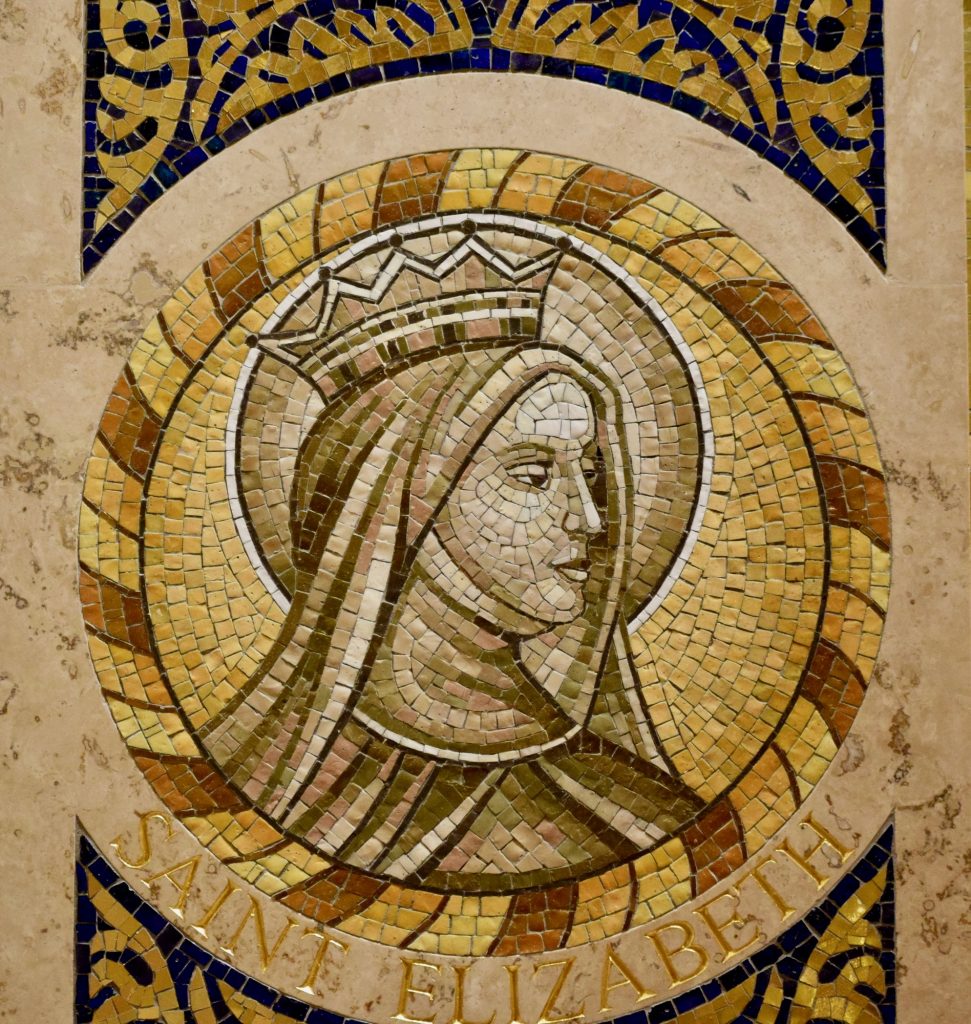 The accounts of her holiness abounded – so much so that Pope Gregory IX canonized her just four years after her death. That same year marked the consecration of a church constructed in her honor at Marburg. Now, over 800 years later, she is remembered as the exemplar of humble leadership. As Pope Benedict XVI observed:
"Dear brothers and sisters, in St. Elizabeth we see how faith and friendship with Christ create a sense of justice, of the equality of all, of the rights of others and how they create love, charity. And from this charity is born hope too, the certainty that we are loved by Christ and that the love of Christ awaits us thereby rendering us capable of imitating Christ and of seeing Christ in others.

St. Elizabeth invites us to rediscover Christ, to love him and to have faith; and thereby to find true justice and love, as well as the joy that one day we shall be immersed in divine love, in the joy of eternity with God."
St. Elizabeth of Hungary is portrayed in the Basilica in west façade, the Our Lady of Hungary Chapel and The Second Coming Mosaic.
Source:
Speech of St. Benedict XVI given on October 20, 2010. The Vatican
---
Light a Candle at the Basilica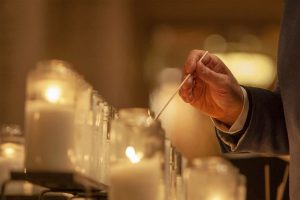 In honor of St. Elizabeth of Hungary, we invite you to light a candle today at the National Shrine. Vigil candles burn in the chapels throughout the Great Upper Church and lower Crypt level of the National Shrine. Each candle represents the faith of the supplicants and their fervent prayers entrusted to the loving intercession of the Blessed Mother.