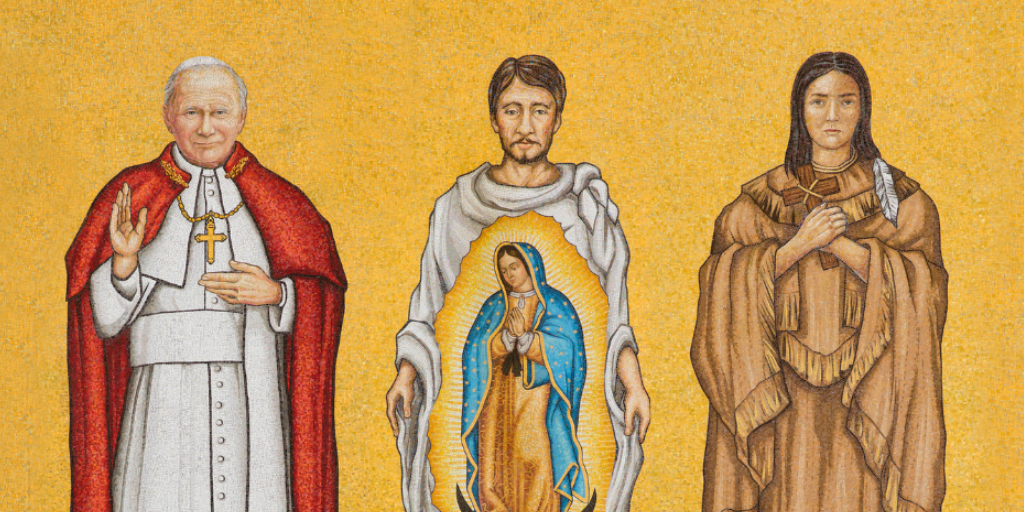 Did you know that the Trinity Dome features a litany of saints who are associated with the United States and the National Shrine? From Mother Teresa to St. John Paul II, these heroes of the faith inspire us to pursue lives of holiness. As we celebrate the Solemnity of The Most Holy Trinity, we're pleased to announce a new series highlighting the lives of each of these saints.
In today's post, you'll learn about the lives of St. John Paul II, St. Juan Diego, and St. Kateri Tekakwitha.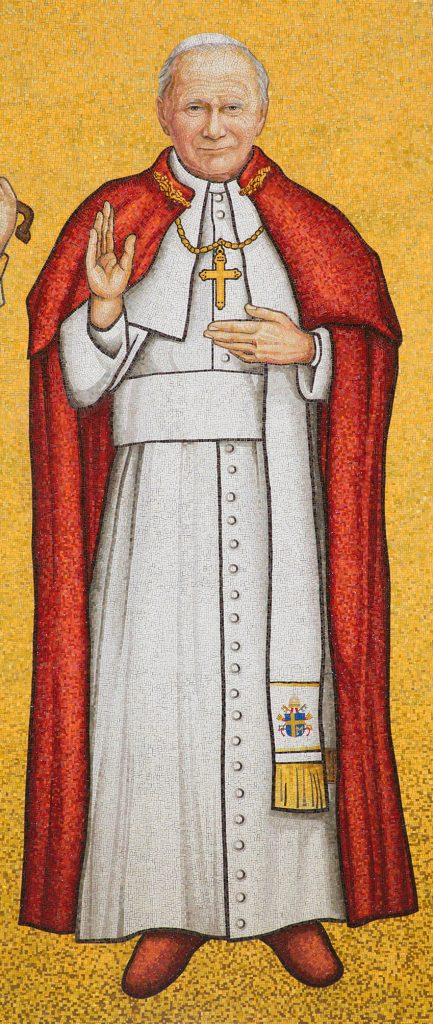 Saint John Paul II
On May 18 of 1920, Karol Józef Wojtyła was born in Wadowice, Poland. Following his graduation from high school, he began his studies at the Jagiellonian University of Krakow in 1938. However, in the next year, the university was closed under the Nazi occupation, so he began studying at the underground seminary and eventually was ordained in 1946. In 1948, he earned his doctorate in theology, and in the years that followed became a professor of moral theology and ethics in the major seminary of Krakow.
On October 22, 1978, Karol was inaugurated as Pope John Paul II. Less than a year later, on October 7, 1979, he became the first reigning pope to visit the National Shrine. Prior to Saint John Paul II's papacy, previous popes scarcely travelled outside the confines of the Vatican City State, but he made it his mission to visit the faithful in all parts of the world. Pope Saint John Paul II spread the Gospel to millions of people in over 120 countries during his papacy, earning him the moniker "the Pilgrim Pope."
Pope Saint John Paul II inspired hope among the politically oppressed through his tireless fight for justice and solidarity, which helped bring about the end of the Cold War. He had the courage to condemn instances of evil in the world, while also extending grace to those who wronged him. On May 13, 1981, Saint John Paul II was travelling in an open car in Saint Peter's Square when he was pierced by two bullets in an assassination attempt. Fortunately, he was preserved by the hand of God, and after five hours of surgery, followed by a lengthy hospital stay, he returned to his ministry and forgave the assassin.
Saint John Paul II had a gift for reaching people of all ages in all places, meeting more individuals than any other pope. His Wednesday General Audiences were attended by over 17.6 million people during his papacy. His heart for young people inspired him to institute the celebration of World Youth Day in 1985. Saint John Paul II was canonized by Pope Francis on April 27 in 2014. He is portrayed in the Basilica in the Trinity Dome Mosaic.
Juan Diego
Born in 1474 in Cuautlitlán, Mexico (near present-day Mexico City), Juan Diego descended from the Chichimeca people. Not only was he one of the first indigenous people in the New World to embrace Catholicism, but he also received a Marian vision inspiring a devotion that would last for centuries to come.
On December 9, 1531, Mary appeared to Juan Diego on Tepeyac Hill while he was on his way to Mass. She asked him to approach the bishop and request that a shrine be built to her there, where she would bless those who called upon her. However, when Juan Diego requested this of the bishop, the bishop demanded proof of the vision. Juan Diego returned to the hill, where roses were blooming, though it was almost winter. He picked some of the flowers and brought them in his cloak to the bishop. When he opened his cloak, the flowers fell out and an image of the Blessed Mother was imprinted on it. The bishop then gave his blessing, and a chapel was built on the hill.
Juan Diego's cloak was placed in the chapel, and he lived in a small dwelling near the chapel for the rest of his life, serving as its caretaker, greeting pilgrims, and spending time in prayer and devotion. In 1548, he passed away and was buried in the chapel. On May 6, 1990, Juan Diego was canonized by Pope John Paul II at the Basilica of Santa Maria de Guadalupe in Mexico City. The cloak imprinted with the miraculous image of the Blessed Virgin Mary received by Juan Diego is still preserved there today – and this image is also depicted in the Chapel of Our Lady of Guadalupe in the Basilica.
Saint Kateri Tekakwitha
Kateri was born to a pagan Mohawk chief and a Christian Algonquian woman in 1656. After an epidemic of smallpox took both her parents and her brother, Kateri was left an orphan at only four years old. Though she also contracted smallpox, she was able to recover, but it impaired her vision and left lasting scars on her face. Fortunately, Kateri found a home with her uncle, who became the chief of the Mohawks in her father's stead and raised her in the tribe.
Jesuit missionaries taught Kateri the precepts of the faith, and in 1676, she was baptized by Father Jacques de Lamberville. She became a devoted Christian and took a vow of chastity at age 19. While her exemplary piety served as an inspiration to some of those around her, others harassed her because of her faith. Seeking a less hostile environment, she moved to the settlement of the Mission of St. Frances Xavier, a community of Christian Indigenous Americans living near what is now Montreal. There, she grew in faith and holiness, spurred on by an unquenchable zeal for Christ, living in prayer and penitence.
Only five years later, however, she was called home by the Lord, passing away at the young age of 24 on April 17, 1680. Her last words were "Jesus, I love you." Through her complete reliance on Christ and embodiment of his love, Kateri stands as a shining example of steadfast faith amidst a culture of paganism. In 2012, Kateri became the first Indigenous American to be canonized. She is portrayed in the Hall of American Saints, the Trinity Dome, the Our Lady of Guadalupe Chapel, and the southwest nave bay in the upper church. 
Sources:
Basilica Guidebook, ed. Dr. Geraldine Rohling
Beatific Profile of Kateri Tekakwitha, The Vatican
Biography of John Paul II, The Vatican
Biography of Juan Diego, The Vatican