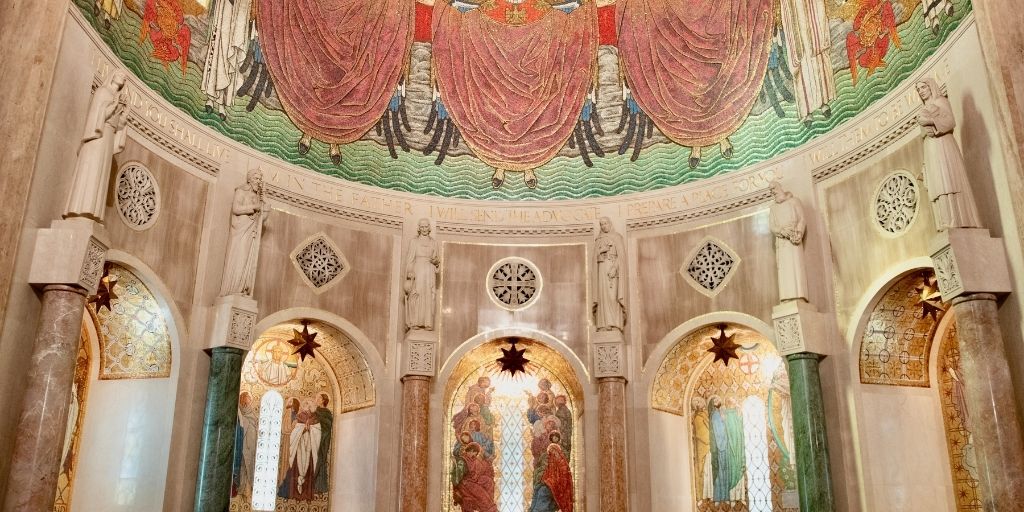 Did you know that the North Apse of the Great Upper Church features a collection of six Trani marble statues depicting saints who ministered to the poor and underprivileged? These breathtaking sculptures flank the chapels of the Glorious Mysteries and inspire us to practice the same compassion in our own lives. Today, we invite you to learn about these six saints and see the statues where they are portrayed.
St. Gemma Galgani
Born in a town near Lucca in 1878, Gemma cultivated a passion for prayer and the poor from childhood. In her early life, she had many mystical experiences that were misunderstood and rendered her an object of mockery. But the unkindness she suffered did not lessen her love for others; when she was only 19, she assumed leadership of her family following her father's death, caring for her siblings until they became old enough to take responsibility for themselves. She then went to live with her aunt and received two offers of marriage – both of which she rejected in order to more fully dedicate herself to prayer.
Returning to her childhood home, Gemma was struck with severe meningitis. Though she miraculously recovered, poor health continued to plague her, keeping her from becoming a nun as she desired. With deep faith, Gemma accepted this great suffering, offering it to God as a sacrifice. She said, "Jesus is the owner of my heart, and belonging to Him I find that I can smile, even in the midst of tears." Gemma died on Holy Saturday on April 11, 1903, at the age of 25. The parish priest who was with her when she passed said, "She died with a smile which remained on her lips, so that I could not convince myself she was really dead."
St. Benedict Joseph Labre
Raised by his priest uncle, Benedict Joseph Labre was born in France in 1748, and by the time he was 12, he had already decided to pursue holy orders. Yet every monastery he approached seemed bent upon rejecting him – when he was 18, the Trappists turned him away because of his age, and neither the Carthusians nor the Cistercians would accept him either.
Still determined to pursue a life of contemplation, he set about the world wandering and praying. He was so focused on his spiritual life that the temporal demands of personal care often evaded him – resulting in his being mistaken for a beggar. But any time someone attempted to give him alms, he would pass them on to someone else in need.
He frequently visited Rome and its churches to pray, slumbering in the Colosseum ruins. Unfortunately, one day while he was praying on the steps of the Madonna dei Monti, he collapsed and died only hours later.
St. John Vianney
Born to a shepherd-farmer in France in 1786, St. John Vianney began his theological studies at age 20 with Abbé Balley, but shortly after was drafted into the army through a clerical mistake. After falling ill when his battalion was leaving for Spain and staying behind, he lived in hiding with a group of deserters until Napoleon declared general amnesty in 1810. Once he could resume his studies, Vianney enrolled in the seminary at Lyons. There, he struggled greatly with Latin and failed his exams for the priesthood, but his personal devotion was so great that Abbé Balley intervened on his behalf, tutoring him privately until he was ordained in 1815.
Vianney was next sent to work at a rural village called Ars, where he gained such great popularity that people traveled from far and wide to come visit him. In the last 15 years of his life, he spent 12 to 16 hours a day in the confessional and received 300 visitors a day on average. A special train ticket was sold in Lyons specifically for the pilgrimage to Vianney's parish, and in the final year of his life over 100,000 individuals came to visit him.
Vianney was so beloved among the French people that Napoleon sent him the Imperial Order of the Legion of Honor – but he refused to accept it. With a life so dedicated to ministry, Vianney's own health suffered from overwork, and at age 73, he passed away. Vianney's life demonstrates that despite our weaknesses, God may accomplish greatness through our lives. He is known as the patron of parish priests.  
Saint John Vianney is featured in the north apse of the Upper Church and the Second Coming mosaic.
St. Margaret of Cortona
Born on a small farm in Tuscany in 1247, Margaret was raised by a neglectful and unkind stepmother. By her early teens, she found her life unbearable, and when a debonair nobleman waltzed into her life with the promise of an escape, she fell madly in love and ran away with him to his castle. For nearly a decade, she lived with him as his mistress, basking in the opulence of glittering jewels and finery, and together they had a son.
When her lover died unexpectedly, she fled with her son to her father's home, but was turned away. Desperate, dejected, and alone, Margaret sought refuge in Cortona, where two women helped her start anew. In the years that followed, she moved to her own cottage and publicly repented of her sin, living on alms while she gave away her own possessions to the poor and worked as a nurse. She eventually founded a hospital and an order of Franciscan women to oversee its operations. Despite the psychological turmoil she suffered in her final years, she served ever faithfully until her death at age 50. Her patronage is said to include single mothers, stepchildren, and the homeless, among others.
St. Conrad of Parzham
Conrad was born in 1818 on a farm in Bavaria, where he labored until joining the Capuchin order in 1849. After serving four years as a lay brother, he took his vows in 1852. This marked the beginning of a life that some might regard as dull or insignificant in its monotony, but for Conrad, it was a vocation with endless opportunity: for 41 years, he served as doorkeeper at the monastery, greeting people from all walks of life. He continued in this position until his death in 1894, content to help whatever visitors came his way. His life serves as an example of being faithful in the ordinary.
St. Zita of Lucca
Perhaps one of the more obscure saints in the Catholic Church, Zita of Lucca demonstrated unwavering faithfulness in the unseen. Born to a poor family in Italy in the early 1200s, Zita served in the household of a wealthy weaving family as a servant. Unfortunately, they treated her very poorly, but she endured with the strength of God. She frequently attended Mass, was extremely generous, and had a robust prayer life – spiritual habits which would sustain her through hardship. Finally, her hard work and patience found recognition, and she was put in a position of authority, which she fulfilled graciously and humbly.
Her life was touched by the miraculous; on one occasion when she was out helping the poor, the other servants found angels baking bread for her in the kitchen. She also received visions, foretelling her own death before it took place in 1278.