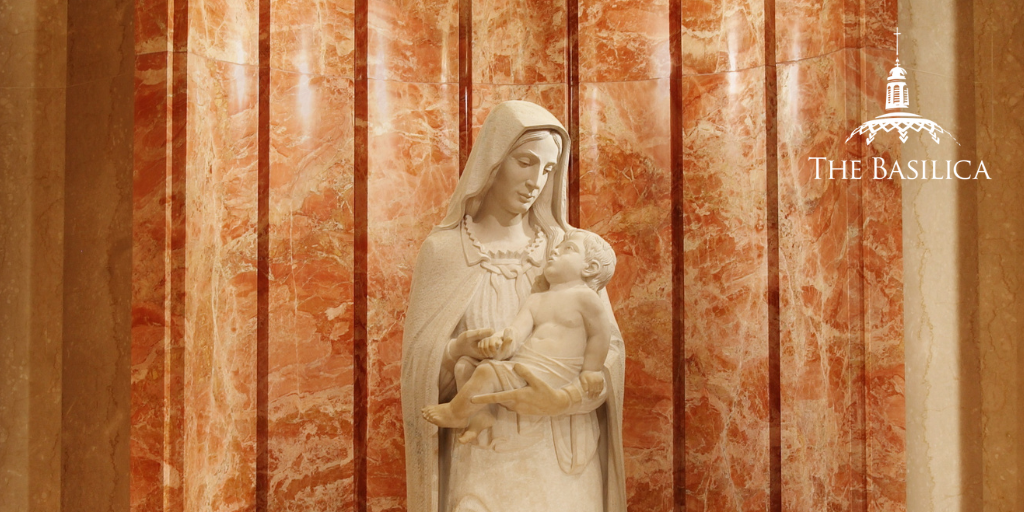 For over 500 years, the faithful have sought the aid of Our Mother of Divine Providence in times of doubt and difficulty. As we celebrate the Blessed Mother under this title on November 19, we invite you to learn more about this Marian devotion and discover where it is honored in the Basilica.
The Origin of the Devotion to Our Mother of Divine Providence
According to Catholic tradition, the devotion to Our Mother of Divine Providence originated in 1521, when Mary appeared to an Italian shepherd named Bartolomeo Coppa. Not only was Bartolomeo mute and deaf, but he was also somewhat of an outcast, as other villagers often avoided him due to his unkempt appearance. One day in May when Bartolomeo was tending his cattle, a beautiful woman in white suddenly appeared before him. With a single smile, Bartolomeo felt her blessing pour over him, instantly healing his ears and tongue.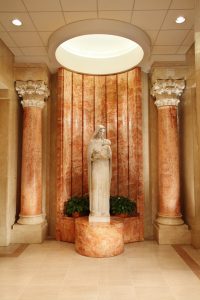 But that was not all that she came to accomplish – Mary also had a mission for Bartolomeo. She wanted him to preach a message of repentance to the people of the town of Fossano, as many of them were living sinful lifestyles. If they failed to turn from their wickedness, she warned that a "deadly scourge" would befall them. Bartolomeo soon fulfilled her request, preaching throughout the streets of the village for three days without eating. In spite of his miraculous transformation, the villagers did not heed his warnings, so he returned to the place of the apparition and laid down to rest.
Once again, Our Lady appeared before Bartolomeo – this time, dressed in blue. She came to encourage him, giving him three loaves of bread and urging him to preach one more time. With a renewed spirit, Bartolomeo returned to Fossano, reminding the people of their need to repent and sharing the bread he had received, but still they did not listen. A deadly plague befell the town later that year, and thousands of people fell ill and died before they recalled Bartolomeo's message and began to pray. Shortly after, new cases of the plague began to dwindle, and eventually stop completely. The people then returned to the place where Bartolomeo saw the apparition and built a chapel in honor of Our Lady of Divine Providence, which later became a place of pilgrimage.
While the miraculous events associated with the devotion made a lasting impact upon the people of Fossano, the devotion was not widely recognized until 1580, when an Italian painter named Scipione Pulzone painted a portrait of Our Lady inspired by the story. In 1969, Our Lady of Divine Providence was declared patroness of Puerto Rico, and today, the faithful across the world look to her for guidance. 
Our Mother of Divine Providence at the Basilica
Our Mother of Divine Providence is portrayed at the Basilica in a statue carved from Portuguese limestone by American artist Theodore C. Barbarossa. An invocation to Mary is inscribed at its base, stating: "Hear, Aid, and Console our Community and our Families."
The Oratory of Our Mother of Divine Providence is the gift of the Daughters of Saint Mary of Divine Providence, who wished to commemorate the 50th anniversary of the religious profession of Mother Angela Cettini. It also serves as a memorial to the members of the community who minister to the poor and needy in the United States. It was dedicated on June 5, 2000, by Bishop Thaddeus Joseph Jakubowski, Auxiliary of Chicago (1988-2003).
Sources:
The Basilica Guidebook, Dr. Geraldine Rohling
"If you need certainty of God's care, call on Our Lady of Divine Providence," Aleteia
"Our Lady of Divine Providence," Roman Catholic Saints
---
Light a Candle at the Basilica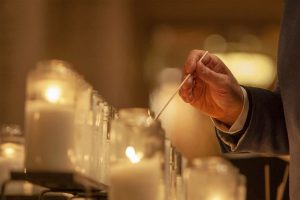 In honor of Our Mother of Divine Providence, we invite you to light a candle today at the National Shrine. Vigil candles burn in the chapels throughout the Great Upper Church and lower crypt level of the National Shrine. Each candle represents the faith of the supplicants and their fervent prayers entrusted to the loving intercession of the Blessed Mother.