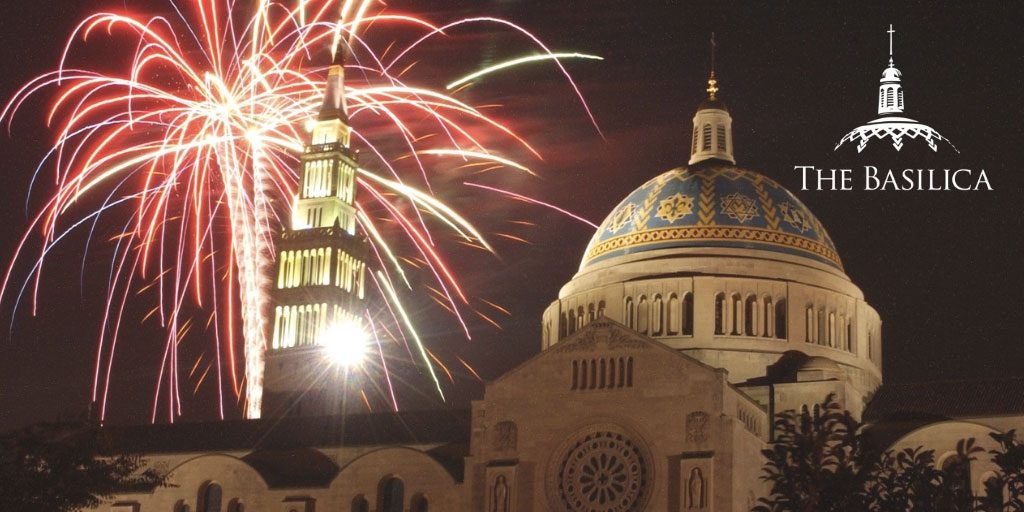 On November 20, 2009, the Basilica of the National Shrine of the Immaculate Conception celebrated the 50th Anniversary of its dedication.
Of note, though its cornerstone was laid on September 23, 1920, it would take 39 years for the structure of National Shrine to be completed and dedicated.
While a flurry of construction saw completion of the Shrine's Crypt level by 1931, the death of the Shrine's founder, Bishop Thomas J. Shahan, in 1932, the Great Depression and World War II brought a halt to fundraising and construction for 23 years.
It was not until the Marian Year of 1953-54 that the Bishops of the United States renewed efforts to complete the National Shrine. Catholics throughout the United States responded generously to fundraising efforts and by 1955 the superstructure of the Great Upper Church began to rise. Within four years, it was completed and the National Shrine could finally be dedicated. On November 20, 1959, Francis Cardinal Spellman, Archbishop of New York, was the principal celebrant of the Mass of Blessing and Dedication that was attended by thousands of the faithful.
In keeping with the tradition of the Church, celebration of a Jubilee Year commences at the onset of the 50th year. Four days in advance of the actual date, the ceremonial Opening of the Jubilee Year took place on Sunday, November 16, 2008, at 12 noon, with Solemn Mass in the Great Upper Church, celebrated by Monsignor Walter R. Rossi, Rector of the Basilica.
At that time, Monsignor Rossi announced that Pope Benedict XVI granted a Plenary Indulgence for the period of the Jubilee, November 20, 2008-November 20, 2009.
To celebrate its Jubilee Year, the Basilica of the National Shrine hosted Pilgrimage Saturdays on the third Saturday of each month through November 2009. On these third Saturdays, from 3 p.m.– 4 p.m., the faithful were guided on "pilgrimage" to select chapels and oratories of the Basilica. Participants joined in the recitation of litanies, devotions, and songs in honor of Our Lady while "journeying" to each pilgrimage site.
During the Jubilee there was also an Anniversary Exhibit featuring photographs, artifacts and memorabilia of the history and construction of the National Shrine. The exhibit was on display from September 2009 to November 2009 in Memorial Hall.
Finally, the Basilica celebrated the Closing of its Jubilee Year, as it did its dedication in 1959, with a Triduum. This "three-day" celebration began on Thursday, November 19, 2009, with the Plenary Mass of the United States Conference of Catholic Bishops at 5 p.m. It continued on Saturday, November 21 at 3 p.m., with the final Pilgrimage Saturday, and closed with the celebration of Solemn Eucharist on Sunday, November 22, 2009, at 12 noon in the Great Upper Church.