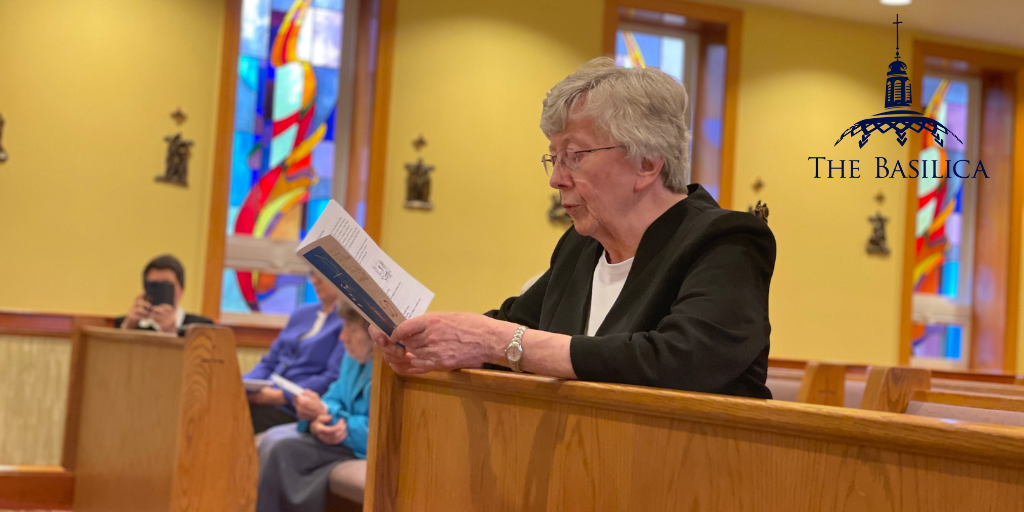 "If I would be allowed to choose this kind of life a thousand times, I would always choose this life."
 – Blessed Honorat Kozminski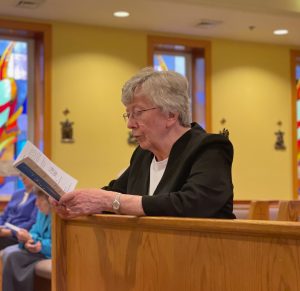 Did you know that this year Sister Bernadette J. Kozyra celebrated her Diamond Jubilee? Sister Bernadette is a member of the Sisters Servants of Mary Immaculate, an order that was founded in 1878 in Poland during a time of occupation, oppression, and persecution. Since 1986, the Sisters have been serving the Basilica of the National Shrine of the Immaculate Conception as sacristans. Today, they carry on the tradition of their founding and strive to follow Christ along the way of the Evangelical Counsels of chastity, poverty, and obedience, with a particular emphasis on humility, simplicity, and concealment.
About Sister Bernadette
Over the last 60 years, Bernadette has been involved in various ministries, including serving as Provincial Superior, as dietitian for the Catonsville nursing home, and – for the last 15 years as a sacristan at the National Shrine. Sixty years ago, on July 16, the Memorial of Our Lady of Mount Carmel, Sister Bernadette entered religious life at the Mother House in Mariowka and made her first vows. It was on that very day of this year that the Eucharistic Celebration for her Diamond Jubilee was held, celebrating her life of faithful service.
The Sister Sacristans and the Basilica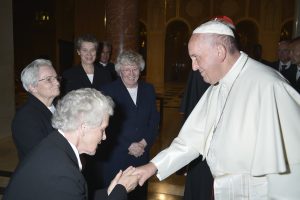 Living a communal life of prayer and devotion, the Sisters Servants of Mary Immaculate undertake various apostolic works to serve God and neighbor in a spirit of Franciscan joy in health care, early childhood education, social action, pastoral and parish works, and a variety of other apostolic works, such as their work at the Basilica.
Together, Sister Lydia, Sister Maria, Sister Bernadette, and Sister Claudia not only care for the Basilica's 70 altars located in the Great Upper Church, Crypt Church, and side chapels, but also the 2,500+ Masses celebrated upon them throughout the year. The Sister Sacristans are responsible for all of the altar linens, liturgical vestments, sacred vessels, lectionaries, sacramentaries, candles, hosts, water, wine and more. They also prepare for Adoration, Ordinations, Professions, Pilgrimages, and even Papal Visits!
Celebrating Sister Bernadette at the Basilica
As Sister Bernadette celebrates her Diamond Jubilee, we commend her for her many years of dedication and service, and we pray that God may continue to bless her in the years ahead! We close with the words of Msgr. Rossi from her Eucharistic Celebration of Thanksgiving: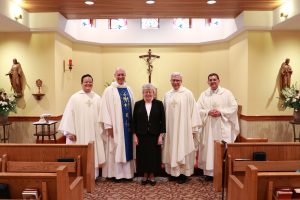 "As you know, there are very few words of Our Lady recorded in scripture, but when she does speak, her words are powerful: 'Do whatever he tells you' (John 2:15).  And as we all know, like Our Lady, Sister Bernadette is rather quiet, a woman of few words, and so when she speaks, we all listen… In speaking with Sister Bernadette, she tells me that there have been many graces the past 60 years, graces which I am confident only came about by Sister cooperating with God's will.

Thank you, Sister Bernadette for cooperating with God's will. May your Diamond Jubilee celebration be a hymn of thanksgiving on your part for the activity of grace in your life for six decades and an encouragement for all of us to 'pray and ask for the grace of the desire to know God's will and to do God's will' in our own state in life."