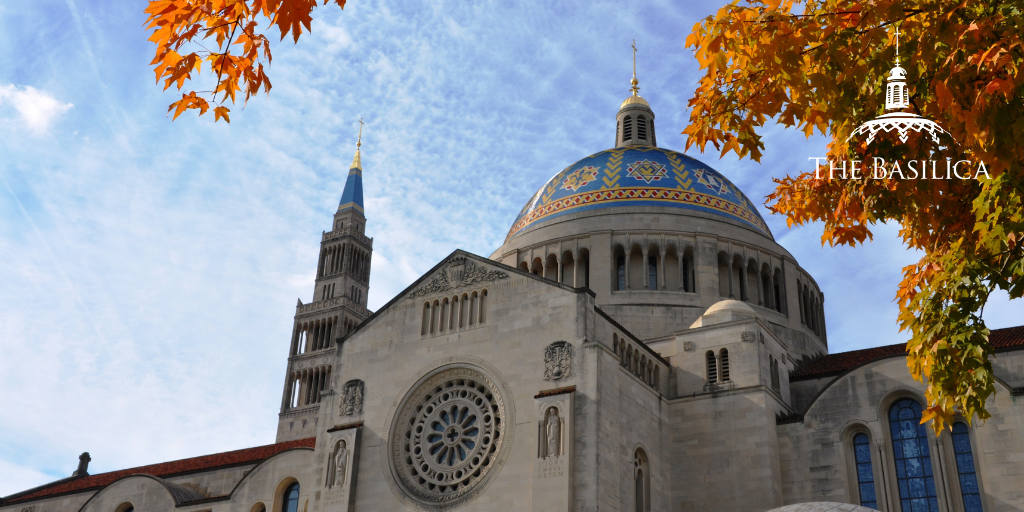 The National Shrine Shops are back with a newly curated collection just in time for fall. From exquisite jewelry to help you honor the Blessed Mother to majestic home décor, there is something for everyone. We invite you to browse the National Shrine Shops Fall Collection!

Antiqued Nativity Advent Candle Holder
Count down to the Nativity with your very own Advent candleholder. This gilded decoration features the Holy Family, with Mary and Joseph gazing lovingly at the Christ Child beneath the shining star. Five arms hold candles — one for each of the four Sundays of Advent, and a center holder for Christmas Day.

Nativitá Christmas Cards
These Christmas cards feature Carlo Maratta's Nativitá, a stunning depiction of the Blessed Mother and the infant Jesus. Inside, the card reads:
"May the blessings of Christ be with you now and throughout the New Year. Merry Christmas!"
Each boxed set includes 18 cards and matching envelopes.

Miraculous Necklace – Made in Lourdes
According to tradition, the Blessed Mother appeared to St. Catherine Labouré and told her that whoever wore the Miraculous Medal would receive many miracles. This necklace honors that devotion, featuring a gold and silver-tone Miraculous Mary Medal with a gold-tone "miracles" charm tag. On the front of the medal, Mary is encircled by the French words, "Marie, conue sans péché, priez pour nous qui avons recours vous" which translates to: "O Mary, conceived without sin, pray for us who have recourse to you." Handmade at the Holy Site of Lourdes, each medal is created by the official maker of the Miraculous Mary Medal for the Chapel of Our Lady of the Miraculous Medal in Paris, where the very first Miraculous Mary Medal was made. The necklace has a 24-inch gold dipped box chain with a 1-inch extender, and comes with an inspirational card that tells the story of the Miraculous Medal.

Our Lady of Guadalupe Crystal Disc Bracelet
Featuring 11 gold-plated medals depicting Our Lady of Guadalupe and adjustable clasp closure, this dainty bracelet would go well on any wrist. Each disc is outlined with 21 crystals in varying colors of blue, purple, green, and red.

Gold Scapular Jewelry
Handmade in Brazil, these delicate gold scapulars serve as a tangible reminder of spiritual devotion. Plated in 14k gold, they feature images of Our Lady of Mount Carmel and the Sacred Heart of Jesus.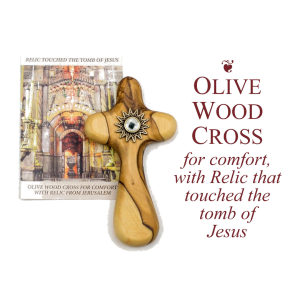 Olivewood Cross for Comfort with Relic
Carved from olivewood from Bethlehem, this small comfort cross contains a piece of cloth that touched the tomb of Jesus.

Miraculous Charm Bracelet
This unembellished rosary bracelet is made from sterling sliver and coated in 24k gold. 3mm-wide gold beads are interlinked along the chain, and a dainty miraculous medal hangs on the end. The bracelet can be extended to a maximum length of 7.5 inches.

Nativity of Christ Wooden Icon Egg
This emotive Byzantine icon portrays the Holy Family at the birth of Christ. The egg is 5 inches tall alone and 8 inches tall with the stand.

Olivewood Comforting Angel
Hand-carved in Bethlehem from olivewood, this Guardian Angel is simple yet elegant. At just 2 inches tall, this quaint carving comes with a prayer card, and is a wonderful reminder that God's guardian angels are always watching over His children.

Murano Pink Glass Jewelry
Made in Italy from genuine Murano glass, this rosary and bracelet each feature 8mm pink glass beads with 24k gold-plated double caps. A beautifully enameled Miraculous Medal and crucifix rest in the center of the chain of the necklace, while the bracelet displays an intricate medal and crucifix.