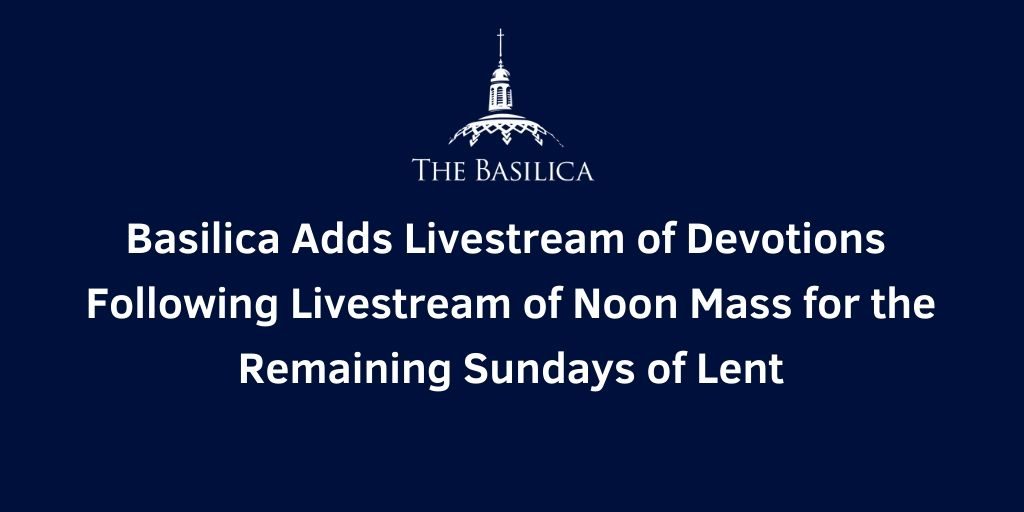 In an effort to provide for the faithful who rely on Mary's Shrine as a place of prayer, peace and solace, the Basilica of the National Shrine of the Immaculate Conception will add the livestream of several beloved Catholic devotions following the 12 noon ET livestream of the Holy Sacrifice of the Mass on Sunday.
Immediately following the 12 noon Mass beginning this Sunday, March 22, through the remaining Sundays of Lent, the Basilica will livestream Exposition and Adoration of the Most Blessed Sacrament, with recitation of the Rosary at 2:30 p.m. ET and the Divine Mercy Chaplet at 3 p.m. ET, followed by Benediction with the Most Blessed Sacrament.
The livestream of the Sunday Noon Mass and devotions is available at www.nationalshrine.org/mass.
Mary's Shrine is committed to continuing the livestream of the Sunday Mass and the aforementioned devotions for as long as possible in the wake of the Basilica's public closure in response to CDC and District of Columbia guidelines in support of efforts to minimize the spread of COVID-19, otherwise known as the novel coronavirus.
Often referred to as America's Catholic Church, the Basilica of the National Shrine of the Immaculate Conception is the largest Roman Catholic church in North America, and it is one of the largest churches in the world. A national symbol of the Roman Catholic faith, the Basilica provides a place of prayer and pilgrimage to nearly one million visitors from around the world every year.
We at America's Catholic Church pray for all affected by the coronavirus pandemic and ask the Blessed Virgin Mary, patroness of the United States, under her title of the Immaculate Conception, to intercede for us during these unprecedented and challenging times.
FOR MORE INFORMATION
Jacquelyn Hayes
Director of Communications
Basilica of the National Shrine of the Immaculate Conception
400 Michigan Avenue, NE
Washington, DC 20017
[email protected]