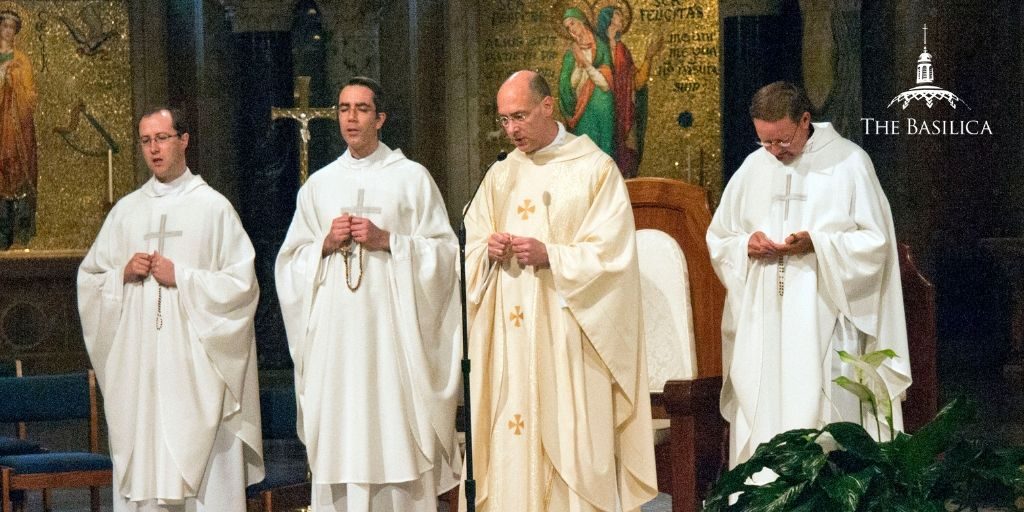 On the Solemnity of the Most Sacred Heart, Friday, June 28, also designated as World Priest Day, the Basilica of the National Shrine of the Immaculate Conception will participate in the Global Rosary Relay at 5:45 p.m., immediately following the 5:15 p.m. Mass that will be held in the Crypt Church. The initiative is intended to "recognize and bless the work of priests serving the faithful the world over."
Over 70 countries around the world will participate in this offering of prayer, with each location "pray[ing] a particular mystery of the Rosary at a particular half hour on the day in thanksgiving to God for our priests and to implore the protection and loving care of Our Lady, Mother of all priests, for all her priestly sons."
The Rosary Relay presents an opportunity to join together in prayers for our leadership: prayers for the strength and wisdom to guide their flocks on their spiritual paths. And in praying, we express our gratitude to them for their spiritual leadership and direction. The global participation in the Relay reflects the global unity and universality of the Church, made up of parts distinct and diverse, yet all one in Christ. As Christ stated in Matthew 18:20 (NABRE), "For where two or three are gathered together in my name, there am I in the midst of them."
Unequivocally, prayer draws us closer to Christ and to each other. As we join our brothers and sisters around the world in prayer, let us remember, as Pope Francis has so wisely observed:
[O]ne of the most effective ways we have to help is that of prayer. Prayer unites us; it makes us brothers and sisters … and reminds us of a beautiful truth which we sometimes forget. In prayer, we all learn to say 'Father', 'Dad'. We learn to see one another as brothers and sisters. In prayer, there are no rich and poor people, there are sons and daughters, sisters and brothers. In prayer, there is no first or second class, there is brotherhood. It is in prayer that our hearts find the strength not to be cold and insensitive in the face of injustice. In prayer, God keeps calling us, opening our hearts to charity.

How good it is for us to pray together. How good it is to encounter one another in this place where we see one another as brothers and sisters, where we realize that we need one another. Today I want to be one with you. I need your support, your closeness. I would like to invite you to pray together, for one another, with one another. That way we can keep helping one another to experience the joy of knowing that Jesus is in our midst, and that Jesus helps us to find solutions to the injustices which He Himself already experienced.
Prayer unites us, it uplifts us, it draws us closer to our Creator and purifies the hearts of those offering their supplications to the Father. The National Shrine invites you to join us on June 28 as we encircle the world in prayer for our clergy. As the World Priest website relates:
As the family of the Church, you are invited to join your prayers to the prayers of millions throughout the world on 28 June 2019. It is an opportunity for us to raise our hearts to God for all priests in the exercise of their ministry; that they will be blessed, through our prayers, with God's grace for their priesthood; that in this worldwide communion of prayer for them, they may experience our gratitude and support; and finally that they will persevere in unity with Christ and his Church and shepherd the Lord's flock to the safe pastures of his Kingdom.