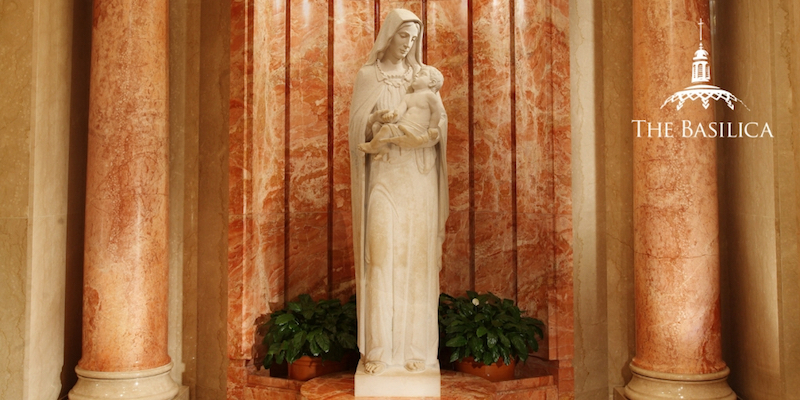 As we celebrate mothers this month, it is fitting to reflect on the most important mother in history, Mary. Throughout the Basilica, we see many depictions of Mary that demonstrate her different roles as mother to her Son, and to us all.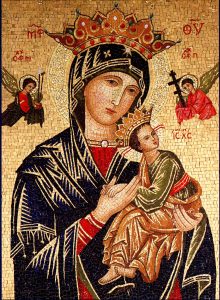 Mother of Perpetual Help
Known for miracles, Our Mother of Perpetual Help can be traced back to the island of Crete, where a merchant found the icon in 1495. He brought it back to the Church of Saint Matthew in Rome. In the Basilica, the icon is reproduced in mosaic form in the Mother of Perpetual Help Chapel, depicting the Child Jesus being comforted by Mary as He is frightened by the instruments of the passion displayed by the Archangels Gabriel and Michael. This depiction of Mary reminds us that we cannot live our lives in our own strength alone, and demonstrates her care and tenderness as a mother.

Our Mother of Good Counsel
According to tradition, when the feast of St. Mark was being celebrated in Genazzano, Italy in 1467, a cloud descended on the ruins of a church dedicated to Our Mother of Good Counsel, leaving behind a picture of the Madonna and Child. Our Mother of Good Counsel is reproduced in mosaic in the Basilica in the Our Mother of Good Counsel Chapel.

Mother of Africa
In the Our Mother of Africa Chapel at the Basilica, Mary is depicted walking toward the visitor, while Jesus directs attention to the narrative relief of the African-American experience. The style in which Mary is shown is known as Hodegetria, "she who shows the way" or "the guide". She cradles the Christ Child in her arm while pointing towards him with her other hand, displaying him as the source of salvation for the world.

Mother of Divine Providence
As the Mother of Divine Providence, Mary intercedes to provide for the needy. A statue of Portuguese limestone in the Mother of Divine Providence Oratory at the Basilica shows Mary in this role, while also serving as a memorial to those who have devoted their lives to serving the poor. The style in which Mary is known as Eleousa "the one who shows mercy" or the "tender touch," emphasizing her care and concern. At the base of the statue, the inscription reads: "Hear, Aid and Console our Community and our Families."
Further explore the chapels and oratories of the Basilica in 3D with our virtual tour.
 Source: Basilica of the National Shrine Guide Book