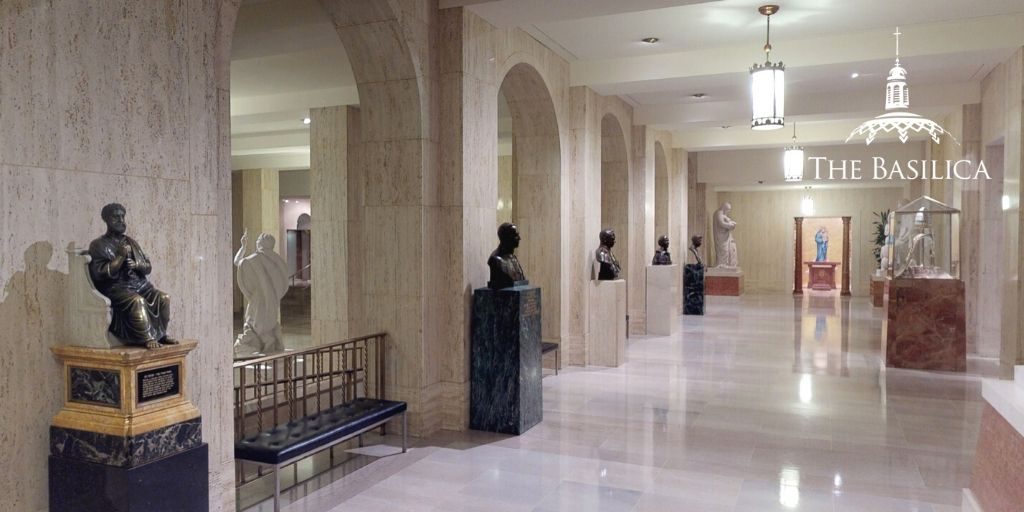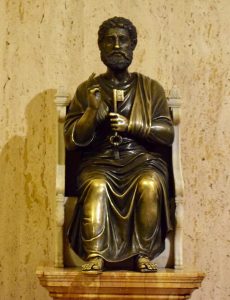 Did you know that the Basilica contains the world's largest collection of contemporary ecclesiastical art? The brilliant mosaics, stained glass windows, and polished stone carvings throughout the Basilica express the reality of God dwelling within us. With so much beauty to explore, sometimes its hidden gems can escape notice. In today's installment of our Guide to Basilica Art series, we highlight the bronze sculptures in the Crypt Level. These five bronze statues stand in tribute to men who were instrumental in the life of the Basilica.
The Chair of Saint Peter
In 1925, Bishop Shahan purchased this sculpture in Rome, and a year later, he brought it to the Shrine. It is a scaled replica of the statue in the Basilica of St. Peter in Vatican City. The Chair of St. Peter signifies the doctrine of apostolic succession, which is based on Jesus' words in Matthew 16:18:
And so I say to you, you are Peter, and upon this rock I will build my church, and the gates of the netherworld shall not prevail against it. I will give you the keys to the kingdom of heaven.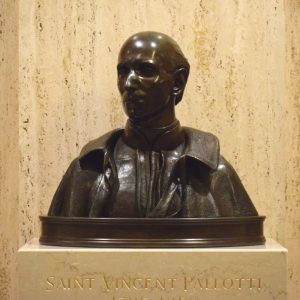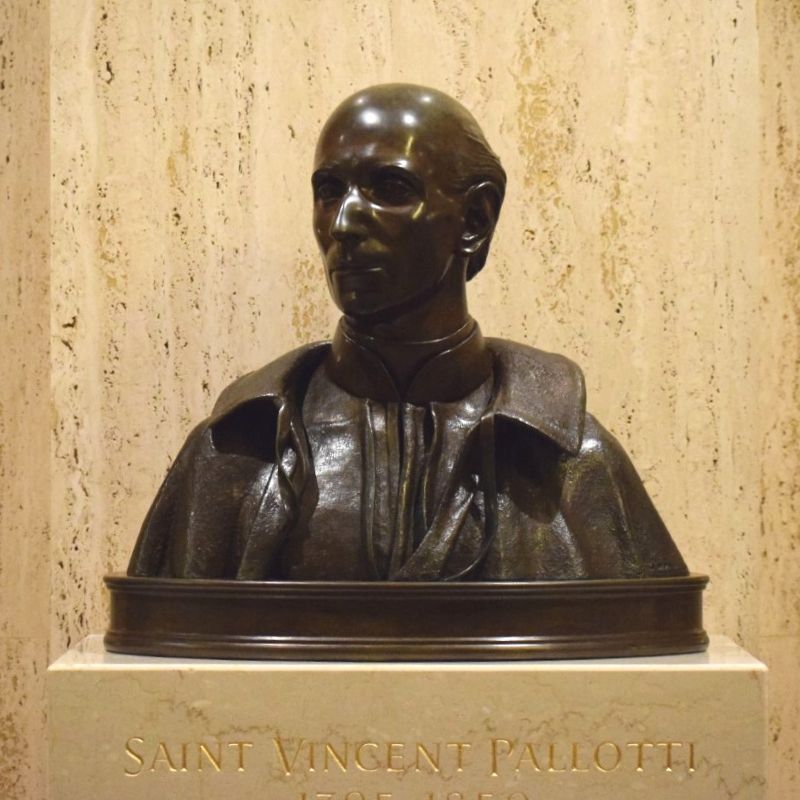 Saint Vincent Pallotti
A gift of the Society of the Catholic Apostolate of North America, this statue was created by Sister Mary Paula Beierschmitt to honor the 150th anniversary of the founding of the Pallottines. Born in 1795, St. Vincent Pallotti was a priest known for providing vocational training to working-class people and emphasizing the importance of finding the sacred in everyday tasks. In 1835, he founded the order of the Pallottines, who continue to carry on his legacy today.
Bishop Thomas J. Shahan
As the founder of the National Shrine, Bishop Shahan is the only person interred in the Basilica. The bust was donated in honor of his Golden Jubilee as a priest in 1932, which occurred shortly after his death. Bishop Shahan first proposed the idea of a National Shrine for the United States to Pope Pius X in 1913. Though he did not live to see its completion, he was instrumental in the early years of its construction.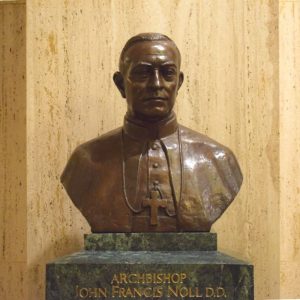 Archbishop John Francis Noll
The bust of Archbishop John Francis Noll was donated by Bishop Leo Pursely of Fort Wayne. Noll was the founder of the Catholic newspaper Our Sunday Visitor, and his significant role in the completion of the Shrine earned him the moniker "Apostle of the Shrine." The statue was created by Ernest E. Morenon in 1968.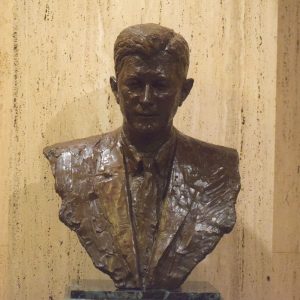 James J. Morris
A gift of the Basilica's Board of Trustees in 1978, this sculpture was crafted by artist Jimilu Mason. Norris was an ardent advocate for the poor and assisted Mother Teresa at the beginning of her ministry. He also made history as the first layperson to speak to the council fathers. During Vatican II, he addressed the council on poverty and the Christian conscience, resulting in the formation of a papal commission on peace and social justice.