The musicians of the Basilica strive to transform hearts and minds through the power and beauty of sacred music in the Roman Catholic Liturgy. They are guided by the belief that inspired liturgy leads to a transformation, deepening and awakening one's faith.
A number of musicians on staff at the Basilica contribute to make this vision a reality. Today, the Basilica's Assistant Director of Music, Andrew Vu, shares his story – and what he loves about making music for the Basilica. An award-winning pianist, Andrew received the Honor Prize of the 2007 Maryland MCMTA Competition, the 2012 Benjamin T. Rome School of Music Performance Award from The Catholic University of America, and the Second Place in the 2012 Stravinsky Award Bach Competition.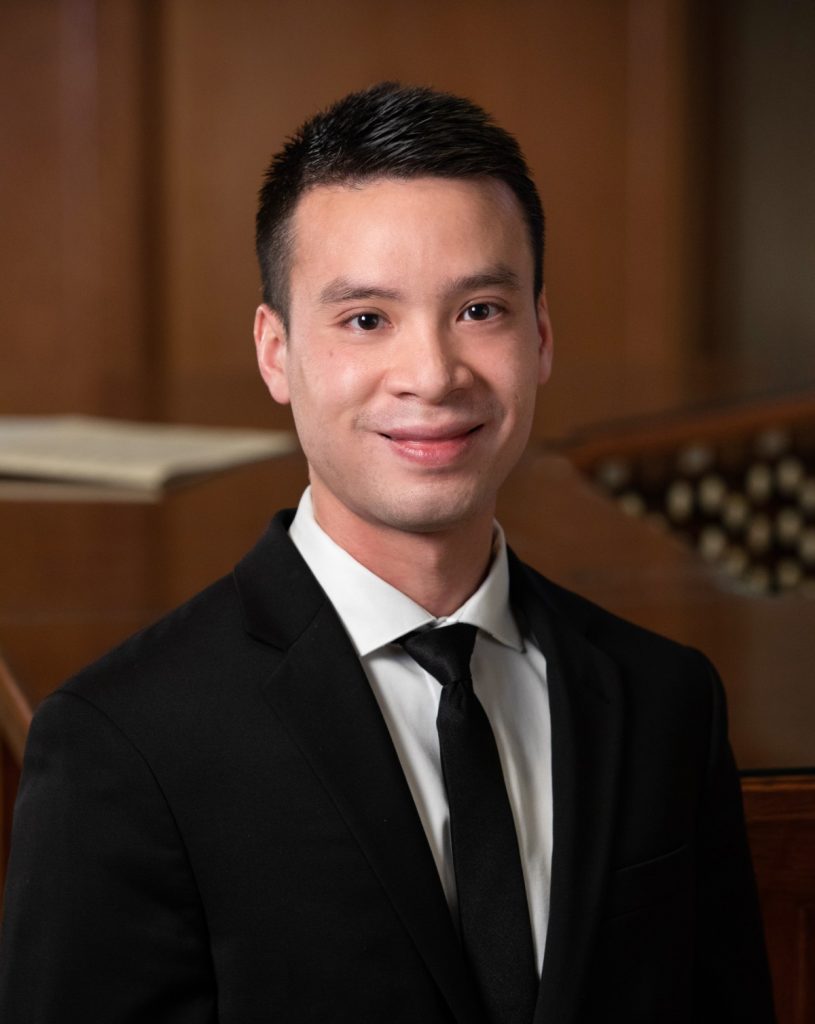 You came to the United States from Vietnam at the age of 13 to study piano. How did you first become interested in music, and what did it take to become an award-winning pianist?
It may sound cliché, but the truth is that music became part of my life when I was in my mom's womb. When she was pregnant with me, my dad would always put on classical music for her every evening. That routine continued after I was born until I was about six. My very first childhood memory was falling asleep next to my parents to the sound of orchestral symphonies. I'm so grateful to them for exposing me to classical music from an early age. As I got old enough to learn piano, they enrolled me in the city conservatory of Vietnam until we moved to the U.S. in 2004.
It takes many years of learning, practicing, failing, and persevering in order for success to come about. I have been blessed with wonderful teachers and mentors. Not only did they give me basic skills and musical knowledge, but they also shared their wisdom and encouragement, challenging me to continually grow as a person and musician.
As a musician, you wear a lot of hats – whether you're singing, playing piano and organ, or conducting choir. How did you become interested in pursuing other aspects of music besides solo piano performance, and what was that journey like?
After graduating from the Catholic University of America (CUA) with a Bachelor of Music in Piano Performance, I planned to further study piano in graduate school. Before, during, and after college, I served as a music minister at American University and two local parishes of the Archdiocese of Washington. It was there that I first worked with clergy and staff, performing administrative tasks, leading children, adults, and the handbell choir. It was there that I sensed God's call to work and serve the Catholic Church through music and liturgy. So, instead of continuing to pursue piano, I ended up in the Sacred Music Master's program at CUA.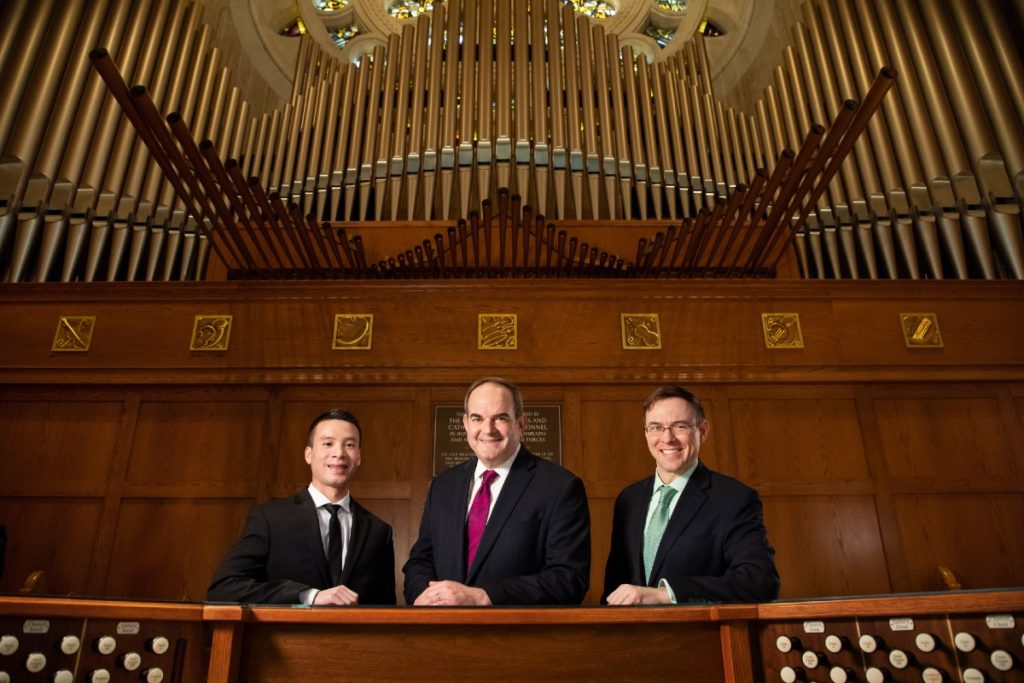 What is the most rewarding aspect of your work at the Basilica?
The most rewarding aspect is being challenged – in a positive way. The opportunity to work with wonderful, talented colleagues, supportive clergy, and staff is also definitely rewarding. It is also inspiring to encounter pilgrims from all over the country and the world; the church is truly "one, holy, catholic and apostolic Church."
What is your philosophy on music in the church and as worship, and what impression do you hope your music leaves on listeners?
Music in the church and for worship should sound different than any other genre of music. Sacred music is meant to be objectively beautiful and transcendent. Its ultimate purpose is to reveal God within the liturgy in ways that spoken words or actions alone cannot. My hope is that my music stirs a deeper desire and hunger for God.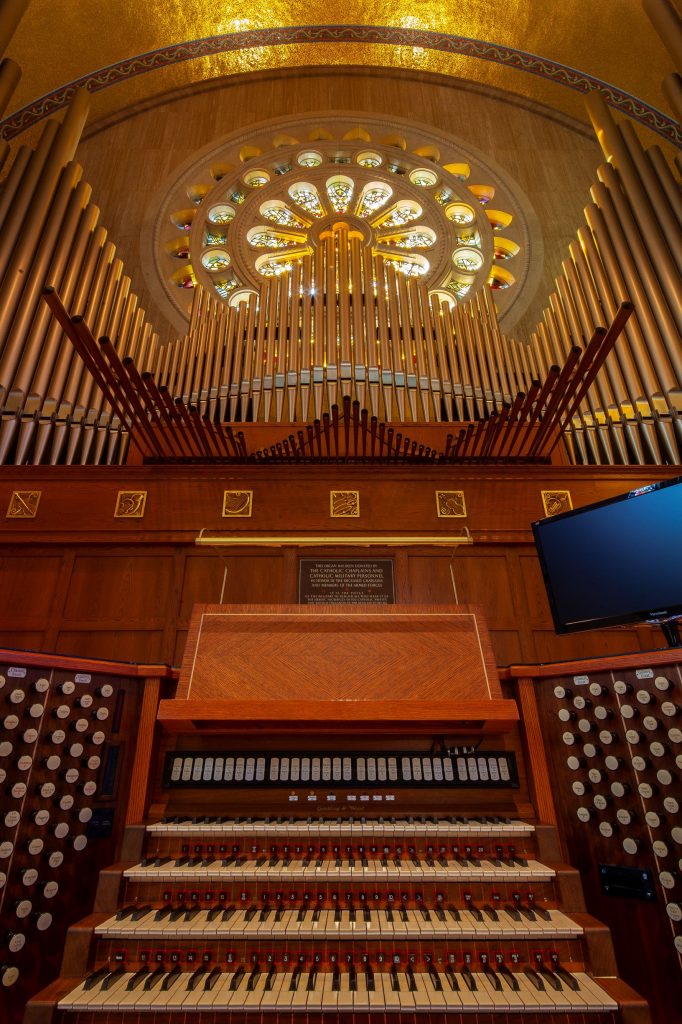 What pieces of music are most meaningful to you, and why?
My favorite piece is definitely the Partita No. 2 in C minor for Piano by J.S. Bach. This fantastic suite is composed of five perfect movements – Sinfonia, Allemande, Courante, Sarabande, Rondeaux, and Capriccio. The Sinfonia begins with the slow, dark, and heart-wrenching overture which cadences into a lyrical section that expresses an intimate conversation between the right and left hand. The Allemande, Courante, and Sarabande are much more than just a demonstration of Bach's masterful counterpoint; they evoke imaginative characters and deep emotions. In contrast to the other movements, the last two are exciting, brilliant, and so much fun to play (and nerve-wracking at the same time!).
Working on this piece brought about a major breakthrough in my playing technique. I learned to approach my ten fingers as ten of the finest singers, treating them carefully as "voices" to produce elegant, distinctive vocal-like lines. The piano becomes less of a string and percussion instrument, and more of a wind instrument.
This piece is dear to me in many ways. It brings special memories of my senior year in college. I was really honored to receive second place in the 2012 Stravinsky Award Bach Competition playing this Partita. More personally, I learned and lived with this piece when I was struggling with brokenness and relationship wounds in my family. The spirituality of this piece reminded me of God's presence and love amid life's turmoil.
What advice do you have for musicians interested in pursuing a career in sacred music?
Study the organ, Gregorian chant, sacred choral music, and the Church's documents on liturgy and sacred music. Be a team player with other music ministers and clergy. Make and maintain connections with other church musicians in all other dioceses. Attend conferences, workshops, and professional development events in this field to continue expanding your knowledge. Most importantly, keep the faith by putting God first.
What is your favorite part of the Basilica, and why? What part of the Basilica has the best acoustics, in your opinion?
My favorite place is standing in the Narthex, looking up to the Christ in Majesty mosaic. The vision of the Christ in Majesty mosaic at that location is tremendously powerful.
The Crypt Church has the best acoustics. It is a perfect place to make music, and it is where most of our recordings here have been captured.
Do you have any other fun facts or aspects of your story you would like to share?
The very first time I saw and heard a pipe organ, I was standing in the Upper Church as a high school senior visiting the campus of Catholic University of America. It was a completely inspirational experience for me. I would never have imagined becoming one of the organists here.
Andrew Vu serves as Assistant Organist of the Basilica of the National Shrine of the Immaculate Conception.
---
Learn More about Sacred Music at the Basilica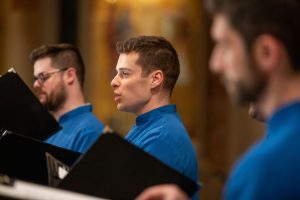 The musicians of the Basilica strive to be agents of spiritual transformation by creating music that is artistic, genuine, authentic, purposeful, and evangelizing. Learn more about Sacred Music at the Basilica.