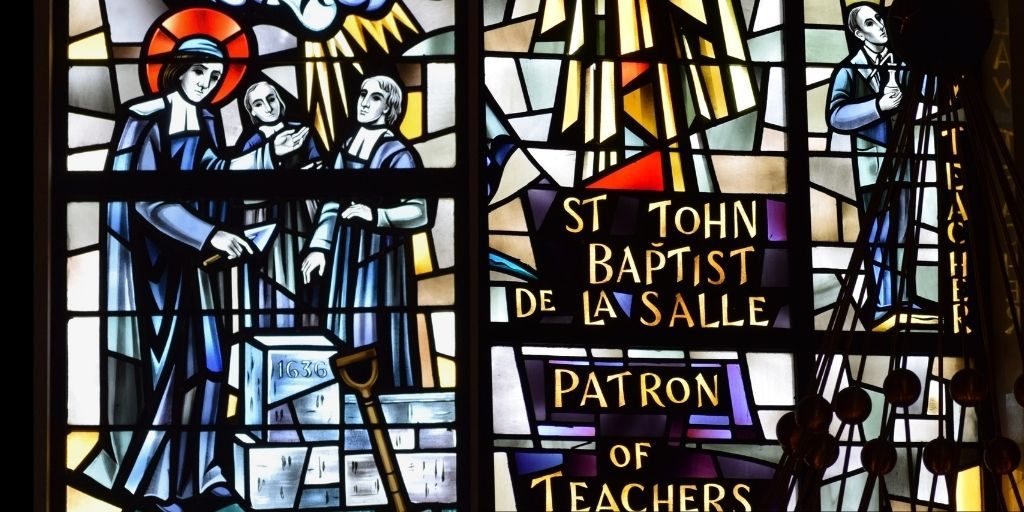 As the summer comes to a close and students return to school, we are highlighting the lives of three Catholic saints who were instrumental in furthering education. Whether they were founding parochial school systems in the United States, furthering immigrant education, or establishing teacher's training programs, each took strides in improving educational opportunities for students across the globe.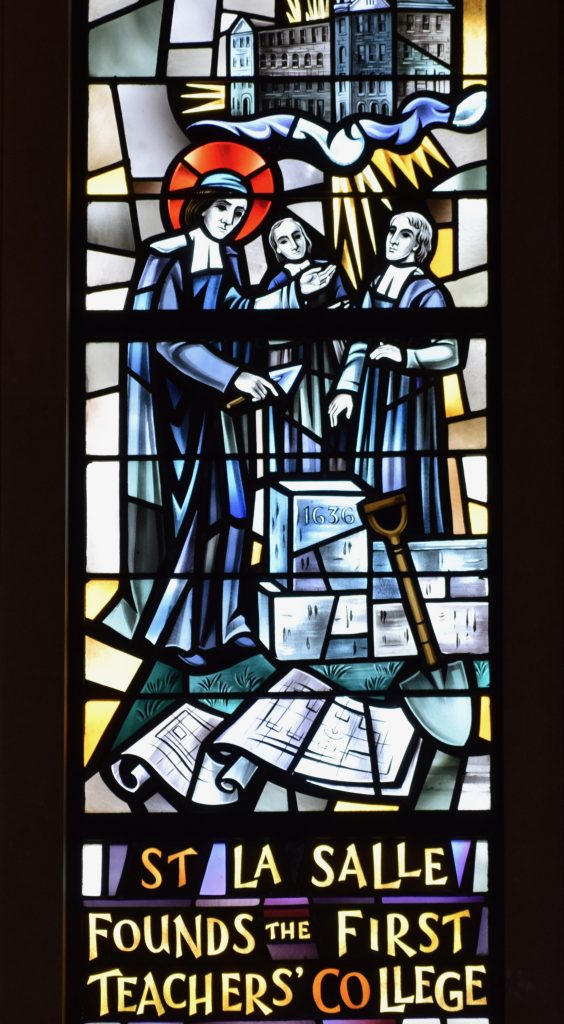 St. Jean-Baptiste de La Salle
Jean-Baptiste de La Salle was the last person anyone would have expected to be a leader of educational reform – he himself was never an exceptional student. Yet his life is proof of how God works in mysterious ways and how his "power is made perfect in weakness," (2 Corinthians 12:9). In 1679, a man named Adrien Nyel asked Jean for help starting a school for the underprivileged in Reims, and he agreed, thinking he was simply taking on an administrative role.
The school in Reims became immensely popular, and soon, Jean realized that additional resources would be needed, and opened his own home as a training center for teachers and a refuge for the poor. Jean himself also taught the students and proved himself a capable educator. Unfortunately, Jean's family never approved of his work, but that didn't stop him from expanding his efforts and becoming wildly successful. The "Brothers of the Christian Schools" were soon known for their exceptionality. By 1717, in addition to their boy's schools, including a reformatory school, the Brothers of the Christian Schools had established a teacher training program and an educational program for adult prisoners.
Jean was ahead of his time in his educational methods: he would teach the students in vernacular languages instead of Latin, which was standard at the time; he put students in classrooms together for each subject, instead of giving individual instruction; and finally, he required silence in the classroom. He is portrayed in the Basilica in the northeast nave clerestory window, and is the patron of teachers.
St. John Nepomucene Neumann
From an early age, John Nepomucene Neumann had a keen sense of a higher calling to the priesthood. This motivated him to be a diligent student, enrolling at a diocesan seminary and later at a university in Prague to study theology. Despite receiving no responses to his applications to dioceses in the United States, John was not easily deterred. Taking a leap of faith, he sailed across the ocean with only $40 in his pocket, arriving in New York City in 1836. Only a month later, he was ordained and spent four years working with German immigrants in Buffalo, New York. Though John felt the work was meaningful, he found his life to be lonely and difficult. Longing for a greater spiritual community, he joined a Redemptorist order and continued his ministry up and down the East Coast.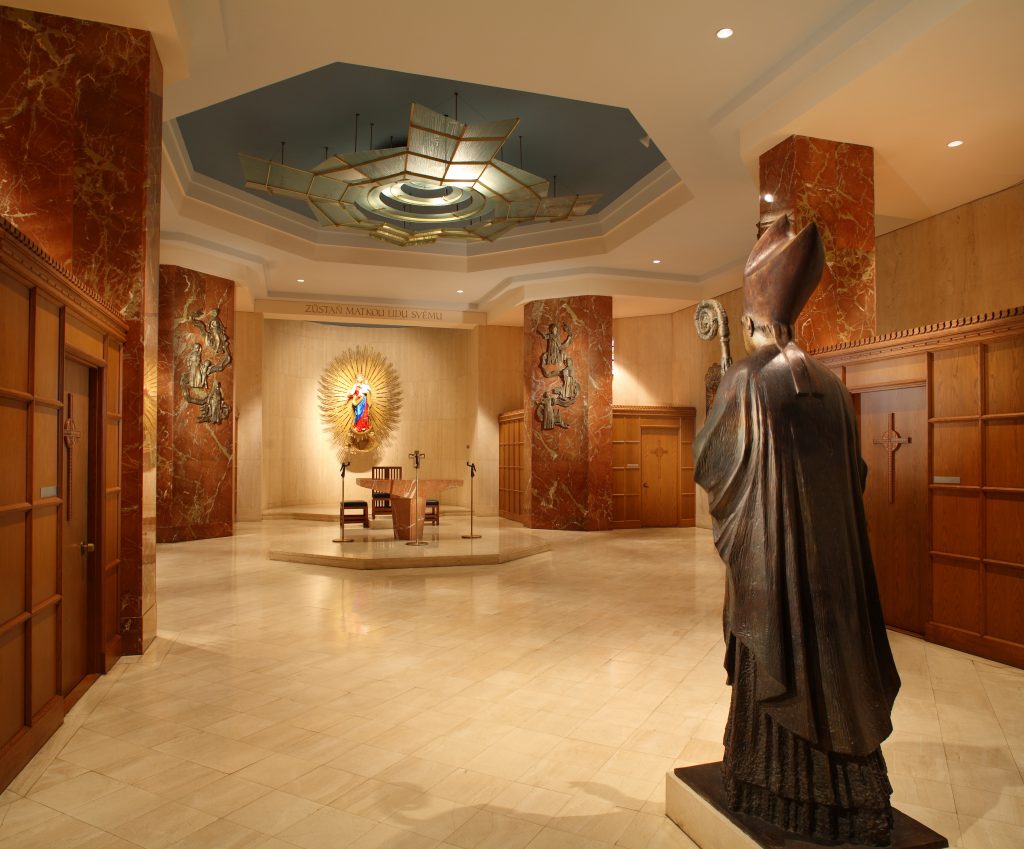 John's hard work was recognized in 1852, when he was appointed bishop of Philadelphia. In this beautiful American city, he dedicated himself to the oversight of building schools, churches, and a cathedral. He was particularly committed to offering educational opportunities to immigrant children. The American hierarchy approved two catechisms written by John in 1852, and in the years that followed, the works became standard texts. Whether he was founding churches and schools, or writing his catechisms or articles in newspapers, John left an indelible mark on the lives of thousands of Americans. He passed away in 1860 after suffering from a stroke in Philadelphia and was canonized in 1977. He is honored in the Basilica in Memorial Hall, the Our Lady of Holy Hostýn Chapel, the Second Coming mosaic, the Our Mother of Perpetual Help Chapel, the southeast nave clerestory window, and the Trinity Dome mosaic. The patron of immigrants and sick children, St. John Nepomucene Neumann was the first American man to be canonized.
St. Elizabeth Ann Seton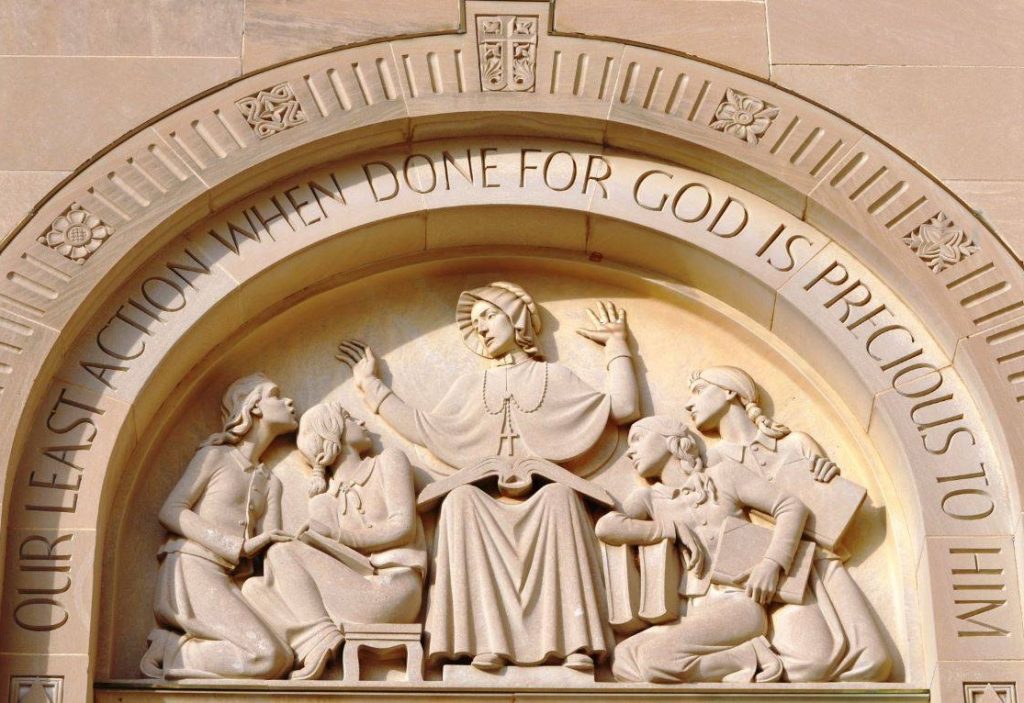 The ​first native-born American citizen to be canonized as a saint, Elizabeth Ann Seton is best known for her role in starting children's parochial education in America. ​Born on August 28, 1774, on Staten Island, Elizabeth was originally raised in the tradition of the Episcopalian church. After spending time in Italy, she was struck by the beauty of Catholicism, and converted in 1805. Following her husband's premature death, Elizabeth started a Catholic school for girls in Baltimore, Maryland, at the request of a priest. Elizabeth's most lasting impact, however, was the founding of the Sisters of Charity of Saint Joseph's in 1809 – the first religious order in America. This order not only helped hospitals and orphans, but also established the parochial education system in America. Elizabeth's devotion to educating children and caring for the less fortunate has had an impact lasting well beyond her own life.
Saint Elizabeth Ann Seton is depicted on the exterior tympana of the west façade, the Hall of American Saints, Miraculous Medal Chapel window, Our Lady of Guadalupe Chapel, and the Trinity Dome Mosaic.
Sources:
Butler's Lives of Saints, ed. Bernard Bangley
The Way of Saints, Dr. Tom Cowan
The Basilica Guidebook, Dr. Geraldine Rohling