Mass Schedules
Livestreaming Sundays at 12:00 pm ET
Sunday Masses
Morning:
9:00 a.m.
Afternoon:
12:00 noon, 2:30 p.m. (en español), and 4:30 p.m.
Daily Masses (Monday-Saturday)
Morning:
8:00 a.m.
Afternoon:
12:10 p.m.
Holy Days of Obligation Masses
Vigil Mass: 5:15 p.m.
Morning:
7:00, 7:30, 8:00, 8:30, 10:00
Afternoon:
12:00 and 5:15
Confession Schedules
Sunday
There will be no Confessions on Sundays until further notice.
Monday through Saturday
9:00 a.m. to 11:00 a.m.
No Confessions on:
Easter Sunday, Thanksgiving, Christmas Day, and New Year's Day

International Day of Prayer and Fasting Opening Vigil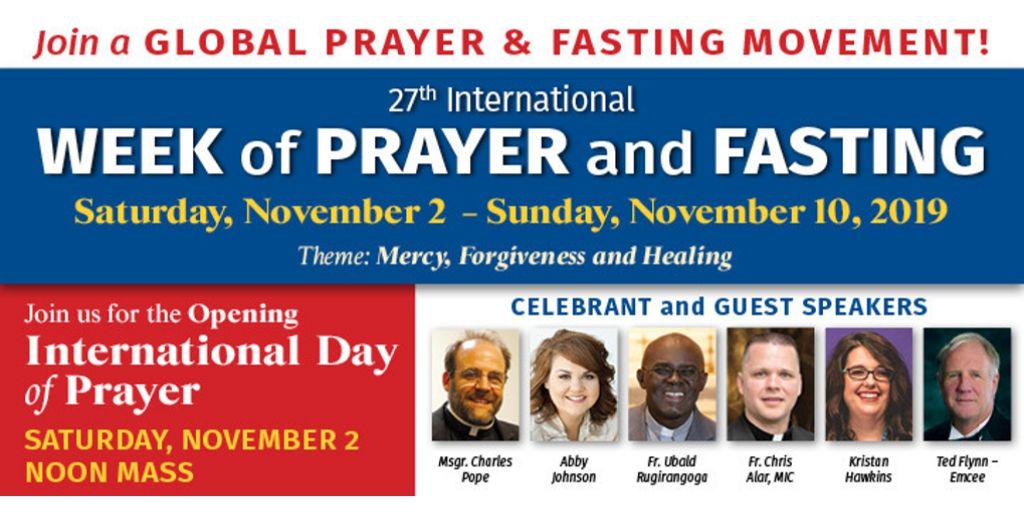 We invite you to join us on November 2nd for the Opening Prayer Vigil for the International Week of Prayer and Fasting. This day of prayer, dedicated to end the "culture of death" will feature recitation of the rosary, Eucharistic Adoration, and special talks given by Father Ubald Rugirangoga, the founder of the Center for the Secret of Peace; Father Chris M. Alar, MI, Abby Johnson, Pro-Life Activist; and Kristan Hawkins, President of Students for Life of America.
Related Events