Mass Schedules
Livestreaming Sundays at 12:00 pm ET
Sunday Masses
Morning:
7:30 a.m., 9:00 a.m., and 10:30 a.m.
Afternoon:
12:00 noon, 2:30 p.m. (en español), and 4:30 p.m.
Daily Masses (Monday-Saturday)
Morning:
7:00 a.m. and 8:00 a.m.
Afternoon:
12:10 p.m. and 5:15 p.m.
Vigil Mass (Saturday):
4:30 p.m.
Holy Days of Obligation Masses
Mass times vary. Please see individual event pages.
Confession Schedules
Sunday
10:00 a.m. to 12:00 p.m. (Noon)
1:15 p.m. to 2:15 p.m. (En Espanol)
2:30 p.m. to 4:30 p.m.
Monday through Saturday
9:00 a.m. to 12:00 p.m. (Noon)
3:00 p.m. to 5:00 p.m.
No Confessions on:
Easter Sunday, Thanksgiving, Christmas Day, and New Year's Day

Easter Octave Organ Recital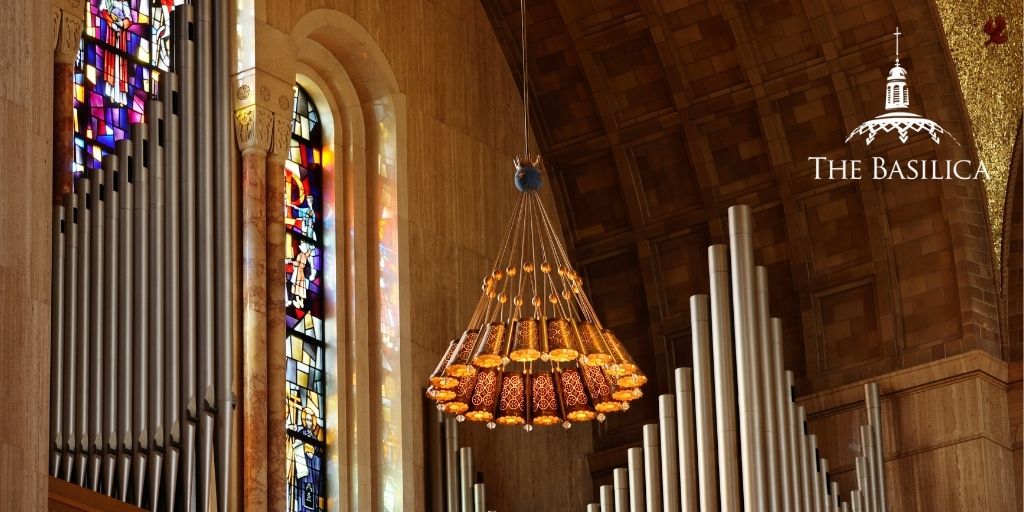 Please join us Sunday, April 11, 2021 for our annual Octave of Easter Organ Recital. Adam J. Brakel of Orlando, Florida will perform. All are welcome. Admission is free, but reservations will be required.
Adam J. Brakel will perform works by Niels W. Gade, Jean-François Dandrieu, François Roberday, Joseph Bonnet, Johann Sebastian Bach, Healey Willan, Franz-Xaver Schnizer, Franz Liszt, and Maurice Duruflé on the Möller (1965)/Goulding & Wood (2001) organs of the Great Upper Church.  The recital will be open to the public as well as livestreamed on the National Shrine website, YouTube, and Vimeo channels.
Hailed as "an absolute organ prodigy" by National Public Radio and "one of the most talented organists in the world" by the Chicago Tribune, concert organist Adam J. Brakel is a preeminent artist "with the technique and virtuosity that most concert pianists could only dream of." (NPR)
Adam's celebrated performances span the globe—from coast to coast in the United States to across Europe and Asia. His expansive repertoire includes the entire spectrum of styles featuring the complete organ works of Bach, Bruhns, Buxtehude, Couperin, Liszt, de Grigny, Franck, Mozart, Mendelssohn, and Duruflé.
Brakel's performance highlights include the complete works of César Franck, and, most notably, the fiendishly difficult Six Etudes of Jeanne Demessieux, of which Adam is one of the few organists in the world to have performed and recorded in its entirety. A graduate of the Peabody Conservatory and Duquesne University, Adam has a rich and decorated musical pedigree, having studied with Donald Sutherland and Dame Gillian Weir. He has taken top prizes in the Albert Schweitzer Organ Competition, the Gruenstein Memorial Organ Competition, the John Rodland Memorial Scholarship Competition, the French Organ Music Seminar Competition, and the Carlene Neihart International Organ Competition. He has also earned the André Marchal Award for Excellence in Performance as well as the Oundle Award, among other honors.
In addition to his concert career, Adam was most recently appointed Director of Music for St. James Cathedral and the Diocese of Orlando, Florida.
For additional information, visit: www.adambrakel.com
Adam J. Brakel is represented in North America exclusively by Phillip Truckenbrod Concert Artists, LLC.
Related Events