Mass Schedules
Livestreaming Sundays at 12:00 pm ET
Sunday Masses
Morning:
7:30 a.m., 9:00 a.m., and 10:30 a.m.
Afternoon:
12:00 noon, 2:30 p.m. (en español), and 4:30 p.m.
Daily Masses (Monday-Saturday)
Morning:
7:00 a.m. and 8:00 a.m.
Afternoon:
12:10 p.m. and 5:15 p.m.
Vigil Mass (Saturday):
4:30 p.m.
Holy Days of Obligation Masses
Mass times vary. Please see individual event pages.
Confession Schedules
Sunday
10:00 a.m. to 12:00 p.m. (Noon)
1:15 p.m. to 2:15 p.m. (En Espanol)
2:30 p.m. to 4:30 p.m.
Monday through Saturday
9:00 a.m. to 12:00 p.m. (Noon)
3:00 p.m. to 5:00 p.m.
No Confessions on:
Easter Sunday, Thanksgiving, Christmas Day, and New Year's Day

2022 Summer Organ Recital Series – Dr. Peter Latona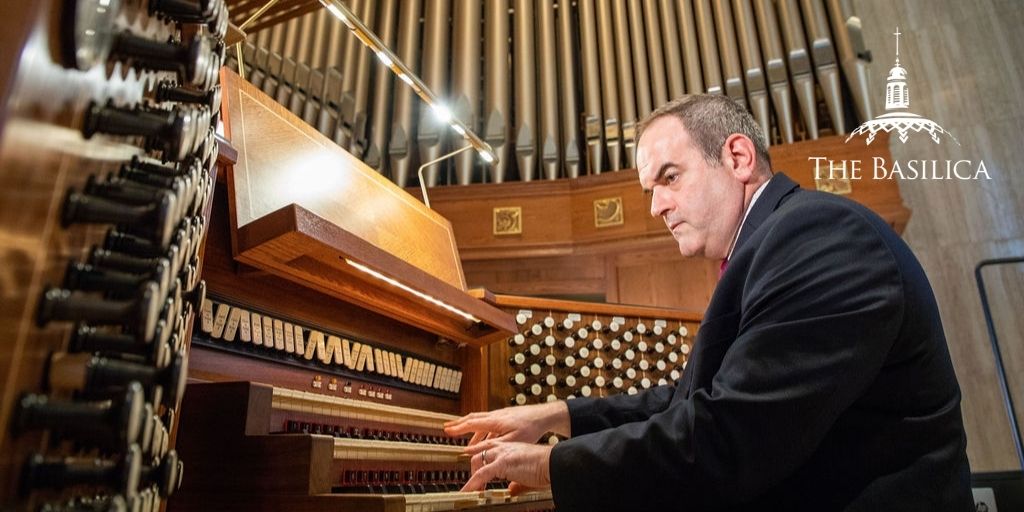 Join the Basilica for the second performance in our 2022 Summer Organ Recital Series on July 10 at 6:00 PM in the Great Upper Church. Dr. Peter Latona, Director of Music at the Basilica, will perform.
Peter Latona
Peter Latona (b. 1968) is the Director of Music for the Basilica of the National Shrine of the Immaculate Conception (Washington, D.C.), the preeminent Marian shrine of the Roman Catholic Church in the United States. Recognized as a conductor, composer, organist, improviser, and teacher, he is dedicated to providing the highest standard in sacred music within the context of the Roman Catholic Liturgy.
An award-winning organist, Dr. Latona has performed throughout the United States, Europe, and the Holy Land, has presented workshops on improvisation, and has released a recording, An Organ Pilgrimage, on the Raven label, featuring all four pipe organs at the Basilica. In 2012, he performed to an audience of one thousand, having been invited as a featured artist for the Festspiele Europaische Wochen in Passau, Germany. As the conductor of the Choir of the Basilica, he released numerous recordings of sacred choral music, presented concerts in the United States and abroad, performed nationally for the American Guild of Organists, the National Pastoral Musicians Association, the Conference of Roman Catholic Cathedrals, the Church Music Association of America, and internationally as a featured conductor in the Festival Internazionale di Musica e Arte Sacra. Among his recently completed recording projects is Tu es Petrus: A Papal Tribute in Music, which commemorates the papacy of Pope Benedict XVI and celebrates the Petrine ministry of Pope Francis, as well as Te Deum: The Sacred Music of Peter Latona, which was commissioned by the Knights of Columbus and features many of the works composed by Dr. Latona for the National Shrine.
Active as a composer, Dr. Latona is published by Morningstar Music Publishers, as well as Canticanova Publications and G.I.A. His music has been featured in various media productions, including Bishop Robert Barron's well-known series Catholicism. He recently won first prize in a composition competition sponsored by the Conference of Roman Catholic Cathedral Musicians for his Priests of God/Servants of God and Go into All the World. He has received commissions from the Knights of Columbus, the Diocese of Wheeling-Charleston, and the Diocese of Helena, as well as by the Archdioceses of Washington, New York, and Philadelphia. His music was performed during the Apostolic Visit of His Holiness Benedict XVI to the United States in 2008 and in each city visited by Pope Francis during his 2015 Apostolic Visit to the United States. In recognition of this, Dr. Latona was awarded the Pro Ecclesia et Pontifice medal by Pope Francis. Dr. Latona also serves on the composition faculty of The Catholic University of America's Benjamin T. Rome School of Music. Dr. Latona is a graduate of Bucknell University (B. Mus.), the Yale School of Music (M. Mus.), and the Manhattan School of Music (D.M.A.).
Related Events