Mass Schedules
Livestreaming Sundays at 12:00 pm ET
Sunday Masses
Morning:
9:00 a.m.
Afternoon:
12:00 noon, 2:30 p.m. (en español), and 4:30 p.m.
Daily Masses (Monday-Saturday)
Morning:
8:00 a.m.
Afternoon:
12:10 p.m.
Holy Days of Obligation Masses
Vigil Mass: 5:15 p.m.
Morning:
7:00, 7:30, 8:00, 8:30, 10:00
Afternoon:
12:00 and 5:15
Confession Schedules
Sunday
There will be no Confessions on Sundays until further notice.
Monday through Saturday
9:00 a.m. to 11:00 a.m.
No Confessions on:
Easter Sunday, Thanksgiving, Christmas Day, and New Year's Day

100th Anniversary Mass of the Placing of the Foundation Stone
September 20 @ 12:00 pm

-

1:30 pm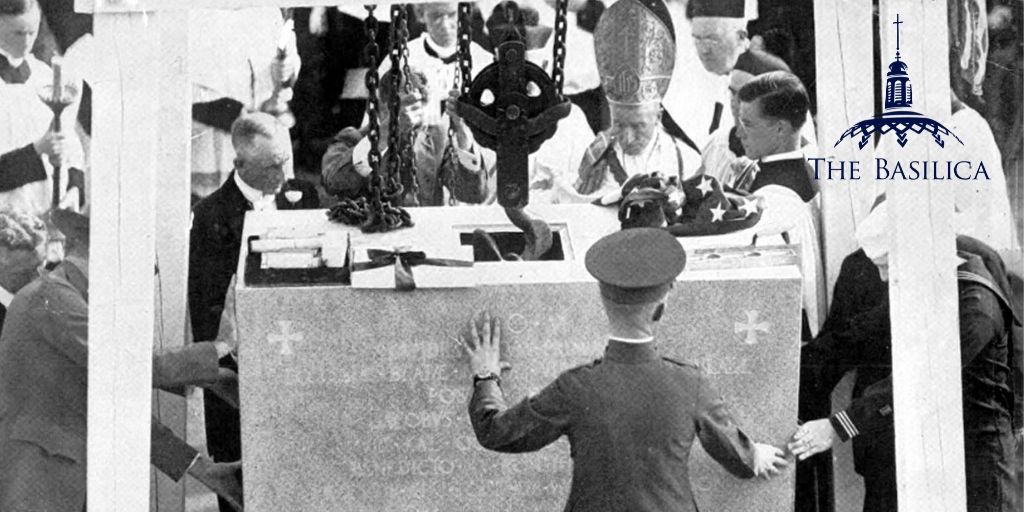 On September 23, 2020, the Basilica of the National Shrine of the Immaculate Conception will celebrate the one hundredth anniversary of the placing of its first stone—the foundation stone, upon which has been built America's Catholic Church.
A century in the making, the Basilica of the National Shrine of the Immaculate Conception is more than our nation's preeminent Marian shrine and patronal church. From its foundation stone to the Trinity Dome, the National Shrine embodies the diversity of the peoples, cultures and traditions of our great country and the unity and universality of the Catholic Church. For this reason, Mary's Shrine is a mosaic of our nation, cornerstone of faith, and foundation for the future.
Through the generosity of American Catholics, the prayers of the faithful, and the hard work of artisans and laborers, the National Shrine has been built to praise God and give honor to His Mother—and our Mother. The one hundred years since 1920 have truly marked a century of devotion to the Blessed Virgin Mary.
Celebration of the centennial will begin with Mass on September 20, 2020. The Most Rev. Wilton D. Gregory, Archbishop of Washington and Chairman of the National Shrine's Board of Trustees, will be the principal celebrant and homilist. Please mark your calendars!
This Mass will inaugurate a year-long celebration of the one-hundredth anniversary that will include special Masses, concerts, pilgrimages, exhibits, and other events to commemorate this historic milestone of America's Catholic Church. Planning is underway and more information will be posted here as it becomes available.
Related Events