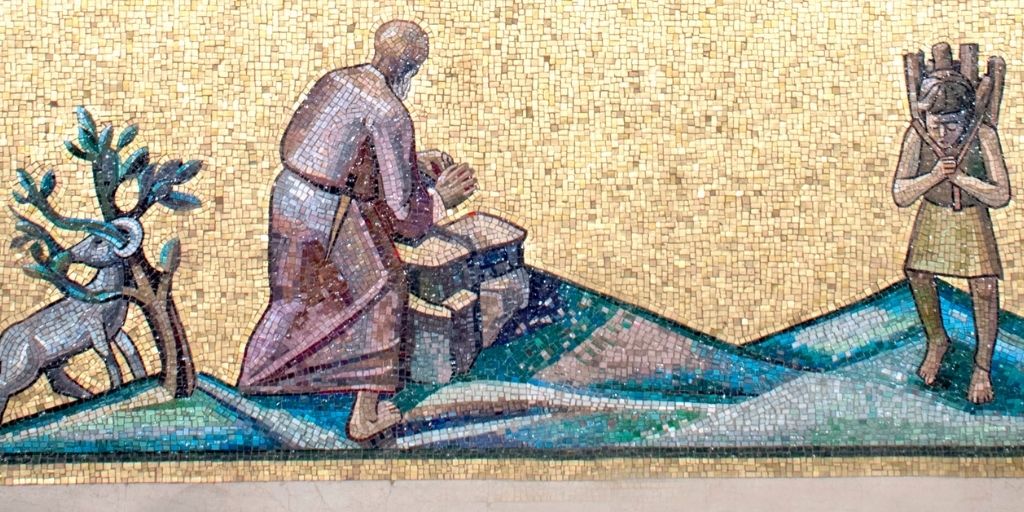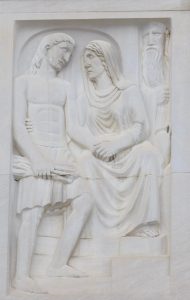 Though the story of Abraham and Isaac is familiar to many, it is often misunderstood. On its surface, the account of Isaac seems unsettling, and raises questions of God's goodness and consistency. What does this strange passage mean, and how does it apply to us today?
A Promised Son
Genesis tells us that God had promised Abraham and Sarah a child. As they grew old and Sarah remained barren, they doubted God's promise, but He had not forgotten them. When Abraham was 99, Sarah conceived and bore a son named Isaac, which means "laughter" —because each of them laughed when they learned they would have a child in their old age. God promised Abraham that He would continue His covenant with Isaac, and that he would have many descendants through this promised son.
Command to Sacrifice
One day when Isaac was a boy, God came to Abraham and told him to sacrifice Isaac on Mt. Moriah. Though he loved his son dearly, he did not hesitate to obey the Lord. The very next day, Abraham saddled his donkey and began the journey, with Isaac, two servants, and wood for the sacrifice. As they neared the mountain, Abraham instructed the servants to stay behind, while he and Isaac ascended. Genesis 22:7-8 describes the conversation between father and son as they climbed the mountain:
Isaac spoke to his father Abraham. "Father!" he said. "Here I am," he replied. Isaac continued, "Here are the fire and the wood, but where is the sheep for the burnt offering?"

"My son," Abraham answered, "God will provide the sheep for the burnt offering." Then the two walked on together.

The Lord Provides
They came to the place where God had told him to go and built an altar. Abraham bound Isaac, arranged the wood on the altar, and drew his knife. But at that moment, an angel stopped him. Genesis 22:11-12 describes:
But the angel of the Lord called to him from heaven, "Abraham, Abraham!" "Here I am," he answered. "Do not lay your hand on the boy," said the angel. "Do not do the least thing to him. For now I know that you fear God, since you did not withhold from me your son, your only one."
Abraham noticed a ram caught by his horns in the thicket nearby and offered it to the Lord instead. He called the place "Yahweh-yireh" meaning "the Lord will provide." After the sacrifice, the angel spoke again to him, saying that he would be blessed for being willing to give all that he had to the Lord, as Genesis 22:16-18 relates: 
"I swear by my very self—oracle of the Lord—that because you acted as you did in not withholding from me your son, your only one, I will bless you and make your descendants as countless as the stars of the sky and the sands of the seashore; your descendants will take possession of the gates of their enemies, and in your descendants all the nations of the earth will find blessing, because you obeyed my command."
Abraham's Faith
At first glance, the story of Abraham and Isaac seems disturbing. Why would a loving God ask Abraham to sacrifice his only son in a manner similar to his pagan neighbors? Was He bringing unnecessary torment to a man who had already waited so long for a child?
Upon closer inspection, it's clear that God's request to sacrifice Isaac was not unloving or capricious. Instead, it is a beautiful picture of Abraham's faithfulness and God's provision. In the past, Abraham had doubted God. He had tried to have children in his own way instead of waiting on God. By asking him to sacrifice Isaac, God was testing Abraham to see if he trusted Him.
And he did: Abraham's faith in God was so great that he was willing to give Him his only son, trusting that God could bring him back from the dead. When he and Isaac left to go up to the mountain, Abraham said to his servants, "we'll come back to you." And Hebrews 11:17-19 reveals:
By faith Abraham, when put to the test, offered up Isaac, and he who had received the promises was ready to offer his only son, of whom it was said, "Through Isaac descendants shall bear your name." He reasoned that God was able to raise even from the dead, and he received Isaac back…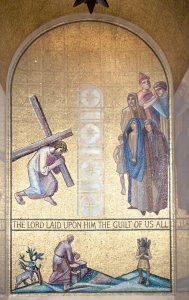 In return, God promised to make his offspring as many as the stars.
Like Abraham, we should have confidence in God, trusting Him with everything and being willing to sacrifice our best to Him. Though we may not fully understand His plans, He, in His providence, supplies all our needs. All He asks is that we have a willing heart.
A Picture of Christ
The story of Isaac is both a picture of Abraham's willingness to sacrifice his only son and a foreshadowing of God's willingness to sacrifice His only Son for us. Abraham says, "God will provide the sacrifice." Not only did God provide a ram as a sacrifice for Abraham, but He provided a lasting sacrifice through His Son — for Abraham, and for all of us.
Though Jesus did not deserve to die, God made Him the sacrifice to wash away our sin. We can trust God with everything He has given us, because He did not withhold anything from us, as John 3:16-17 states:
For God so loved the world that he gave his only Son, so that everyone who believes in him might not perish but might have eternal life. For God did not send his Son into the world to condemn the world, but that the world might be saved through him.