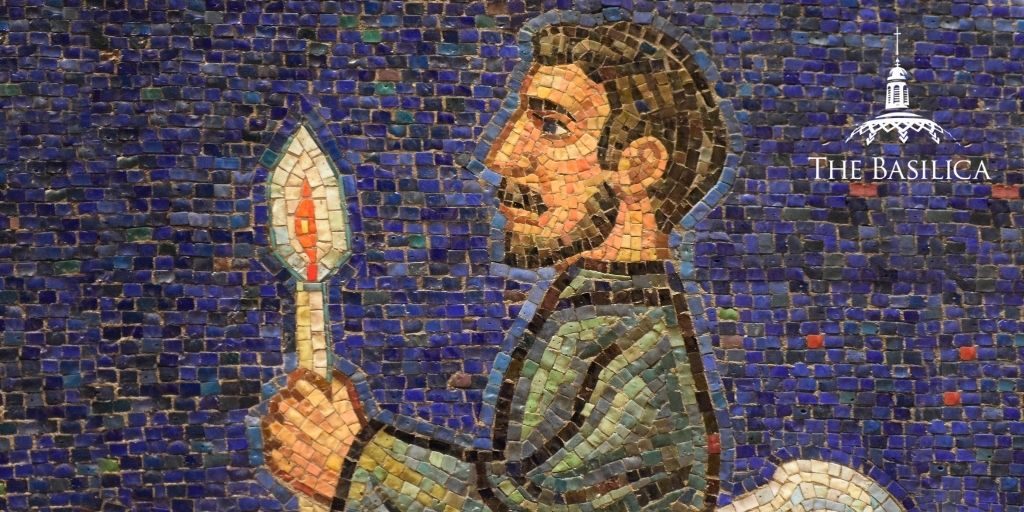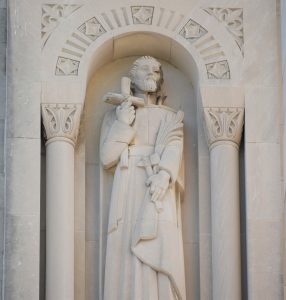 On October 19, the Church celebrates the Memorial of St. Isaac Jogues, a Jesuit missionary born in France. Along with his companions, St. Isaac was one of the first North American martyrs recognized by the Church. Even as he faced excruciating torture and watched his fellow missionaries die at the hands of their captors, he did not stop sharing the Gospel. Today, we invite you to learn more about his life, legacy, and where you can find him portrayed in the Basilica.
Early Life of Saint Isaac
Born in 1607, St. Isaac Jogues was one of the earliest missionaries to New France. After being ordained as a Jesuit priest in 1636, he traveled to the continent to minister to the Native Americans. Though the initial years of his service were relatively uneventful, in 1641 the Iroquois whipped and tormented Isaac and his fellow missionaries. This torture continued for a year, as Isaac witnessed the brutal killing of his fellow missionaries during their captivity. And yet, the continuous threat of pain and emotional distress did not stop Isaac from evangelizing to the Iroquois. He even baptized some of them before he escaped aboard a Dutch ship to France.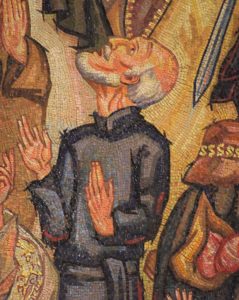 Isaac Returns
While others would have quavered at the prospect of returning to their tormentors, Isaac found he could not stop thinking about how the Iroquois needed the Gospel. Knowing that a second mission would likely be a death sentence, Isaac returned mere months later, offering these parting words:
"My heart tells me that, if I am the one to be sent on this mission, I shall go but I shall not return. But I would be happy if our Lord wished to complete the sacrifice where he began it."
In 1646, when he and his fellow missionary Jean de Lalande were traveling to the home of the Iroquois, they were killed by a group of Mohawks. St. Isaac is patron saint of Canada and the Americas, and is portrayed in the Basilica in the west façade, the Our Lady of Guadalupe Chapel, and the Second Coming mosaic.
---
Sources:
American Saints and Blesseds, USCCB
"Saints Isaac Jogues, Jean de Brébeuf, and Companions," Franciscan Media