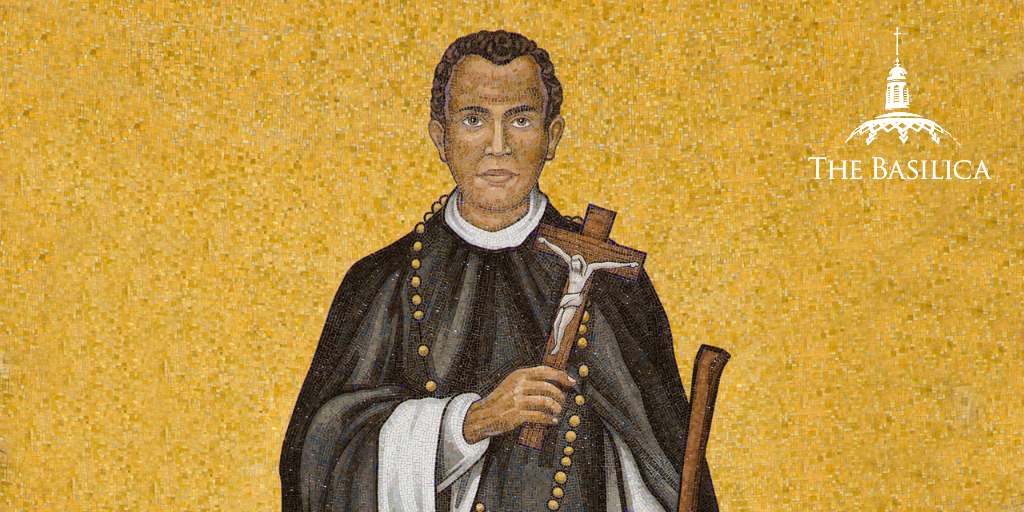 On November 3, the Church celebrates the Memorial of St. Martin de Porres, the patron saint of social justice and mixed-race people. Guided by a spirit of compassion and selflessness, he worked tirelessly to care for the vulnerable during his lifetime, founding a hospital, orphanage, and an animal shelter. Today, we invite you to learn more about his life and legacy and discover where he is portrayed in the Basilica.
Early Life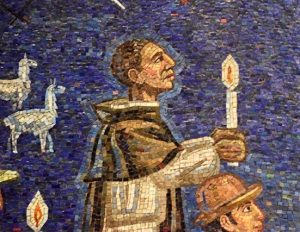 Martin de Porres was born out of wedlock in Lima, Peru in 1569, to a Spanish man and a formerly enslaved Peruvian woman. His father enjoyed a position of power as governor and sought to distance himself from his mixed-race son, leaving his mother to raise him.
When he was just 12, Martin began training to be a barber – a profession which, at the time, entailed surgical procedures such as tooth pulling and bloodletting in addition to cosmetic services. About three years later, Martin became a full-time volunteer with the Dominicans in Lima. Though he wanted to join the Dominican Order, at this time Peruvian Law barred persons with African or Native American heritage from entering religious communities. Initially he served as janitor but was soon reassigned after his other skills were noticed. He became an invaluable medical assistant, serving as head of the infirmary and distinguishing himself with his knack for healing and use of herbal remedies. When he was 24 years old, Martin was allowed to profess vows as a Dominican Lay Brother, after the prior disregarded the Peruvian laws.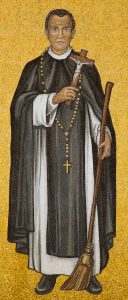 Martin Cares for the Vulnerable
Not only did Martin found an orphanage and a hospital for abandoned infants, but his medical services expanded to the streets of Lima, where he would pick up ailing vagabonds and bring them back to his own room to nurse them back to health. Being of African heritage himself, he also had a particular compassion for enslaved people, often fulfilling the basic needs their overseers neglected.
Throughout all his endeavors, Martin demonstrated the utmost love and charity, and became a lay brother of the Dominicans at the suggestion of his superiors. In addition to his work in hospitals and social justice, he also started an animal shelter at his sister's house to care for cats and dogs.
Martin's Legacy
After a full life of selfless ministry, Martin passed away at age 60 on November 3, 1639, and was canonized in 1962. You can find him portrayed in the Basilica in the Our Lady of Guadalupe Chapel, the Second Coming mosaic, and the Trinity Dome.
Sources:
Butler's Lives of the Saints (ed. by Bernard Bangley)
Cowan's The Way of Saints
"St. Martin de Porres," University of Notre Dame