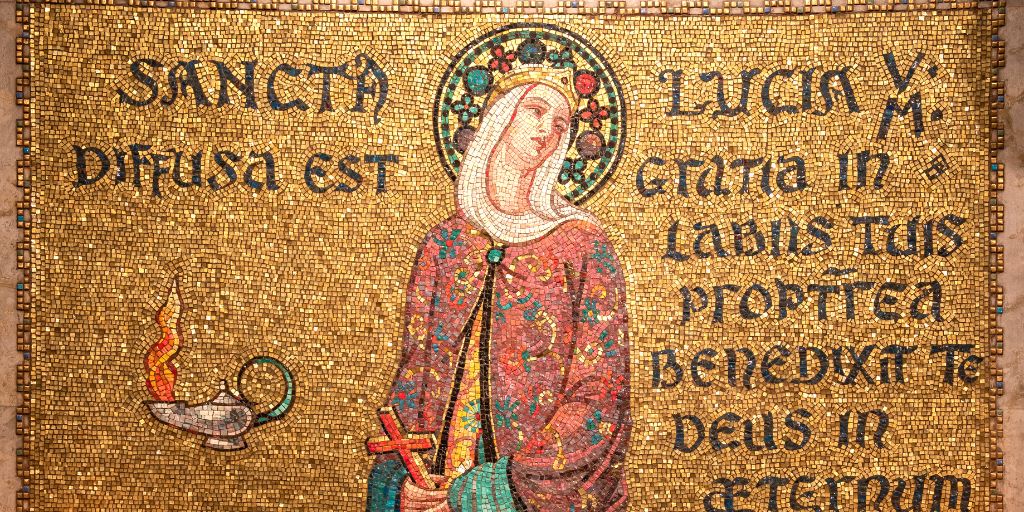 The feast day of St. Lucia (St. Lucy) is celebrated on December 13th and is most popularly observed in Scandinavian countries. Lucy means "light" (from the Latin lux), and the celebration of her feast has long been associated with the Advent season and the coming of Christ's light to a dark world.
The Story of St. Lucy
A native of Sicily, Lucy came to the faith after her blind mother miraculously recovered her ability to see. Under the persecution of the Emperor Diocletian, she was martyred for her faith. Tradition tells us that a spurned suitor angrily reported her to the governor for practicing Christianity. It is said that while she was awaiting her sentence, she was tortured and blinded, yet her vision was miraculously restored. She is therefore considered the patron saint of the blind.
St. Lucy's Day Traditions
In Scandinavia, the feast of St. Lucy is celebrated with each town appointing a girl to serve as St. Lucy, who dresses in a white dress with a red sash and a lighted wreath on her head, leading the other children in a parade through the streets. The celebration is also observed in individual families, with the eldest daughter taking on the role of St. Lucy and serving coffee, cookies, and saffron buns.
The white robe of St. Lucy is a picture of her virginity, and the red sash her martyrdom. The wreath and food stem from her care for other persecuted believers. Tradition holds that she would wear a wreath of candles, leaving her hands free to carry more provisions to those hiding in the catacombs.
St. Lucy at the Basilica
At the Basilica, a chapel is dedicated to St. Lucy in the east apse of the Crypt Church. Take a virtual tour of the chapel below!
Source:
The Basilica Guidebook, ed. Dr. Geraldine Rohling