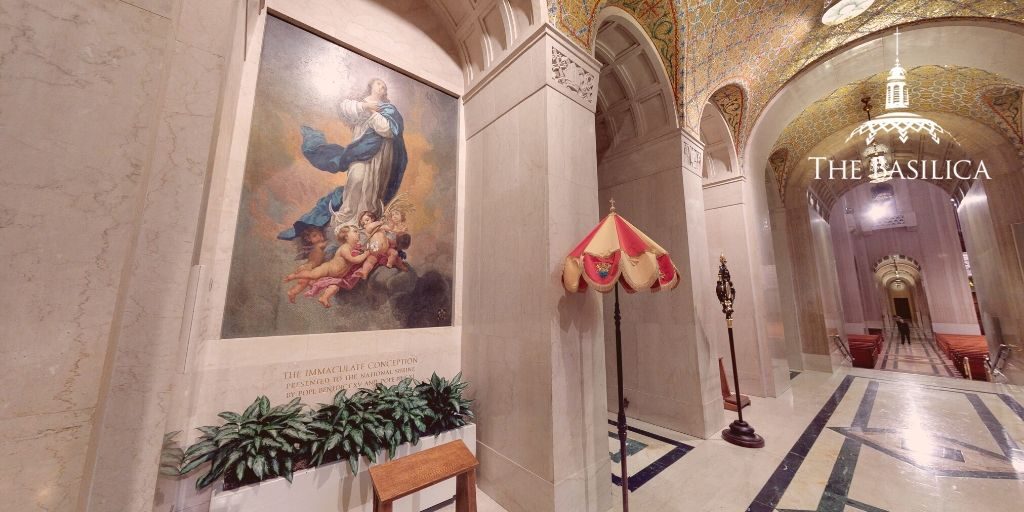 One of the most significant events in the life of the National Shrine was when it was elevated to the rank of a minor basilica on October 12, 1990 by Pope John Paul II. Minor basilicas are allowed the dignities of the ombrellino (parasol), tintinnabulum (bell), and coat of arms, with the display of papal keys, to represent their tie to the pope. Learn more about the significance of each of these dignities and how they appear at the Basilica.
The Ombrellino
The ombrellino has been used in processions to protect officials for many centuries and became identified with the papacy in the 11th century. At the Basilica, the ombrellino has alternating gold and red stripes, as well as five heraldic shields that represent the National Shrine, Pope John Paul II, Pope Pius X, James Cardinal Hickey, and Pope Benedict XVI. It was first put on display in 2009, for the Mass in honor of the 50th anniversary of the dedication of the National Shrine. Normally, it is displayed partially open, awaiting the arrival of the pope, upon which it is displayed fully open.
The Tintinnabula
Along with the ombrellino, the tintinnabula also serves as a symbol of the National Shrine's status as a minor basilica. Historically, the tintinnabulum would be rung to alert people of the approach of the Holy Father during papal processions. The tintinnabula of the Basilica has three bells, representing the Trinity, surrounded by a hand-carved wooden frame with gold accents. Enamel ovals depict the Basilica and Murillo's Immaculate Conception.
The Coat of Arms
The third and final dignity is the coat of arms. Divided into two halves, the left represents the Archdioceses of Baltimore and Washington with gold, red, and white cross bottony, as well as the Immaculate Conception, who is represented by a gold and white crescent. Three white stars are taken from the arms of George Washington, tying in the city of Washington, D.C.
On the right side, a gold pile on a white field serves as a symbol of the Church's stability in Christ, while the dark chevron represents the structure of the church. Hope and constancy are represented by a sable anchor, inspired by the crests of Bishop Shahan, the Basilica's founder, and Pope Pius X. The cockleshell represents pilgrimage, and trefoils (shamrocks) refer to the many builders, architects, and clergymen of Irish descent who helped complete the National Shrine, as well as serving as a symbol of perpetuity.
The motto Ad Iesum per Mairam Immaculatum, is translated "To Jesus through Mary Immaculate," and the coat of arms is completed by the papal keys.
Where You Can Find Them at the Basilica
At the Basilica, the ombrellino and tintinnabula are displayed in the Great Upper Church, flanking the sides of the entrance to the Sacristy.