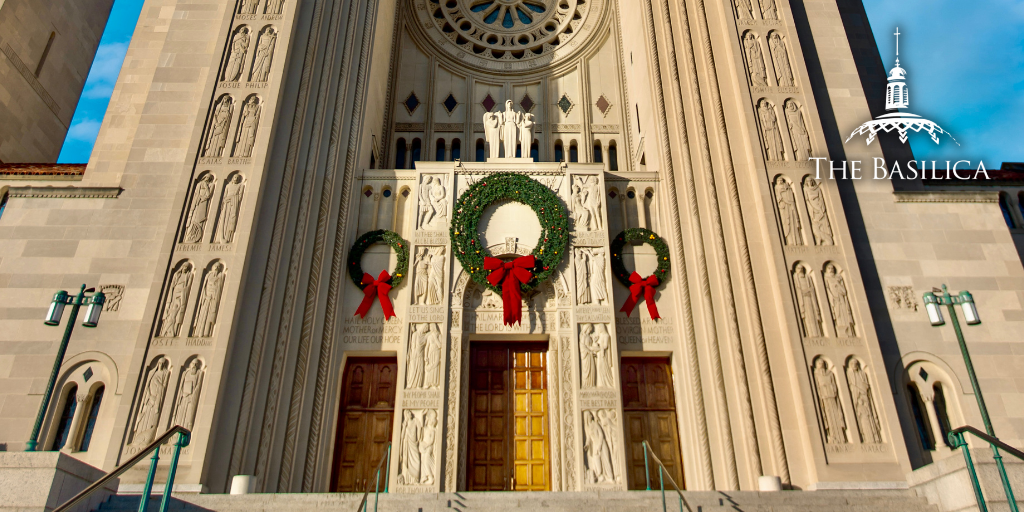 As we approach the season of Advent, we celebrate the hope that we have been given through the birth of Christ! While you search for the perfect gifts for your loved ones this Christmas, find inspiration in the latest curated collection of sacred jewelry, ornaments, and more from the National Shrine Shops. From Christmas cards and candle holders, to bracelets and books, there's something for everyone!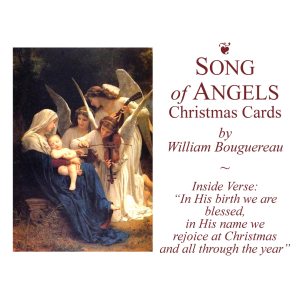 Song of Angels Christmas Cards
Send your loved ones Christmas greetings with these lovely cards depicting the Blessed Mother and the Infant Jesus being serenaded by angels. The text inside reads:
"In His birth we are blessed, in His name we rejoice at Christmas and all through the year."
Each set includes 18 cards and envelopes measuring 6 inches by 8 inches.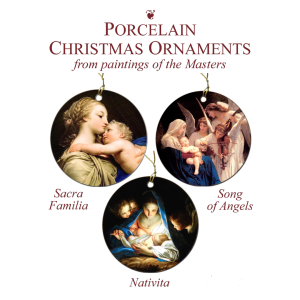 Porcelain Christmas Ornaments
Each featuring a different painting of Our Lady and the infant Jesus, these captivating porcelain ornaments are approximately 3 inches in diameter and hang from a slender golden cord.
Advent Nativity Candleholder
Designed by illustrator Michael Adams, this resin candleholder depicts the Holy Family with the Magi, an angel, a shepherd, and a sheep. It provides a visual reminder to mark the Sundays of the Advent season as you count down to Christmas!

The Jesse Tree: An Advent Devotion
Written by Eric and Suzan Sammons, this engaging family devotional book features unique daily devotions for every day of the Advent season, each diving into a different aspect of the lineage of Jesus. Every passage ends with a traditional prayer and thought-provoking questions for real-world application, as well as a colorful ornament that readers can hang on their tree.

Icon Christmas Ornaments
Made in Ukraine, these exquisite resin ornaments portray heartwarming scenes of the nativity and Our Lady with the infant Jesus, serving as a gentle reminder of how the Lord of all creation came to earth as a baby to offer us the ultimate gift of salvation.
Each ornament is approximately 4.75 inches in diameter and hangs from a delicate golden ribbon.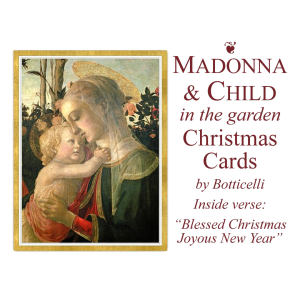 Madonna and Child Christmas Cards
These stunning renaissance Christmas Cards are certain to inspire devotion to our Blessed Mother! Featuring a depiction of the Madonna and Child as painted by Sandro Botticelli during the 15th century, each card reads inside:
"Blessed Christmas, Joyous New Year."
One box includes 16 cards and envelopes.

Nativity Cross Advent Candle Holder
Unlike a traditional Advent wreath, this charming Advent candle holder can be reused every Christmas season, and is certain to become a centerpiece of your Christmas décor. 13 inches tall by 7.8 inches wide, it is made of resin and includes four taper candle slots.

The Nativity Christmas Cards
Featuring "The Nativity" as painted by Ruanne Manning, these beautiful Christmas cards are the perfect way to share a note about the reason for the season with your loved ones. The text inside reads:
"Wishing you peace, joy, and many blessings this Christmas and throughout the new year."
Each set includes 18 cards and envelopes.

Advent Blessing Bracelet
This simple yet elegant Advent bracelet is the perfect accessory for any holiday outfit. For the faithful, the Christmas season serves as a time of renewal, when we once again say "yes" to Christ, and this bracelet reminds the wearer to request His love be born anew in our hearts and lives.
Each of the different colors of beads represent the four moments of preparation as we pray for an increase of hope, love, joy and peace in Christ. Comes with prayer card.

Majesty of Christmas Cards
These colorful Christmas cards feature a breathtaking scene of the Holy Family, complete with gold foil halos and accents. The text inside reads:
"As we honor the birth of Jesus there's no better time to make our hearts ready for hope than Christmas. Praying for you and wishing you a spirit of hope."
Each set includes 16 cards and envelopes measuring 5 inches by 8 inches.