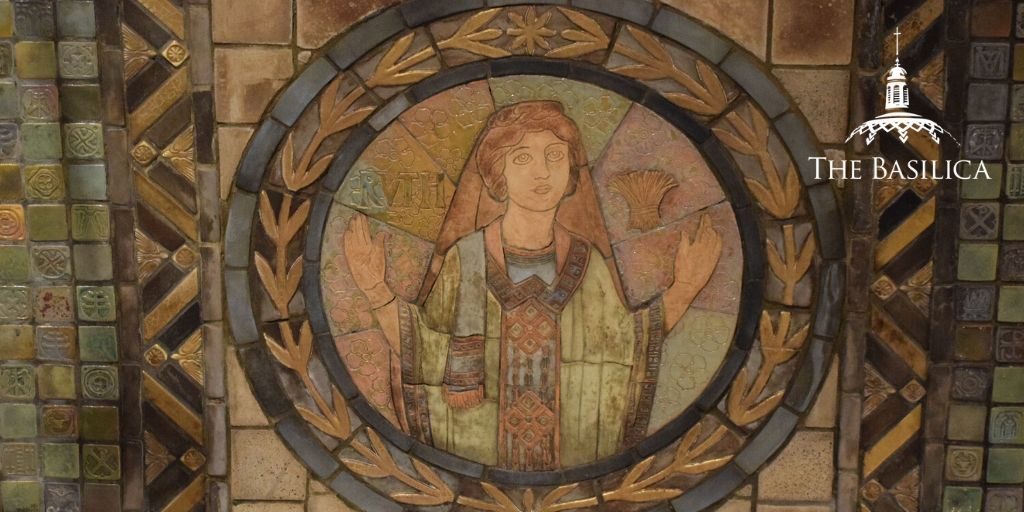 This post is the first installment in the Basilica's Biblical Figures series, which highlights the stories of the individuals throughout the Scriptures who are portrayed in "America's Catholic Church." While some of them inspire us with their unwavering faithfulness, others serve as sober reminders of the consequences of sin. All of them have lessons to teach us about Christian living. Today, we highlight the story of Ruth and Naomi, which is an inspiring example of how God can turn any tragedy into a story of hope and joy.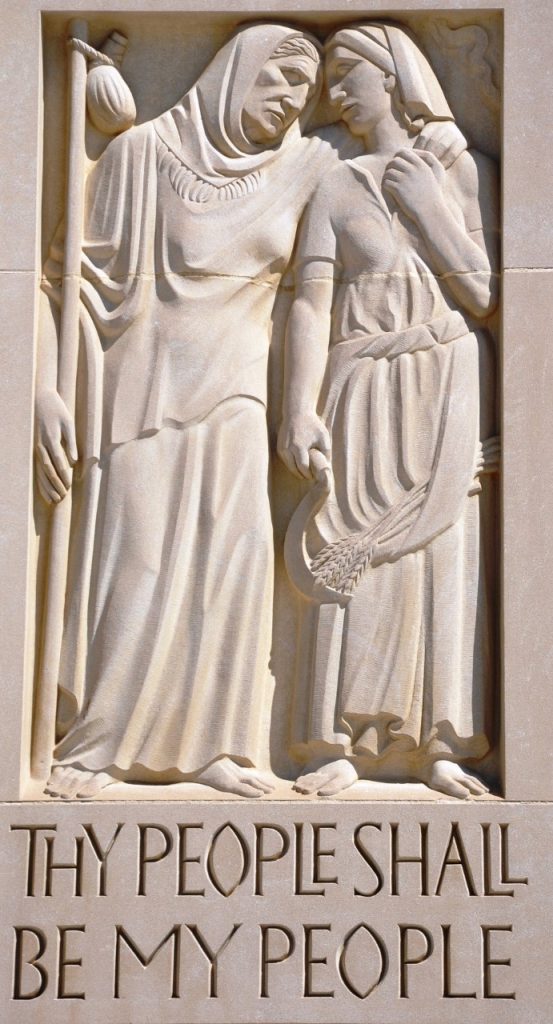 Famine and Tragedy
The opening of the Book of Ruth begins with sorrow. When a famine devasted Bethlehem, Naomi and her husband sojourned in Moab, and their two sons took Moabite wives named Ruth and Orpah. But after a decade, the women were left alone in the world when their husbands passed away.
Naomi, hearing of the Lord's faithfulness to his people in the land of Judah, decided to set out to return there. Both Ruth and Orpah insisted on accompanying her, but she told them to return to their own mothers instead. Hearing this, Orpah kissed Naomi, and left, but Ruth "clung to her," refusing to leave her side:
But Ruth said, "Do not press me to go back and abandon you!
Wherever you go I will go,
wherever you lodge I will lodge.
Your people shall be my people
and your God, my God.
Where you die I will die,
and there be buried.
May the Lord do thus to me, and more, if even death separates me from you!"
– Ruth 1:16 
Ruth and Naomi Set Out
Realizing that Ruth was determined to accompany her, Naomi set out with her towards Bethlehem. When they arrived in the land, the barley harvest was just beginning. Ruth went to glean in the fields of a man named Boaz who was a relative of Naomi. When he saw Ruth working there, he asked his reapers, "Whose young woman is this?" And they told him that she was a Moabite who had come with Naomi (Ruth 2:5-7).
Boaz then spoke to Ruth, asking her to stay in his fields and offering her his protection. Ruth was awed by his kindness, asking what she could have done to earn his favor. He replied:
"I have had a complete account of what you have done for your mother-in-law after your husband's death; you have left your father and your mother and the land of your birth, and have come to a people whom previously you did not know. May the Lord reward what you have done! May you receive a full reward from the Lord, the God of Israel, under whose wings you have come for refuge." – Ruth 2:11-12
After they spoke, Boaz instructed his other workers to leave extra grain for her to glean.
Naomi Conceives a Plan
When Ruth returned to her mother-in-law that night, she told her where she had worked in the fields that day. Naomi responded with joy, saying of Boaz:
"May he be blessed by the Lord, who never fails to show kindness to the living and to the dead. This man is a near relative of ours, one of our redeemers." – Ruth 2:19-20
Then Naomi instructed Ruth to go see Boaz on the threshing floor that night. So Ruth did as Naomi bade her to, and went down to the threshing floor and uncovered his feet where he lay. Boaz awoke at midnight to see Ruth laying at his feet and was startled:
"Who are you?" he asked. She replied, "I am your servant Ruth. Spread the wing of your cloak over your servant, for you are a redeemer." He said, "May the Lord bless you, my daughter! You have been even more loyal now than before in not going after the young men, whether poor or rich. Now rest assured, my daughter, I will do for you whatever you say; all my townspeople know you to be a worthy woman. Now, I am in fact a redeemer, but there is another redeemer closer than I. Stay where you are for tonight, and tomorrow, if he will act as redeemer for you, good. But if he will not, as the Lord lives, I will do it myself… "- Ruth 3:9-13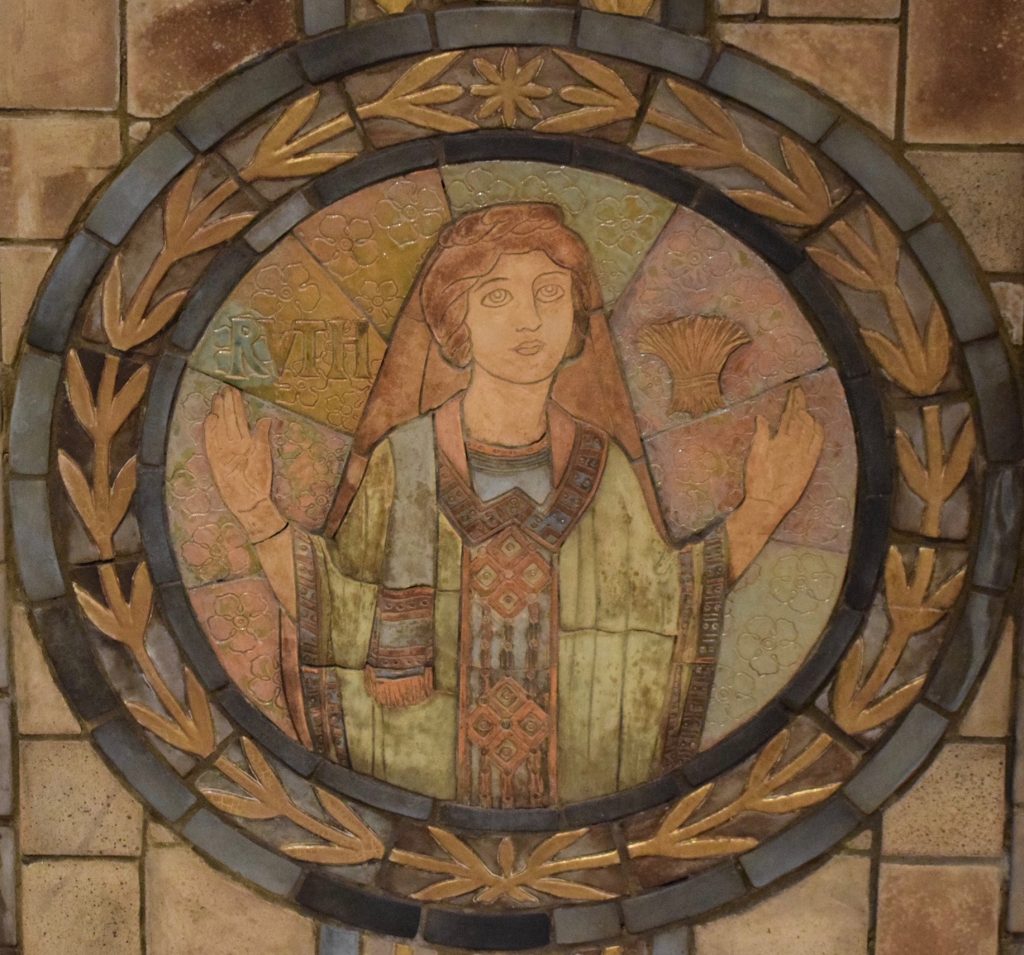 Ruth's Redemption
After this, Boaz went and spoke to the elders of the city, telling them of Naomi's inheritance: a parcel of land from their relative Elimelech. He told the redeemer that in taking this land, he would have the duty of marrying Ruth. But the redeemer renounced his claim to the land, and so Boaz bought it for himself. Then Boaz took Ruth as his wife, and together they had a son named Obed. Obed gave birth to Jesse, who was the father of David, the eventual king of Israel.
Lessons from Ruth and Naomi
The Book of Ruth is a beautiful example of how God can take a hopeless situation and turn it into something glorious. The story begins in tragedy – with famine, and the death of Ruth and Naomi's husbands. But because Ruth is loyal and faithful, God rewards her. Not only is Ruth redeemed by Boaz, but she also becomes an ancestor to the future king of Israel. What is particularly important to note in this story is Ruth's heritage: she was a Moabite, a detail that is reiterated frequently in the book. In Ruth and Naomi's lifetimes, the Israelites looked down upon the Moabites, considering them to be an inferior people. In selecting Ruth, God chose one of the "least of these" as the basis for the lineage of not only the future king of Israel, but for the Messiah who would save the world. God's choice to include Ruth in the story of divine redemption shows that his grace is for all people, and that no person is too insignificant to be used for his glory.