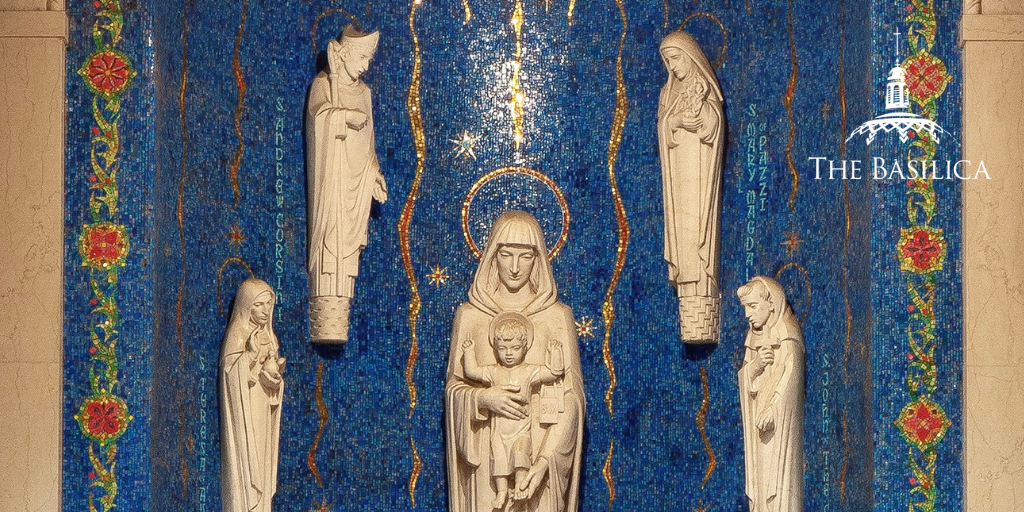 On May 25, we celebrate the feast day of Mary Magdalene de Pazzi. As we reflect on her unwavering devotion, we are inspired by her example of perseverance in hardship. Today, we invite you to discover more about her life, legacy, and where she is portrayed in the Basilica.
Early Years and Profession
On April 2, 1566, Mary Magdalene de Pazzi was born into a noble Italian family in Florence. Originally named Caterina, Mary demonstrated a kind and charitable nature from her youth, expressing a fervent love for prayer, penance, and the Blessed Sacrament. Mary received her first communion when she was 10, and four years later began attending school at the convent of Cavalaresse. During her time at the convent, the nuns were struck by her sincere devotion and forbearance, and some predicted that she would grow up to be a saint. It was while she was studying at Cavalaresse that she made the most important decision of her life: to serve the Lord until her death.
After convincing her parents to let her become a nun, she joined the Carmelite convent of Santa Maria degl' Angeli in December of 1582. Mary specifically chose the convent because the nuns there practiced Communion daily, unlike other convents of that era. In January 1583, she received her habit and changed her name to Mary Magadalene de Pazzi, and in March of the following year, she was afflicted with a terrible illness. By May of 1584, it was believed that she would soon die, so at her request, she was transported on a stretcher to make her profession on May 27, the Feast of the Trinity.
Courage in the Face of Suffering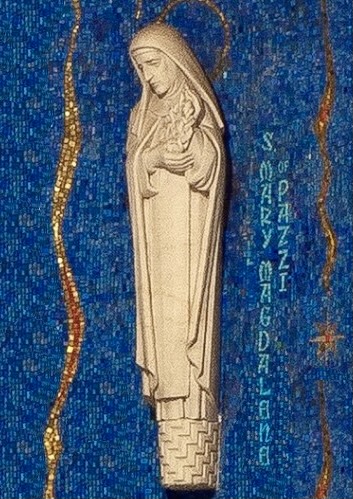 Upon making her profession, Mary underwent a 40-day mystical experience which nearly ended in her death, and for the next five years she suffered through "inward desolation and temptations." However, these trials did not prevent her from completing her duties at the convent, and even served to inspire and strengthen other members who witnessed her courageous resilience in the face of deep suffering. Mary never fully recovered her physical health, but she continued to teach and serve as a mistress to incoming and junior nuns, eventually being appointed superior in 1604.
During her time as mistress and superior, she came to be known as a wise, disciplined, and giving woman, who was much loved by all who knew her. Mary was also blessed with extraordinary spiritual gifts, such as the ability to read people's hearts and see things taking place from afar – miracles which she often performed for her fellow nuns and others outside the convent. In 1607, after three years of further physical torment, Mary succumbed to consumption and passed away. While the convent mourned her loss, they were filled with an indescribable joy upon her entrance into heaven.
In recognition of her encouraging example of endurance, St. Mary Magdalene de Pazzi was canonized in 1669 by Pope Clement IX. Her life continues to serve as a source of inspiration to Catholics across the world, and her incorrupt body can still be viewed by pilgrims in Italy today.
You can find St. Mary Magdalene de Pazzi portrayed in the Basilica in Botticino marble in the Our Lady of Mount Carmel chapel, alongside sculptures of five other Carmelite saints.
---
Sources:
Letter of His Holiness Benedict XVI to the Archbishop of Florence on the Occasion of the Fourth Centenary of the Death of St. Mary Magdalene De' Pazzi, April 29, 2007. The Vatican.
St. Mary Magdalene de Pazzi. Catholic News Agency.
St. Mary Magdalen de' Pazzi. New Advent.
The Basilica Guidebook. Dr. Geraldine Rohling