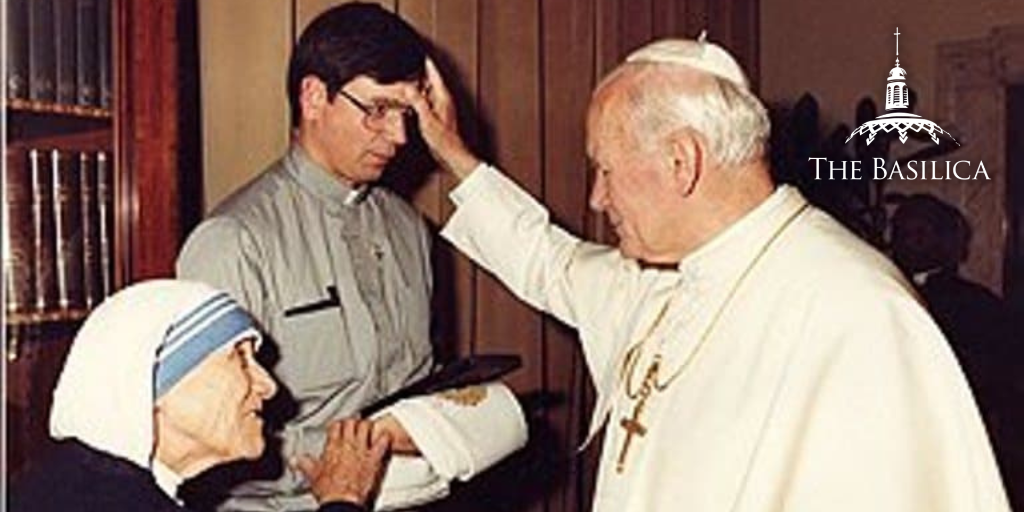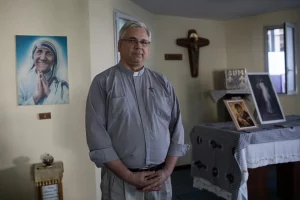 Years before he was appointed postulator of the cause for Mother Teresa's canonization, Father Brian Kolodiejchuk could tell that something was different about this soft-spoken nun of Calcutta. "Everyone knew that we were in the presence of a saint because of the effect that she had on people," he says.
They met in 1977 – inaugurating a friendship that would last for the rest of her lifetime.
Today, Fr. Kolodiejchuk serves as director of the Mother Teresa Institute and is known for his previous roles as the Superior General of the Missionaries of Charity Fathers and postulator of the Causes of Beatification and Canonization of Mother Teresa. Over the course of their 20-year friendship, he learned much from her example of holiness, kindness, and selfless service. Through an exclusive conversation with the National Shrine, Fr. Kolodiejchuk shares insights into the selfless love and faith of one of the world's most beloved saints.
The Faith of Mother Teresa
While the world may define Mother Teresa's legacy chiefly in terms of her accomplishments – from her receipt of the Nobel Peace prize to the plethora of humanitarian efforts she led – those in the Church ultimately view them all as the outpouring of a steadfast faith. "She excelled in faith," relates Fr. Kolodiejchuk. "You need a lot of faith to live in the darkness."
But what was it that set her faith apart? What was it that made people flock from afar if only to be near her and learn from her devotion?
The answer, according to Fr. Kolodiejchuk, starts with her overwhelming focus on others.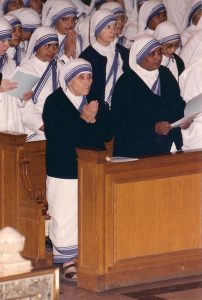 The Motherly Care of Mother Teresa
Throughout her life, Mother Teresa always went out of her way to serve others and show her care for them, no matter who they were. "For us, her children," shares Fr. Kolodiejchuk, "she was like a real mother."
You might think a Nobel prize winner would be too busy with humanitarian initiatives to answer individual correspondence, but not Mother Teresa. "We knew that if we sent her a letter, we'd get an answer," says Fr. Kolodiejchuk. When it came to service, she devoted herself to others with the greatest humility. Fr. Kolodiejchuk recalls the special experience of having tea with her:
"Mother comes out with the tray and she puts down the tray and just, perfectly ordinary, as if your mother was going to come and put out the cup and the saucer and ask if you would like sugar. I remember thinking to myself, some people just want to see her and touch her, and here she is, Mother, serving us coffee and tea and biscuits, just as if it was nothing. So that was just very ordinary and especially motherly."
Humility in All Things
That spirit of humility was something Mother Teresa would retain no matter how many people noticed her work, her kindness, or her exceptional gifts. She didn't like biographical questions – "Because once they know, they'll place more attention on me and not on Jesus" – and eschewed the exorbitant approbations that came her way. She once told Fr. Kolodiejchuk, "God has given me the gift that what I hear – all the praise and adulation – goes in one ear and out the other."
Love in All Things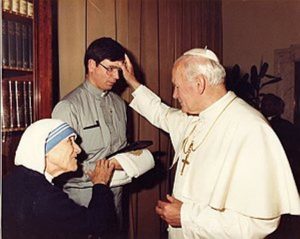 Above all else, Mother Teresa was a woman "passionately in love with Jesus." The way she lived out that love was something special; it was something that brought people together from all different kinds of backgrounds and inspired them in turn to "put love for God in living action," according to Fr. Kolodiejchuk. He shares:
"[She believed that] love gives meaning to everything. And we can do that anywhere… [Whether you're a] housewife, [a] worker [or a] student in the school… [we can love] where God puts us."
Ultimately, her focus on selfless love is what truly set her faith apart. It was a faith that aspired not to accomplish the greatest things, but to fulfill the little things with great love, as she herself once said:
"Do ordinary things with extraordinary love. [Do] small things [with] great love."
About Father Brian Kolodiejchuk
Fr. Brian Kolodiejchuk, M.C., Ph.D., was born in Winnipeg, Canada. He met Mother Teresa in 1977 and was associated with her until her death in 1997. He joined the Missionaries of Charity Fathers at the time of their foundation in 1984. Fr. Brian was the Superior General of the Missionaries of Charity Fathers and postulator of the Causes of Beatification and Canonization of Mother Teresa of Calcutta and is the director of the Mother Teresa Institute, which is housed adjacent to the Basilica's Rosary Walk and Garden.
Interested in learning more about the life of Mother Teresa? Read our post "5 Things You Should Know About Mother Teresa."
A Call to Mercy: A book by Father Brian Kolodiejchuk
Compiled and edited by Father Brian Kolodiejchuk, A Call to Mercy presents her deep and simple words, as well as her efficient and life-changing example in ministering to others with love and compassion. Featuring never-before published testimonies by people close to Mother Teresa, as well as prayers and suggestions for putting these ideas into practice, A Call to Mercy is not only a lovely keepsake but a living testament to the teachings of a saint whose ideas are important, relevant, and very necessary in the twenty-first century.