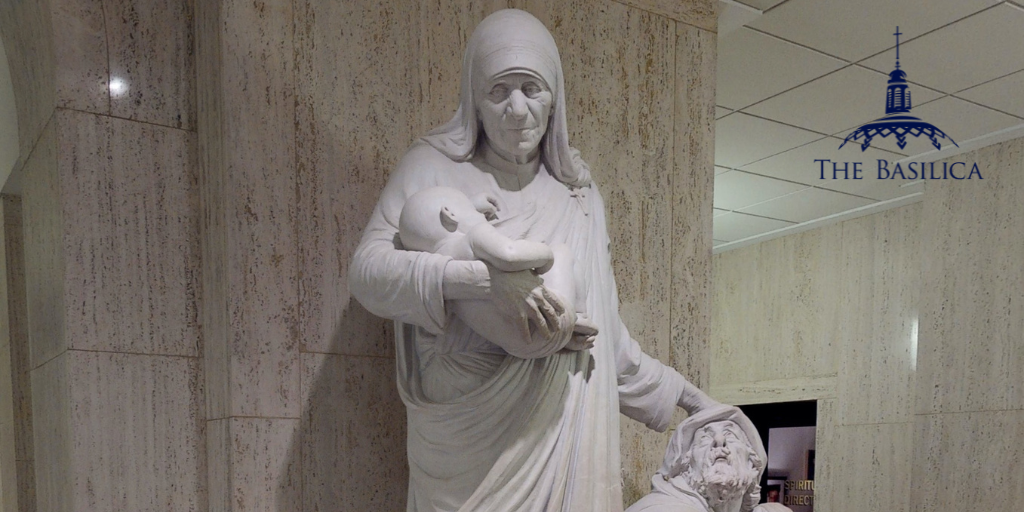 September 5 of this year marks the 26th anniversary of the passing of St. Mother Teresa of Calcutta. Recognized throughout the world for her selfless heart of charity, she serves as an inspiration to the faithful of tireless service and compassion for the outcasts. We invite you to learn five key facts about her life and discover where you can find her portrayed in the Basilica.

1. Mother Teresa was originally named Gonxha Agnes Bojaxhiu.
She wasn't given the name Mary Teresa – after Thérèse of Lisieux – until she was 18, when she joined the Institute of the Blessed Virgin Mary in Ireland.
A few months later, she travelled to Calcutta, India, and joined the Loreto Entally community, serving as a teacher at St. Mary's School for girls. After her final Profession of Vows in 1937, she became known as Mother Teresa, and served as both a teacher and the principal of the school in 1944. Though her time at Loreto was filled with joy, purpose, and selfless care for others, God had something even greater in store for her.
2. In 1946, when Teresa took a train from Calcutta to Darjeeling for a retreat, she had a profound experience which she would later refer to as a "call within a call."
This was the first of a series of visions and promptings from Christ that continued over the months that followed, giving her a strong sense that God wished for her to dedicate her life to caring for the poor. In answer to that call, she founded the Missionaries of Charity, dedicated to helping those in poverty.
In 1948, she left the Loreto sisters to serve with the Medical Mission Sisters in Patna for a time until returning to Calcutta and staying with the Little Sisters of the Poor. While there, every day she ventured into the dregs of the city to care for the impoverished and diseased. The congregation of the Missionaries of Charity was officially established in the Archdiocese of Calcutta in October of 1950, and a decade later, sisters of the order began traveling to different areas of India to serve. Following Pope Paul VI's 1965 Decree of Praise, Mother Teresa also founded houses in Venezuela, Rome, and Tanzania, and by the late 90's, she had founded houses in nearly every communist country.
3. She won the Nobel Peace Prize in 1979.
Mother Teresa's outstanding service soon caught the world's attention, and several awards were presented to her in recognition of her efforts for the impoverished – most famously, the Nobel Peace Prize in 1979. Despite her renown, she remained grounded in her commitment to humility and holiness – a goal she believed every person of faith could strive for:
"Holiness is not the luxury of the few. It is a simple duty for you and for me…Find your own Calcutta. Don't search for God in far lands – He is not there. He is close to you; He is with you."
4. The impact of Mother Teresa's ministry was so significant that Pope John Paul II waited only two years after her death to beatify her, instead of the customary five years.
The Missionaries of Charity Sisters grew to nearly 4000 members by 1997, with 610 foundations in 123 nations across the globe. Even as she faced debilitating health problems, Mother Teresa continued her work, traveling abroad and blessing her successor to lead the Missionaries of Charity. She passed away on September 5, 1997, and was given a state funeral by the Indian government. Her canonization took place on September 4, 2016
5. Mother Teresa visited the National Shrine multiple times during her lifetime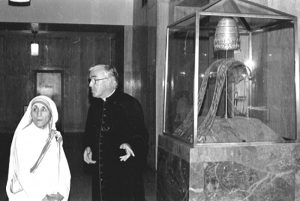 In 1972, Mother Teresa visited the National Shrine for the first time. This would be one of several visits by the saint, the last of which was in 1995, only two years before her death. Many of her Missionaries of Charity have also made their vows at the Shrine. Now, she is remembered forever in the Basilica through portrayals in the Lower Sacristy window of the Crypt Church, the Hall of American Saints, the Trinity Dome Mosaic, and the Universal Call to Holiness.
Sources:
Butler's Lives of Saints, ed. Bernard Bangley.
"Mother Teresa of Calcutta," The Vatican.