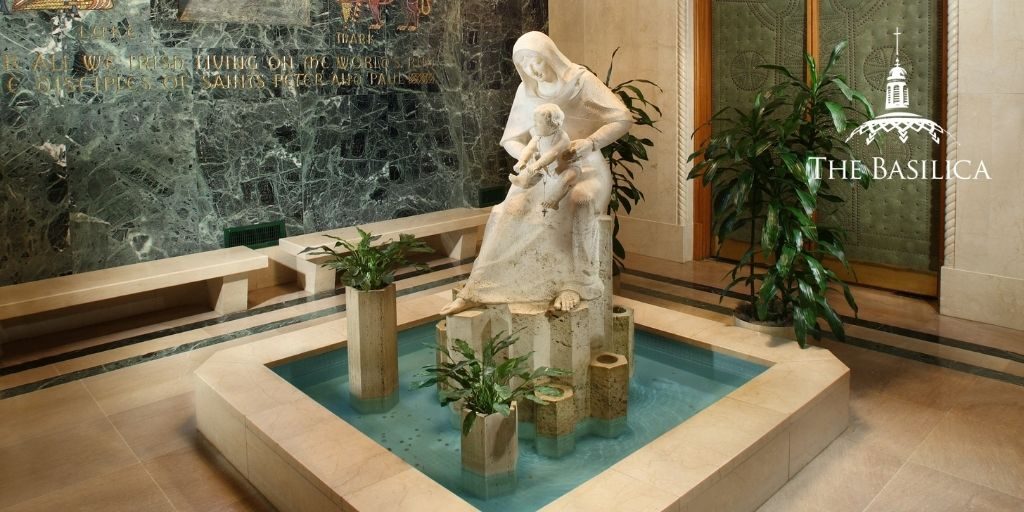 As we celebrate the Feast of St. Patrick, we are exploring the stories of some of Ireland's most well-loved saints and devotions, and where you can find them honored in the Basilica. We invite you to learn more about the Catholic heritage of the Emerald Isle and enjoy the breathtaking 360° views of these sacred spaces.
Saint Patrick
Saint Patrick was the driving force behind Ireland's transition to Christianity, founding critical networks of churches around the country. The son of a Roman civil servant living in Britain, Patrick is believed to have been born sometime around 390 A.D. At the age of 16, he was kidnapped by pirates and sold as a slave in Ireland. There, he was forced to work as an unpaid shepherd. As he wandered the hills with his flocks, he filled his hours with prayer and contemplation, developing a devout Christian faith.
After spending six years in captivity, Patrick managed to escape Ireland aboard a ship and travel back to his family. From there, he studied for the priesthood in Gaul, living in a monastery for 15 years. However, his business in Ireland was far from finished; he experienced repeated dreams that made it clear he needed to return to Ireland.
By 432, only a handful of individuals in Ireland were Christians. Saint Patrick and his fellow missionaries faced an uphill battle, as many pagan druids opposed their efforts. Patrick traveled to the most remote parts of the island, proclaiming the gospel where it had never been heard before. In spite of the challenges he faced, Saint Patrick proved to be a formidable force for God, baptizing thousands of individuals, ordaining hundreds of clergy, and founding multiple monasteries. The framework of Christian churches put in place by Patrick helped Ireland eventually become one of the most Catholic countries in the world. Pictured below in 360° perspective, the Founder's Chapel portrays various Irish saints, including Patrick.
Saint Brigid
Saint Brigid of Ireland, dubbed a "fiery sunbeam of love" by historian Tom Cowan, is believed to have been born in A.D. 450 near Dundalk and raised by druids. She entered a convent at an early age and eventually became the founder of the "double monastery" system, combining men and women in one religious community. Some accounts hold that Brigid was baptized by Saint Patrick.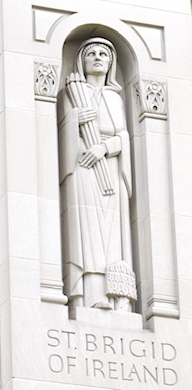 During Brigid's era, Ireland was experiencing a transformation from paganism to Christianity. What tradition holds to be true about Brigid mirrors this tension with striking peculiarity. Many existing legends about Brigid derive from pagan folklore and vary in theme. One such tale recounts an exchange between Brigid and a chieftain over potential property for the monastery. The chieftain told her she could have as much land as her cloak would cover. Miraculously, Brigid cast out her cloak, which spread out "as far as the eye could see," in Tom Cowan's account. Another account relates that Brigid provided 18 churches with beer from just one barrel, after the pattern of Jesus' first miracle of turning water into wine.
Brigid bears the name of the ancient Celtic fire goddess – an association sparking imagery that would be displayed throughout her life and legacy. One hymn to Brigid declares, "Brigid, golden sparkling flame, lead us to eternal day, the fiery radiant sun." When she founded a monastery at Kildare – meaning "church of the oak" – she established an eternal flame tended exclusively by women. After the region was ravaged with political turmoil some centuries later, the flame was unfortunately extinguished. But Brigid's fiery legacy still endured, even if not in the literal sense. Because of her association with fire, she is considered the patron saint of those in cooking and the domestic arts. The Basilica honors Ireland's "fiery sunbeam" in the Chapel of Saint Brigid.
Take a look around the chapel virtually below!
Mary, Queen of Ireland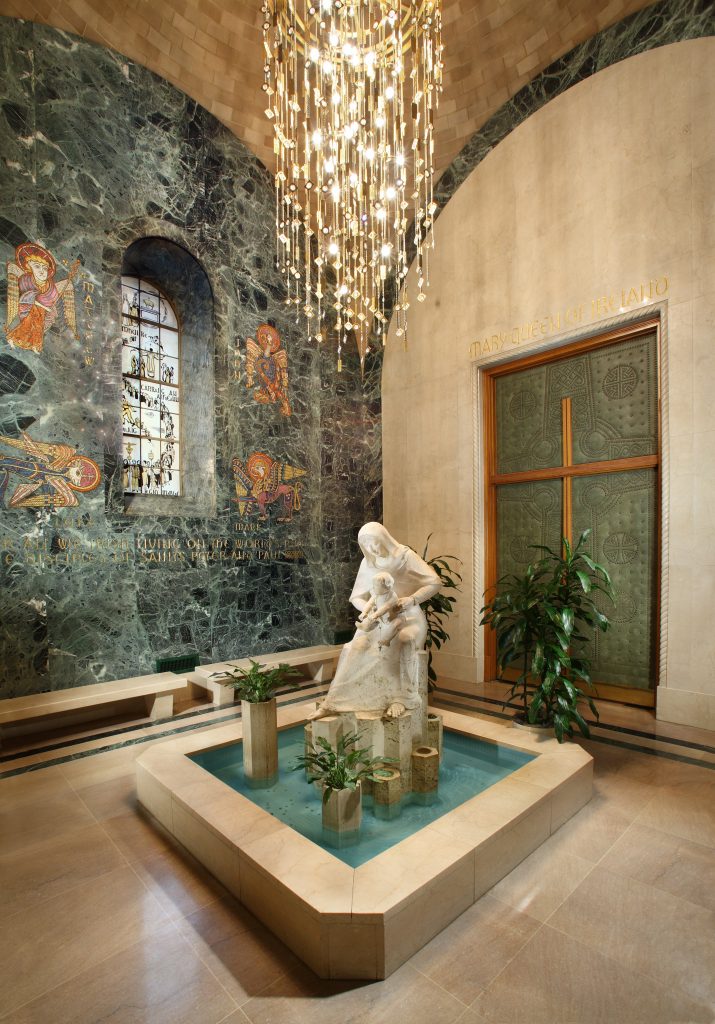 The Mary, Queen of Ireland Oratory honors the Blessed Mother's provision in the Emerald Isle. It features a statue of Our Lady and the Holy Child upon a hexagonal rock formation, which is representative of the Giant's Causeway, the basalt columns that jut out of the sea along the north coast of Northern Ireland. Mosaics and carvings ornament the marble walls, telling the heritage of the Irish Catholics. On the south wall are mosaic depictions of the four evangelists.
The west door displays a Celtic cross fashioned from leather and brass buttons, in imitation of a castle door of an Irish chieftain or king. Carved on the right or north wall is a map of Ireland with its four modern provinces, dominated by a figure of Saint Patrick. The depicted monasteries are those of the Irish missionaries who sailed across the Atlantic to spread the gospel.
The Chapel is inscribed with the following Prayer to Mary, Queen of Ireland:
"Holy Mary, if thou wilt, hear thy supplicant; I put myself under the shelter of thy shield. When falling in the slippery path thou art my smooth supporting hand staff. There is no hound in fleetness or in chase, north wind or rapid river, as quick as the Mother of Christ to the bed of death, to those who are entitled to her kindly protection. Amen."
Explore the chapel in our immersive virtual tour below.
Sources:
The Basilica Guidebook, Dr. Geraldine Rohling
Butler's Lives of the Saints, ed. by Bernard Bangley
The Way of Saints, Tom Cowan