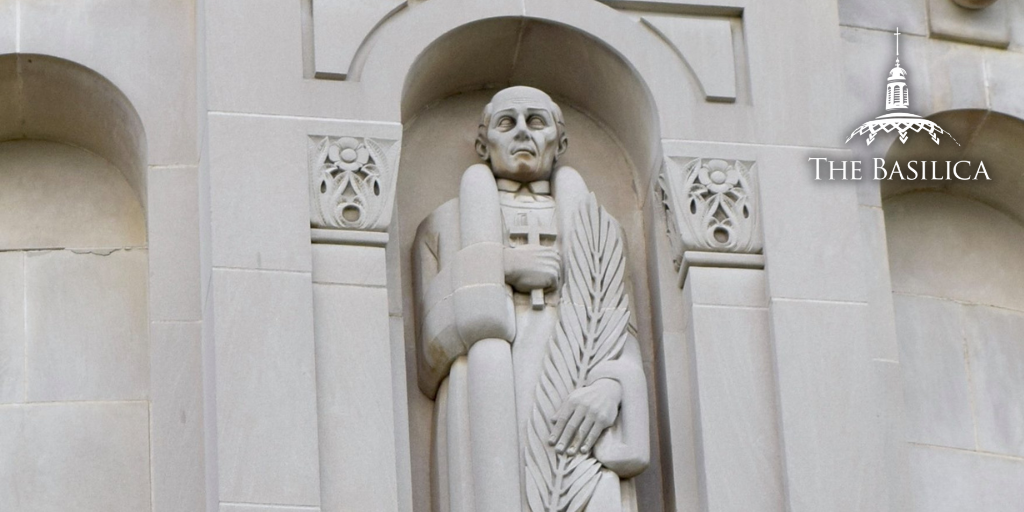 "Not that I condemn anyone else's conscience. Their conscience may save them, and mine must save me." – Saint John Fisher 
Even though he lived during a time when publicly opposing a monarch could result in severe punishment or even death, Saint John Fisher never let fear prevent him from honoring his convictions. From serving as the Chancellor of Cambridge University to attending the king's mother as personal chaplain, John worked tirelessly to spread the truth and foster theological dialogue. As the Church recognizes the anniversary of his martyrdom on June 22, we invite you to learn more about his life and legacy, and discover where he is portrayed in the Basilica.
John's Early Life
In approximately 1469, John Fisher was born to a merchant and his wife in Yorkshire, England. Existing records offer little insight into his childhood, but it is believed that he attended the school affiliated with the collegiate church in his hometown of Beverly. He later moved to Cambridge to continue his education, where he completed both a Bachelor and Masters of Arts program at Michaelhouse College.
A dedicated and driven young man, John soon saw his career take off. Initially, he served as the Vicar of Northallerton for three years before accepting the position of proctor at Michaelhouse. John proved himself to be dedicated to Michaelhouse's success, and was appointed as Master of the school a few years later. However, these newfound responsibilities did not prevent him from pursuing his Doctorate of Divinity, which he earned in 1501, the same year he was elected Vice-Chancellor of Cambridge University.
A mere year later, John was offered an even more prestigious role: this time, as the personal chaplain to Lady Margaret Beaufort, King Henry VII's mother. Through his counsel, Lady Margaret provided funding for new colleges and theology programs at both Cambridge and Oxford. In 1504 John was granted the title of Bishop, as well as the Chancellorship of Cambridge University, a role he would serve until his death.
Chancellorship and Censure
While serving as Chancellor, John used his position in the Church to help shape the theological debates of the time, especially those surrounding the rise of the Protestant reformation. A friend of leading scholars such as Erasmus and Thomas Moore, John soon became recognized for his writings on an international level, especially for his response to Martin Luther.
However, John's life changed radically when he became an advisor to Queen Catherine of Aragon in 1529 and took her side in the controversy over her marriage to King Henry VIII. Infuriated by John's opposition, the king sought to make life difficult for him from that time on. After John declined to recognize him as the head of the Church of England, Henry VIII did everything from impose fines on John to attempt to poison him, according to various accounts. Later, Henry VIII had him imprisoned and confiscated all his property after discovering his involvement in an investigation into the prophesies of a vocal advocate against the royal divorce. By God's grace, the king allowed him to be released upon payment of 300 pounds.
John's Martyrdom
In 1534, after the Archbishop of Canterbury recognized Henry's divorce and subsequent marriage to Anne Boleyn, Parliament was called upon to vote on the Bill of Succession, which would recognize the couple as the lawful heirs to the throne. Because supporting the Bill would be acknowledging the king's divorce from Catherine, John refused and was then thrown into prison in the Tower of London on charges of treason, along with his friend and fellow dissenter Thomas More. Seeking to obtain a less severe punishment for John, Pope Paul III promoted him to a Cardinal Priest during his confinement, but this only served to anger Henry further. In June of 1535, a trial was held in which John was convicted of treason and sentenced to execution. On June 22, his head was chopped off and displayed on the Tower Bridge for a fortnight.
A zealous and righteous man, Saint John Fisher provides the faithful with a powerful example of standing for truth, no matter the cost. He was canonized in 1935, and is portrayed in the North Façade of the Basilica.
Sources:
"Saint John Fisher," Franciscan Media
"St. John Fisher," New Advent
The Way of Saints, by Tom Cowan