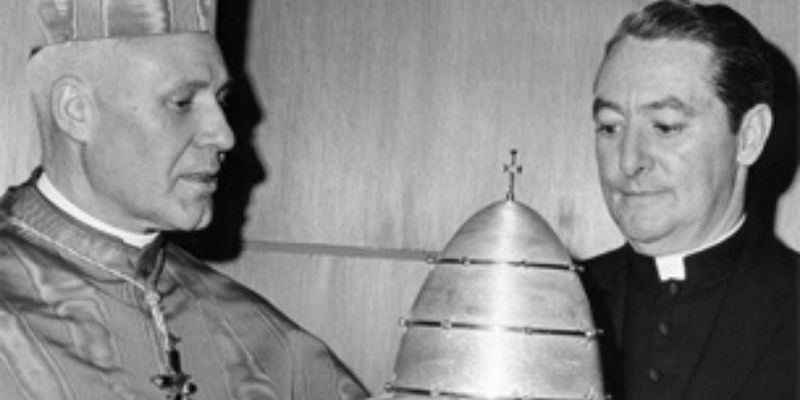 Fifty-two years ago, on February 6, 1968, Pope Paul VI's coronation tiara was presented to the National Shrine by Archbishop Luigi Raimondi, Apostolic Delegate to the United States. It remains the first and only papal tiara to be displayed outside of Rome.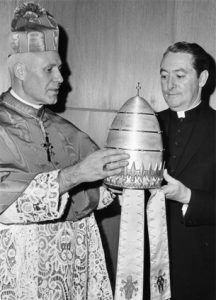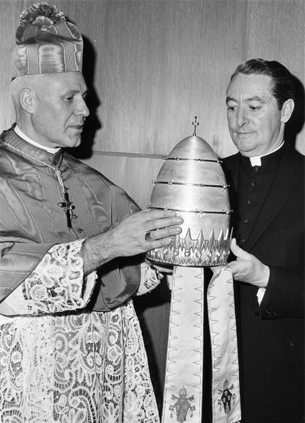 History of the Papal Tiara
In the past, popes wore the tiara at the day of their coronation as they began their pontificate, as well as for other solemn official ceremonies. Originating as a sort of Phrygian cap, a crown was added in 1130, representing the Church's sovereignty over the states.
In 1301, Pope Boniface VIII added a second crown to affirm his spiritual authority over civic authority during a conflict with the king of France, Philip the Fair.
A third crown was added by Benedict XII in 1342, as he reaffirmed the possession of Avignon, to depict the moral authority of the pope over secular monarchs.
In modern times, the three tiers came to represent the pope's sacred orders, jurisdiction and magisterium.
Pope Paul VI and the Abandonment of the Tiara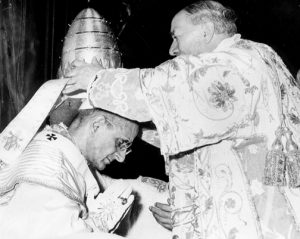 Pope Paul VI was the last pope to use a tiara at his coronation. However; after the ceremony, he donated it and introduced the use of a simple miter. He gave the tiara to the poor people of the world, with an official statement saying:
The Roman Catholic Church has always shown its charity toward the poor. Pope Paul VI has wanted to give new proof of this charity [after hearing] the many and grave words expressed in the council on the misery and hunger of these days.
He then removed the tiara from his head, placing it on the altar as a picture of the "renunciation of human glory and power" and as "the new spirit of the Church purified."
The tiara went on tour to raise funds for the poor, before coming to the Basilica, where it is displayed today.
The tradition of wearing a miter was adopted by subsequent popes, and the use of the tiara was discontinued. The coronation ceremony was also renamed and is now known as the solemn inauguration of Petrine Ministry.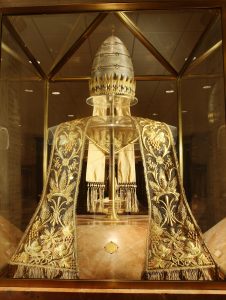 Tiara Details
Measuring 16 inches high and weighing 10 oz, the papal tiara was made by Scuola Beato Angelico of Milan, Italy. Three 18-karat gold wire bands, set with precious gems, encircle the cone. Below the three rings, the gallery band is set with 24 oval-faceted aquamarines. Two silk lappets trail down the back of the tiara, embroidered with the papal coat of arms, gold lacework, and 20 pearls.
See the Tiara at the Basilica
The tiara, along with the Papal Stole worn by Saint Pope John XXIII at the opening of the Second Vatican Council, can be viewed in Memorial Hall.
Sources:
Basilica of the National Shrine of the Immaculate Conception Guidebook
Jubilee 2009: A Photographic History of the Basilica of the National Shrine of the Immaculate Conception