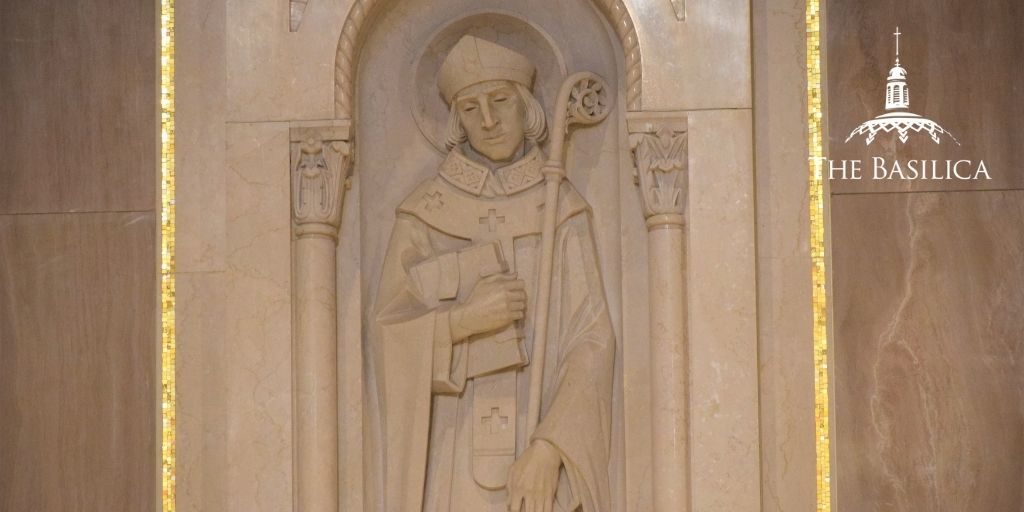 On April 21, we celebrate the Feast of St. Anselm of Canterbury, Bishop and Doctor of the Church. In an era when temporal rulers sought to seize control of the Church from ecclesiastical leadership, Anselm stood firm in preserving the integrity of the Church. He is portrayed in the east chancel bay of the Basilica.
St. Anselm's Early Life
In 1033, Anselm was born in a town called Aosta on the border of Burgundy and Lombardy. His clear thinking made him a stellar student, and at age 15, he decided to pursue monastic life. However, his father's staunch opposition prevented him from becoming a monk. Years later, Anselm was finally able to realize his dream at the Benedictine Abbey of Bec in Normandy.
St. Anselm Becomes Archbishop of Canterbury
At age 59, he was appointed to be the archbishop of Canterbury by the ailing King Rufus, who created the office while at death's door. When King Rufus unexpectedly recovered, he thought better of the move, and decided to take the office's revenues for himself, limiting Anselm's ability to operate. "I saw in England many evils whose correction belonged to me and which I could neither remedy nor, without personal guilt, allow to exist," related Anselm.
In 1097, Anselm felt called to leave England to minister in religious communities in France. As he crossed the English Channel, Rufus passed away, leaving a more accommodating successor in his stead: King Henry I. King Henry returned the church property to Anselm, and gave him greater freedom in managing church affairs. As the years went by, however, Henry became more hostile to Anselm, and sent him into exile from 1103 to 1106. During that time, Anselm made strides in winning public support and making political changes. Wherever he was placed, he continually practiced his duties with a willing obedience, remarking: "When I professed myself a monk, I surrendered myself in such a way that thereafter I could not live according to my own will, but only in accordance with obedience either to God or to the Church of God."
A Champion for Human Dignity
Perhaps the most significant achievement of Anselm's lifetime was the resolution to renounce the slave trade that emerged from the Westminster Council. Anselm had called the council to resolve political and ecclesiastical conflict, but its result had a far more enduring impact. He became one of the first high-ranking individuals in Europe to denounce slavery and stand up for the dignity and freedom of the human person.
A Prolific Scholar
Anselm was also a prolific theologian, penning 11 lengthy treatises during his lifetime. He saw harmony between faith and reason, writing that "faith seeking understanding" was the task of the theologian. Simultaneously, he believed that reason alone cannot lead to a complete understanding of truth, but rather, faith is essential to proper theology. His magnum opus, Why God Became a Man, offers a theory of divine atonement and resurrection that was monumental in shaping centuries of Christian doctrine. His work Proslogion is believed to be the first theological work to make an ontological argument for the existence of God.
Sources:
Butler's Lives of Saints, edited by Bernard Bangley 
The Way of Saints, Dr. Tom Cowan
Basilica Guide and Tour Book, Dr. Geraldine Rohling
---
Light a Candle at the Basilica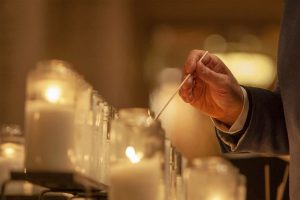 In honor of St. Anselm, we invite you to present your intentions to Our Lady by lighting a candle today at the National Shrine. Vigil candles burn in the chapels throughout the upper church and lower crypt level of the National Shrine. Each candle represents the faith of the supplicants and their fervent prayers entrusted to the loving intercession of the Blessed Mother.