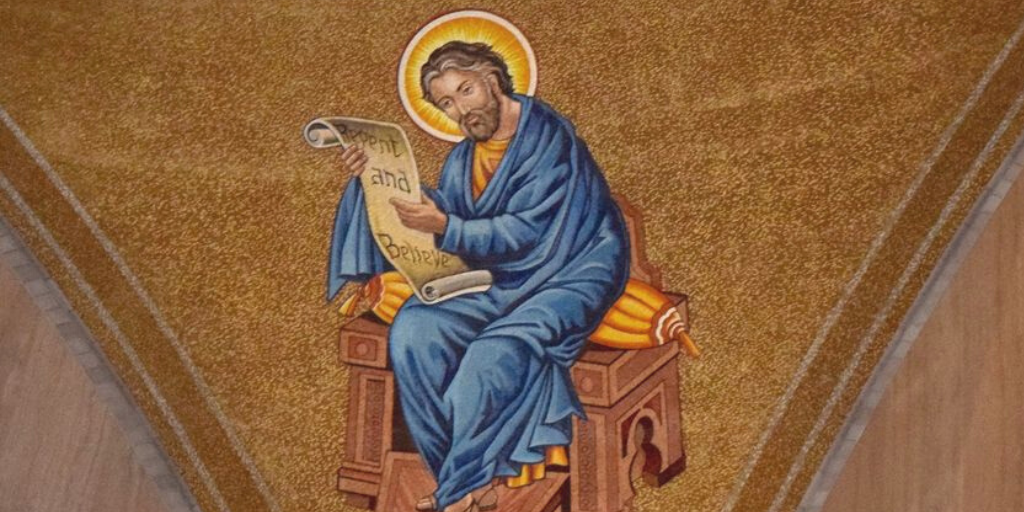 This week, we celebrate the Feast of St. Mark the Evangelist, honoring a man who was not only a missionary of the early Church, but authored a Gospel account. Distinguished by his concision and emphasis on the timeliness and continuity of Christ's ministry, Mark also mentions the word "Gospel" in his account more than any other Gospel author. Today, we invite you to discover where you can find him depicted throughout the Basilica's breathtaking stained glass, sculpture, and mosaics.
St. Elizabeth Chapel
Above the glittering mosaic of St. Elizabeth, St. Mark is depicted next to St. Matthew in a half-circle of rich red and blue stained glass. This chapel was one of the earliest chapels to be completed at the Basilica, with Bishop Thomas Shahan celebrating Mass here on August 21, 1925.
The Trinity Dome
Each of the pendentives of the Trinity Dome feature 18-foot depictions of the four evangelists. In the northeast pendentive, you can find Saint Mark holding a scroll that says, "Repent and believe." Depicted beneath Mark is a winged lion, a symbol associated with him because of Ezekiel's description of the evangelists as various winged creatures. (Ezekiel 1:6-10)
Our Mother of Africa Chapel
In the Our Mother of Africa Chapel, the artwork parallels the freedom experienced through the Gospel with the freedom of the African-American people. A relief depicts the journey from slavery to emancipation, with the end figures stepping outside the relief and reaching toward Christ on the cross. Mark is featured with the other evangelists, carved in gray Bardiglio marble with a winged lion in his cloak.
Byzantine-Ruthenian Chapel
In churches of the Byzantine Rite, an icon screen separates the sanctuary from the nave. The icon screen in the Byzantine-Ruthenian Chapel at the Basilica is decorated with Byzantine icons of Theotokos and Christ the Teacher, while the sanctuary doors feature the four evangelists, including St. Mark. The icons were designed by Christine Dochwat.
The Triumph of the Lamb Dome mosaic
The winged lion representation of St. Mark is also found in the Triumph of the Lamb Dome Mosaic. Covering 3,340 square feet, the mosaic is rich in eschatological symbols. The center depicts Christ as the lamb, with an open scroll at his feet. 24 elders surround Him in four groups of six, with the four evangelists in between represented by their animal symbols. The corners are upheld by four angels, representing Christ's dominion over the earth.