As we approach the season of Advent, we celebrate the hope that we have been given through the birth of Christ. While you search for the perfect gifts for your loved ones this Christmas, find inspiration in the latest curated collection of sacred music, ornaments, and more from the National Shrine Shops. From Christmas cards and coffee, to books and CDs, there's something for everyone!

Baby Angel Gift & Dove Christmas Cards
Designed by artist Barbara Schaffer, these precious Christmas cards feature a vintage-style drawing of a baby angel receiving an olive branch from a white dove. At 5 inches tall and 4 inches wide, each card opens to read: "Merry Christmas! Wishing you Peace in the New Year."
One box includes 16 cards and envelopes.
Centering Prayers for Women
In a world filled with distractions, it can be difficult to find time to be still and draw close to God. Written by Peter Traben Haas with a forward by Judith Valente, Centering Prayers for Women is a beautiful collection of 365 daily prayers that foster moments of silence and meditation, helping readers strengthen their devotion.

Merry & Bright Christmas CD – Raymond Arroyo
Award-winning broadcaster and New York Times best-selling author Raymond Arroyo brings his New Orleans jazz roots and dramatic talents to a toe-tapping, heartwarming, Christmas album, "Merry & Bright." With brand new arrangements of timeless classics like "I Heard the Bells on Christmas Day" and "Feliz Navidad," this album will spark the wonder and joy of the Yuletide season in the heart of every listener.

Christmas Sweater Socks
Made to look like your favorite Christmas sweater, this festive footwear collection was designed as a tool for evangelization. Cozy and classic, the socks are dotted with significant symbols of Christmas – from poinsettias to the Star of Bethlehem – and are sure to start conversations wherever you go. Available in multiple sizes, a pair of Christmas Sweater Socks makes an excellent stocking stuffer for those aged 5 or 55!

Jingle Bell Java – Mystic Monk Coffee
Produced by the Carmelite Monks of Mystic Monk Coffee, Jingle Bell Java has long been a customer favorite. A medium roast blend with notes of white chocolate, festive spices, and bourbon, it's made from 100% Arabica coffee, and natural and artificial flavors. Available in a 10-pack of single serve cups or a 12-ounce bag.

Letters from Father Christmas
This enchanting book contains a series of letters written by J.R.R. Tolkien to his children, in which he posed as Father Christmas. Every December, a letter would arrive for them from the North Pole relating tales of his adventures with the whimsical creatures that resided there. A timeless addition to any library, Letters from Father Christmas will entertain young and old readers alike!

Tiny Bell Nativity
At just 3 inches tall, this delicate red velvet bell opens to reveal a miniature pewter nativity scene. With its decorative white satin bow and gold hanging cord, it's certain to spruce up any Christmas tree!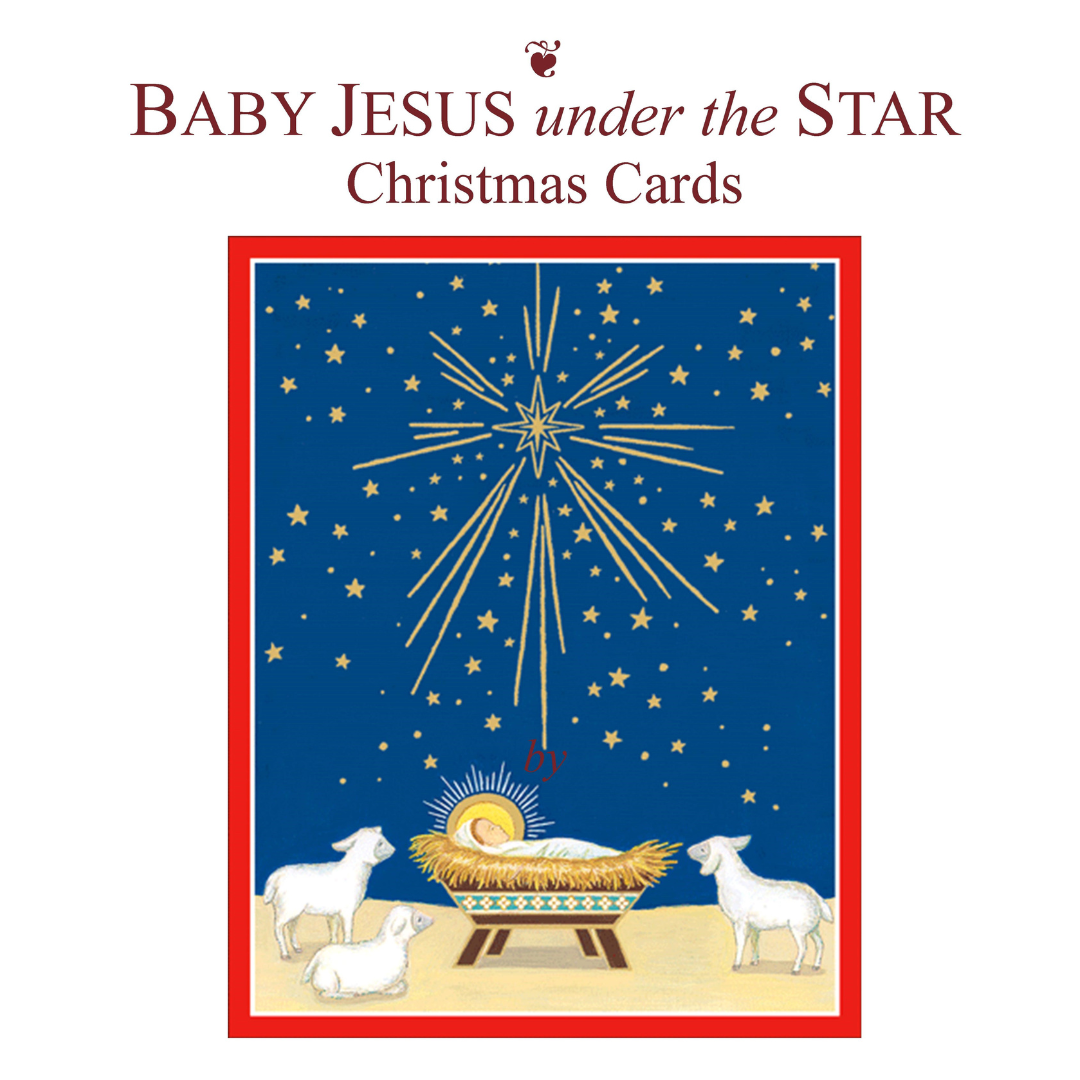 Baby Jesus Under the Star Christmas Cards
Wish your friends and family a blessed Christmas season with a card of baby Jesus under the star. Drawn by Nicole Kachmar, these charming cards measure 4 by 5 inches. The inside of each card includes the text: "Wishing You All the Joys and Blessings of Christmas." Each set includes 16 cards.

Drinking with Saint Nick
A one-of-a-kind book, Drinking with Saint Nick is sure to become your go-to guide to entertaining and spreading good cheer during the holiday season. With stories about the history of St. Nicholas and other saints, as well as an advent calendar, this book is a must for your Christmas collection. Written by Michael Foley, author of Drinking with the Saints, it includes a wide variety of cocktail recipes and wine, beer, and cider recommendations that will keep hearths warm and parties joyful all year long.

Our Daily Red Stemless Wine Glass
Sit back, relax, and enjoy a glass of your favorite red wine in this stemless wine glass. Featuring the phrase "Give us this day, our daily red," this minimalist glass is the perfect gift for any wine-lover.