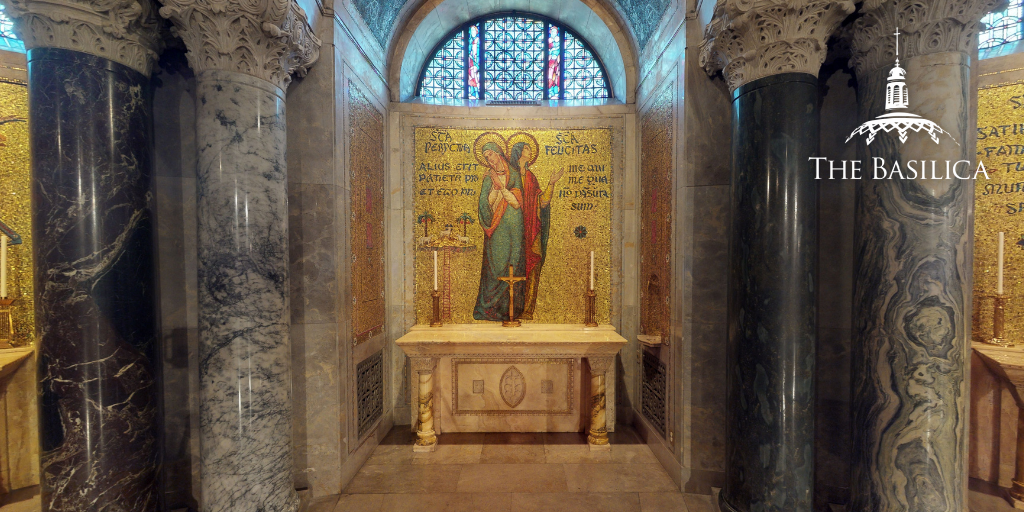 As we celebrate the feast of Saints Perpetua and Felicity on March 7, we recognize the impact their steadfast and faithful examples have had on the church. Learn more about their lives and legacies, and virtually tour where they are portrayed in the Basilica.
Who were Saints Perpetua and Felicity?
Saints Perpetua and Felicity, a young married noblewoman and her slave, were martyred for their faith in A.D. 203, under the emperor Severus. At the time of their arrest, Perpetua had an infant son, and Felicity was pregnant. While in prison, Perpetua wrote about the circumstances leading up to their death in a diary that was later published as The Passion of Saints Perpetua and Felicity – one of the earliest writings by a Christian woman.
Prior to their imprisonment, the women had been preparing for baptism, and they did not let their altered circumstances hinder that desire. Their teacher, who was also imprisoned with them, baptized them while they were there. God used their faithful example during this time to touch the heart of their jailer, who converted to Christianity as a result of their testimony.
Shortly before their sentence was carried out, Felicity gave birth to her seventh son. When Felicity and Perpetua survived after being thrown into an arena of wild animals, Severus commanded that they be put to death by the sword, making them Martyrs for the Faith.
The Chapel of Saints Perpetua and Felicity
At the Basilica, a chapel in the Crypt Church honors Saints Perpetua and Felicity in beautiful gold mosaic. Framed by a flower and ladder, the two women are shown journeying toward an oasis. The Latin text in the chapel features the words spoken by Felicity at the birth of her last son, which translates: "Another will be within me, who will suffer on my behalf, seeing that it is for Him that I am to suffer." All seven of her sons are depicted in silhouette on the altar frontal alongside a sword, representing Perpetua and Felicity's martyrdom.
Virtual Tour
Explore the chapel in stunning 360° views with our virtual tour below!
Sources:
Cowan's The Way of Saints
The Passion of Saints Perpetua and Felicity