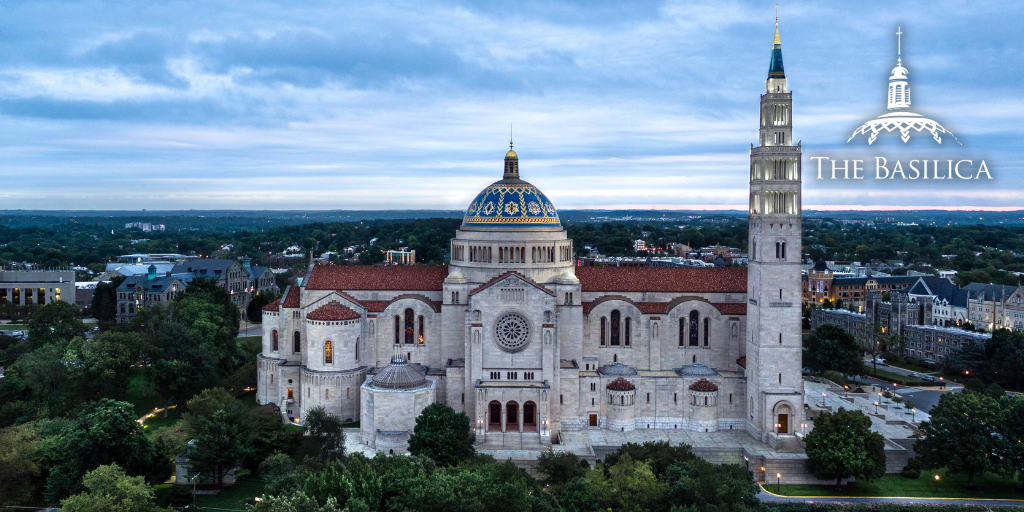 This month, we are pleased to introduce the National Shrine Shops Winter 2023 Collection! As we approach the Lenten season, we invite you to explore the latest items from the National Shrine Shops. Browse unique sacred jewelry, devotional books, home décor, and more in this curated selection!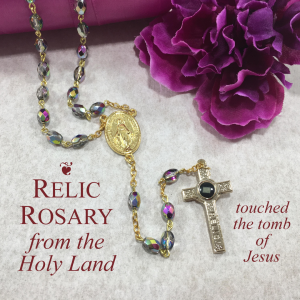 Iridescent Vitral Glass Relic Rosary
Breathtakingly elegant, this rosary is made from iridescent glass beads and features a gold-toned crucifix and a miraculous medal. Encased in the center of the crucifix is a relic that touched the tomb of Jesus.

Hand-painted Ukrainian Easter Eggs
Hand-painted in Ukraine, these wooden Pysanky eggs provide a vibrant folk art addition to your Easter décor. Colors will vary.

La Pieta Statue
At 7 inches tall, this statue is a poignant replica of Michelangelo's La Pieta sculpture, which was originally created in the late 15th century to be displayed at the Old St. Peter's Basilica in Rome. This figurine is made of resin and rests on a black wooden base.

Aquinas's Lenten Meditations
Experience Lent with the Church's greatest philosopher-theologian through 63 of Aquinas's Scripture-based sermons specifically selected for the holy season.

Golden Little Pictures
At 3 inches wide and 4 inches tall, these Golden Little Pictures would make a sweet addition to anyone's home décor. Currently they are available in three different styles, with paintings of Saint Michael, the Divine Mercy, and Our Lady of Grace.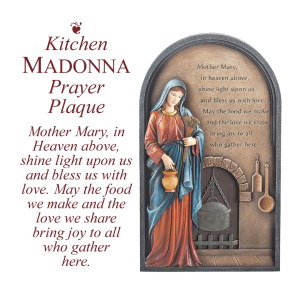 Kitchen Madonna Prayer Plaque
Designed specifically for your kitchen, this Madonna wall plaque measures 9.25 inches tall and 5.38 inches wide, and serves as a gentle reminder of the importance of Christian hospitality. It features the following prayer:
"Mother Mary in heaven above, shine light upon us and bless us with love. May the food we make and the love we share bring joy to all who gather here."   

Miraculous Medal Necklaces
According to tradition, the Blessed Mother appeared to St. Catherine Labouré and told her that whoever wore the Miraculous Medal would receive many miracles. These necklaces honor that devotion, and come in sterling silver and gold-plated sterling silver. Each pendant is 1 inch long and hangs on an 18-inch chain.

Pearl Double-Strand Scapular Bracelet
Featuring 14 gleaming ivory pearls linked by a 14kt gold-plated chain, this double-strand scapular bracelet will serve as a gentle reminder to "pray without ceasing."

Our Lady of Perpetual Help Tapestry Prayer Notebook
This stunning notebook features an intricately woven tapestry depicting Our Lady of Perpetual Help and the infant Jesus on the cover and a golden cross on the back. With 150 pages, this 5.5 by 3.5 inch notebook is perfect for jotting down daily prayers and reflections, while remaining small enough to easily fit in your handbag.

Saint Benedict Olivewood One Decade Rosary
Simple yet graceful, this small one-decade rosary is made in the Holy Land with carved olivewood beads, and features a silver-toned medal of Saint Benedict on one end and a crucifix on the other.