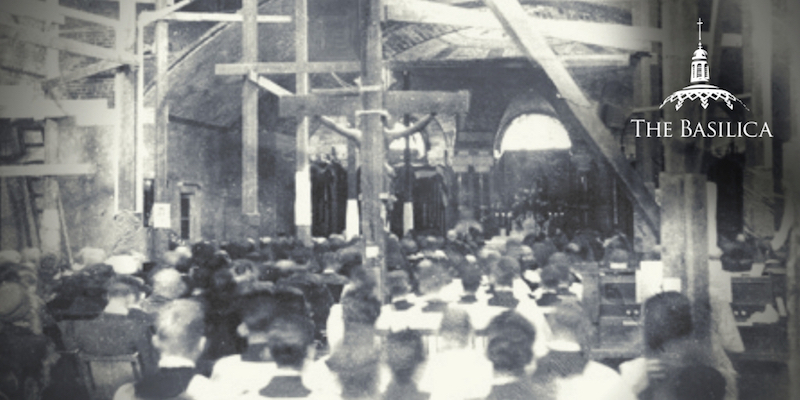 Every year, millions of people from all over the world visit the Basilica of the National Shrine of the Immaculate Conception. Many visit during Holy Week, gathering at the Basilica to commemorate the Passion, Death, and Resurrection of Jesus Christ. Ninety-five years ago, on April 20, 1924, Catholics gathered to celebrate Easter Sunday with the first public Mass held in the Basilica.
It took place in the Crypt Church, which was still under construction. Pews were not yet installed; attendees sat in folding chairs and were surrounded by exposed joists and support beams. Lighting was provided by candles, and an altar rail was created out of benches draped with white cloth.
In spite of the makeshift conditions, about 3,000 people attended the Mass, including diplomats from the Washington, D.C. area.
The altar used for the Mass was significant because it was used by the first Catholic bishop of the United States, Bishop John Carroll, and dated to 1774. It was one of the first gifts donated to the Shrine and was also used for the first Mass publicly said in honor of the National Shrine, which took place December 8, 1917 in the parlor of Caldwell Hall at Catholic University, as well as the Benediction of the foundation stone on September 23, 1920.
The altar continued to be used until December 1926, when it was replaced by the Mary Memorial Altar. It now resides in the Guadalupe Chapel.
The Crypt Church was not completed until 1926, and the entire Crypt Level was not completed until 1931. After the death of Bishop Shahan and the struggles of the Great Depression, construction of the Basilica came to a halt and would not be resumed until 1954.
Learn more about the Basilica's unique past by viewing the History Timeline.