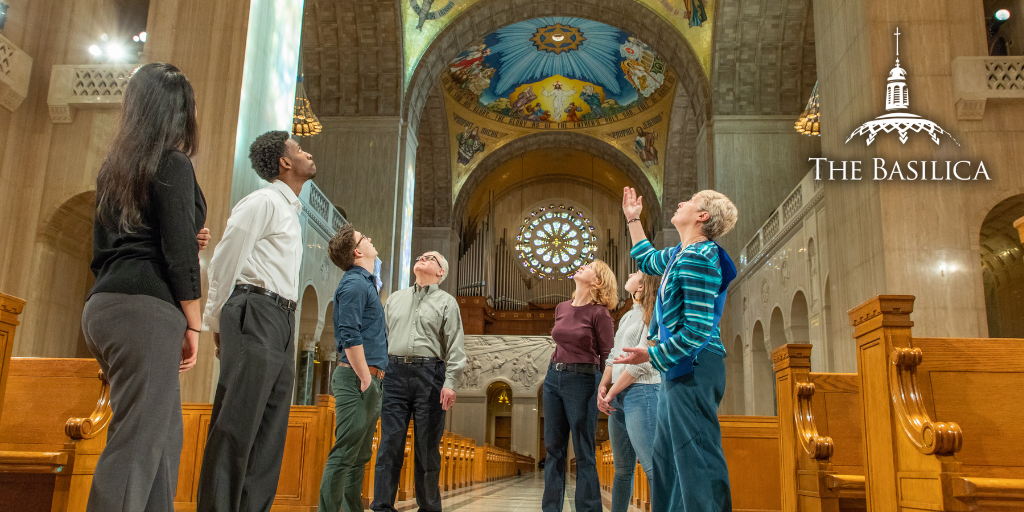 Did you know that approximately one million people visit that National Shrine each year? Whether you're new to the D.C. area and interested in touring for the first time, or you're considering coming on pilgrimage with your church, the Basilica offers a variety of tours for all ages and group sizes. Bask in the unique Romanesque-Byzantine architecture, view the breathtaking collection of sacred sculptures and mosaics, invoke the Blessed Mother's intercession, and grow in your faith as you orient your heart towards God when visiting America's Catholic Church. Learn about four different ways to tour the Basilica below.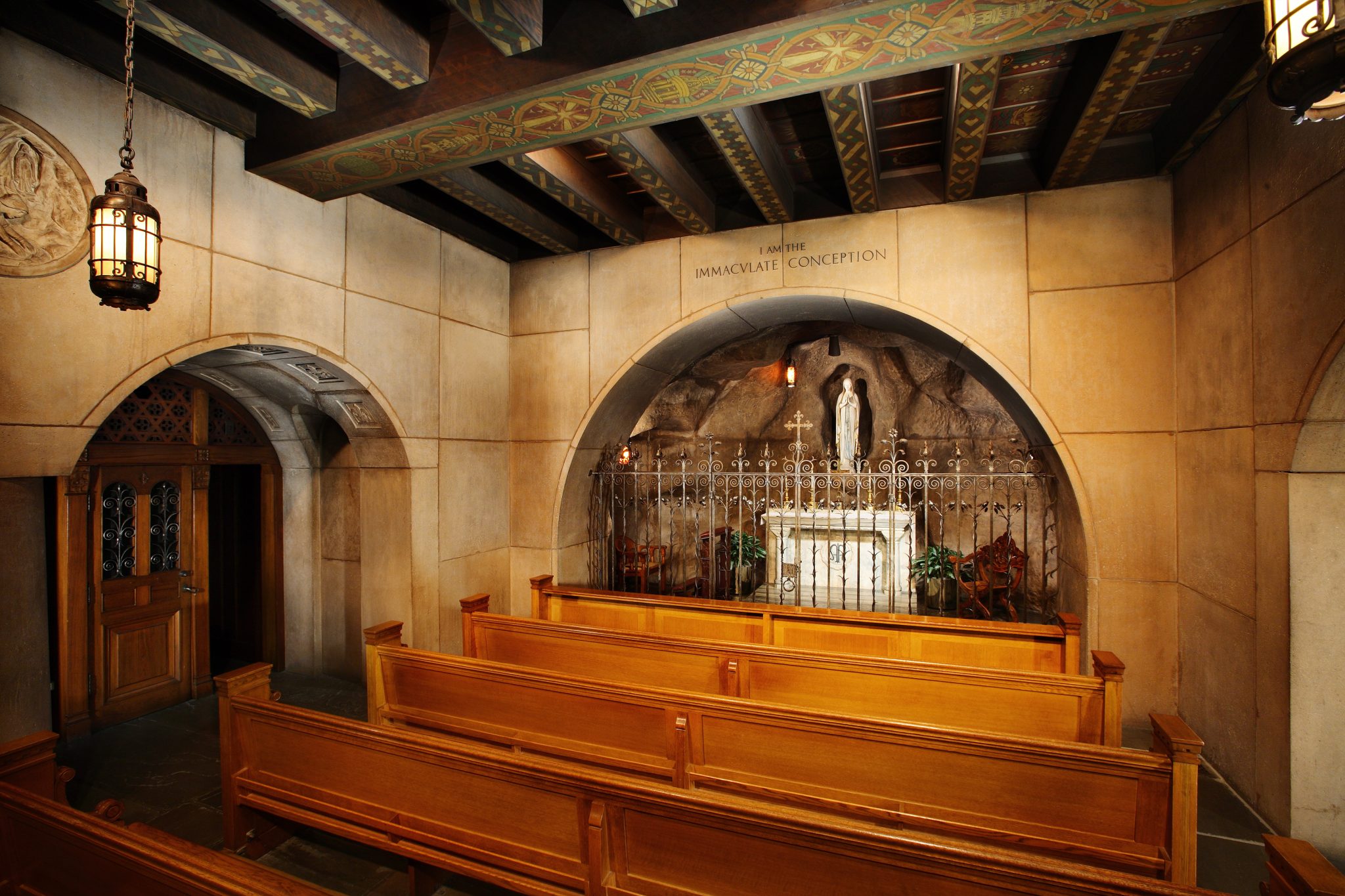 Tour as an Individual
Interested in touring the Basilica on your own? We offer both self-guided and docent-led tours! If you choose a self-guided tour, be sure to view some of our most popular spaces, such as the Our Lady of Lourdes Chapel and the Rosary Garden. We also encourage you to attend Mass and stop by The National Shrine Shops for a gift or spiritual memento.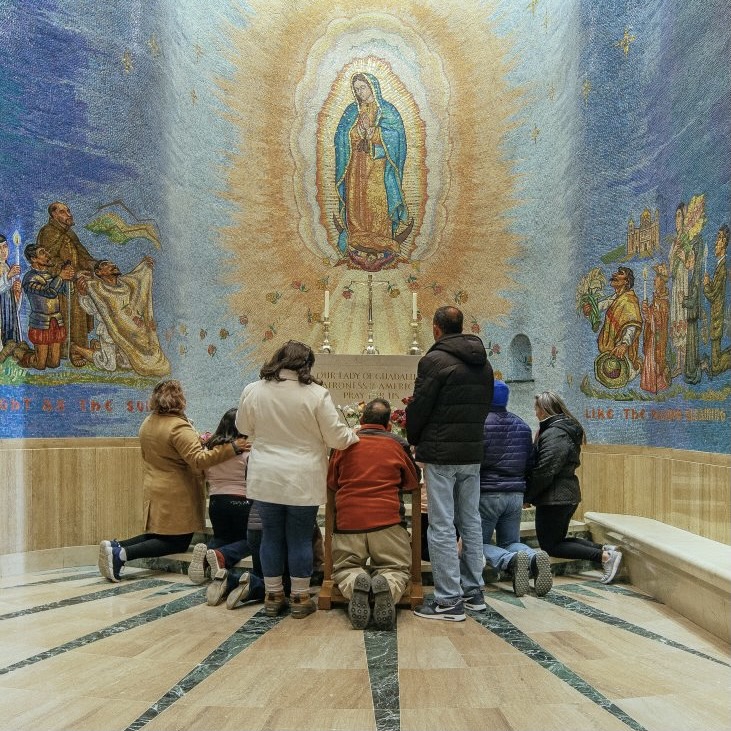 Tour with a Small Group
For groups of thirty or fewer people, we highly recommend registering for a guided tour. At just under an hour, these tours include visits to chapels on the Crypt level and in the Great Upper Church, providing insightful facts about the National Shrine's history, architecture, and sacred art.
Tour with a Large Group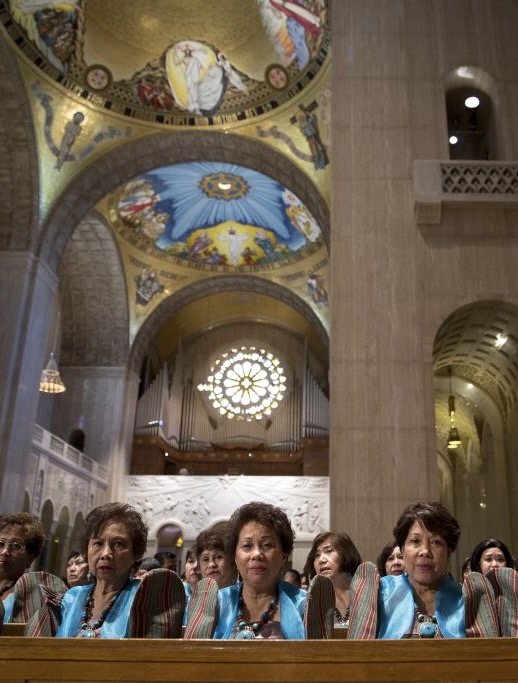 If you would like to tour the Basilica with your church or school and plan on having between 30-150 people in your group, we invite you to submit a pilgrimage request for the date you would like to visit. Whether you would like to schedule time for communal prayer or hold a private Mass, there are a variety of options to choose from as you tailor your tour to your group's needs.
The National Shrine is also privileged to host Diocesan Pilgrimages, in which your Diocese, led by your Bishop can spend an entire day at the Basilica. The pilgrimage may start with a morning welcome from a Shrine Priest, followed by communal prayer. After that, your group will be free to visit Tour Stations, participate in the Sacrament of Reconciliation, as well as shop in The National Shrine Shops. You may also have the opportunity to arrange guest speakers for special presentations, and even listen to concerts of Sacred Music.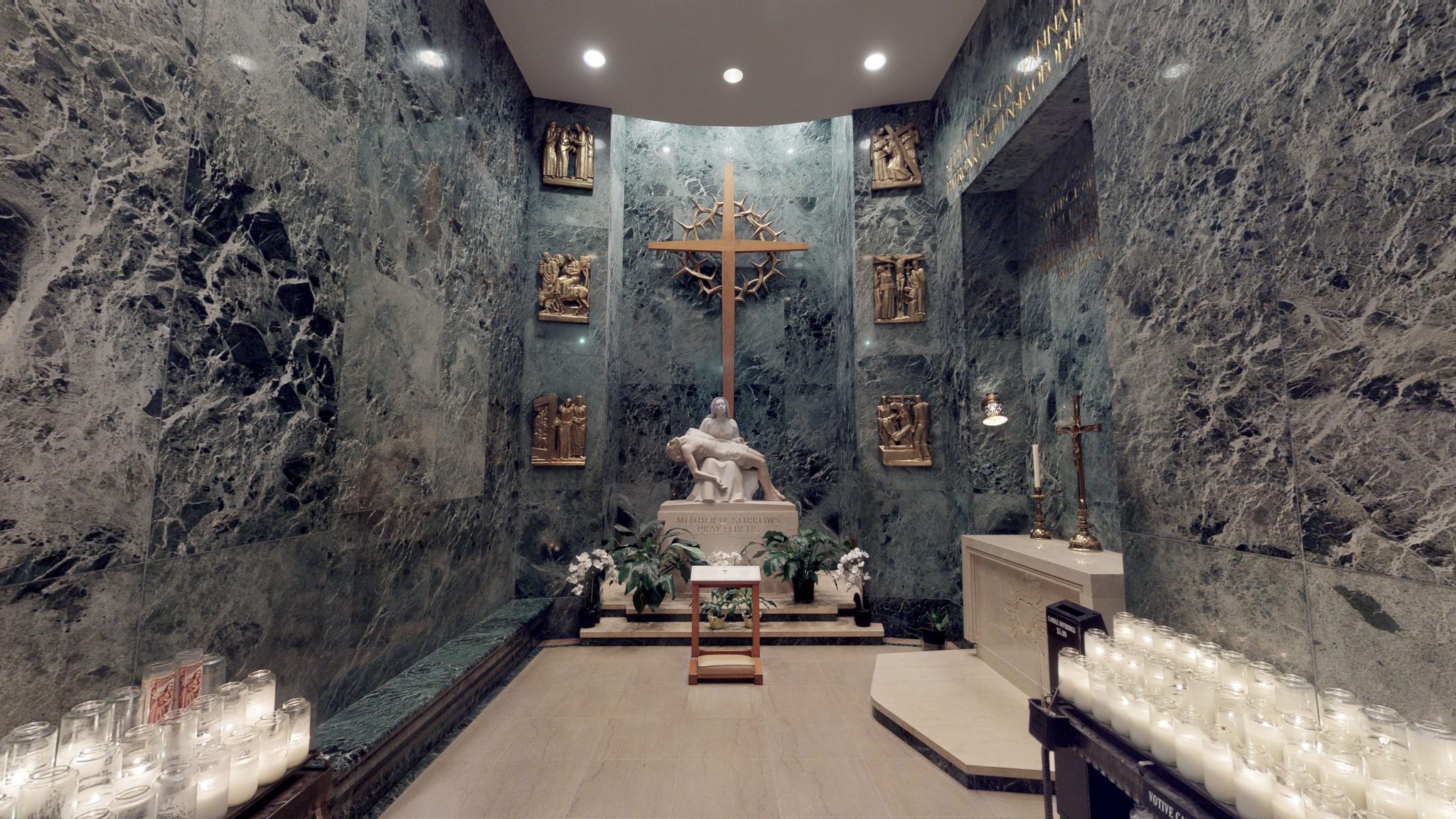 Take a Virtual Tour
Unable to see the Basilica in person? Don't worry! You can still experience its stunning art and architecture in immersive 360° in our Virtual Tour! With this unique feature, you can view all 80 chapels and oratories located on the Basilica's Upper and Lower Levels. Look up at the thousands of tesserae that make up the Trinity Dome and experience the quiescence of the Our Lady of Sorrows Chapel with the simple click of your mouse. For information about the chapels or significant pieces of ecclesiastical art, hover your cursor over the area to read more about it.
Unsure where to start? Consider reaching out to the Office of Visitor Services, who will be more than happy to discuss your options for visiting Mary's House. 
Why Visitors Love the National Shrine
From our stunning artwork to our friendly staff, discover why visitors love touring the National Shrine in the reviews below.
"The tour was excellent! We learned so much about all that went into the Shrine. It is so beautiful!! A must see." – Mar L. 
"This national treasure compares favorably to any of the great cathedrals of Europe for beauty and grandeur.
It's well worth the effort to get there." – Eric M. 
"A must-visit –  even for people who are not Catholics. The Basilica is breathtaking. The statutes are beautiful, and the artwork is gorgeous. It is amazing to see the thousands of people who come from all over the U.S. to visit. The grounds are kept so beautifully. Everything is so organized, from the different tours to the Masses attended by thousands. A once in a lifetime experience." – Nettie G. 
"Most beautiful Shrine in this hemisphere –  you have to travel to Rome to do better." – Tony Q. 
"It was a wonderful experience. The staff are amazing, and every single member of the security team went out of their way to help with directions… everyone was extremely friendly. You feel very blessed as you tour this beautiful place." – Michael E. 
If you're considering touring the National Shrine, we encourage you to visit nationalshrine.org/tour and plan your customized tour today!