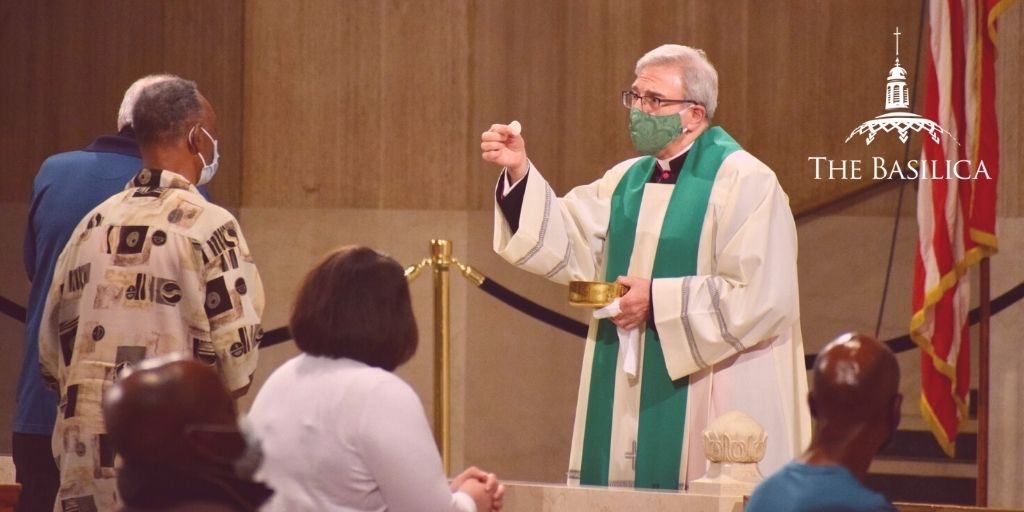 As the COVID-19 pandemic recedes and restrictions are lifted, the Basilica is eager to welcome you back to Mary's Shrine and remains committed to doing its utmost to ensure the health, safety, and welfare of all of our visitors. Here's the latest information to help you plan for your visit.
Cleaning Procedures
For the health and safety of all visitors, the Basilica is thoroughly sanitized daily.
Face Coverings
Face coverings must be worn at all times while inside the Basilica and must cover your nose and mouth, except when receiving Holy Communion.
Entering the Basilica
Monday-Saturday, all doors of the Basilica are currently open for entry and exit. For Sunday Mass, please enter through the front lower level East Entrance (Gift Shop side facing Michigan Avenue) or the East Portico doors. If you are exhibiting symptoms of illness, we request that you stay home; you will not be permitted to enter the Basilica.
Once inside the Basilica, visitors must maintain a social distance of 6 feet from others, abide by signage, and follow the direction of Basilica personnel for the health, safety and welfare of all.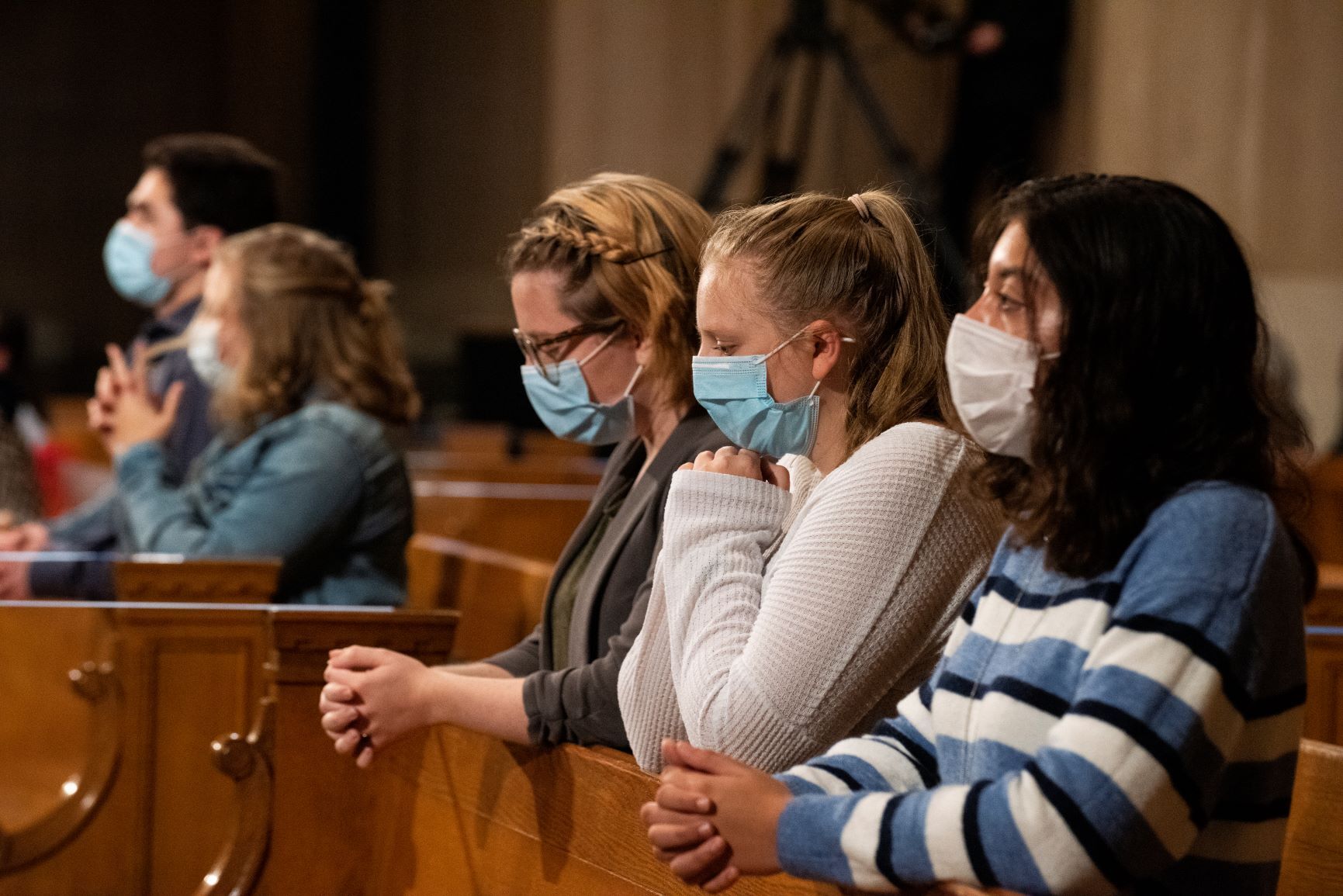 Mass Schedule and Procedure
Daily Mass is celebrated Monday through Friday at 7:00 a.m., 8:00 a.m., 12:10 p.m., and 5:15 p.m.  On Saturday, daily Mass is celebrated at 7:00 a.m., 8:00 a.m., and 12:10 p.m. Also on Saturday, the Vigil Mass for Sunday is celebrated at 4:30 p.m.
Visitors must sit in marked pews to ensure social distancing. Seating for families is available.
Immediately following each Mass, Mass attendees must exit the Great Upper Church as directed.
Holy Communion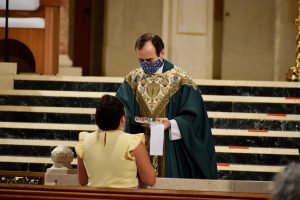 Holy Communion is taken under one species. When it is time to receive Communion, please follow all directions from Basilica staff in order to streamline the process and keep it safe for all participants.
You will proceed to the altar in single file, while observing social distancing. If you would like to receive Holy Communion in the hand, upon approaching the priest, extend the hands with the right hand under the left as the Sacred Host is received. Then step to the side and receive the Sacred Host carefully and reverently. Holy Communion may also be received directly on the tongue. Return to your pew while continuing to maintain a distance of at least 6 feet from other people.

Confessions
The Sacrament of Reconciliation is available Monday through Saturday from 9:00 a.m. to 12:00 p.m. in the Transept Chapels of the Great Upper Church (Our Lady of Mount Carmel, Our Lady Help of Christians, Our Mother of Perpetual Help, and Mary, Queen of All Hearts).  There are currently no Confessions on Sundays.
Face coverings must be worn at all times during Confession.
As before, penitents have the option to confess anonymously or face-to-face.
Exposition and Benediction of the Blessed Sacrament
Exposition of the Blessed Sacrament will take place Monday-Friday in the Crypt Church.
Monday-Thursday
Exposition of the Blessed Sacrament will take place following the 8:00 a.m. Mass. Benediction will take place at 12:00 p.m.
Friday
Exposition of the Blessed Sacrament will take place following the 12:10 p.m. Mass. Benediction will take place at 5:00 p.m.
Private Prayer
For those desiring private prayer, the Crypt Church and all chapels of the Basilica is open from 7:00 a.m. to 6:00 p.m. daily.
Candle Lighting
Visitors may light candles in Memorial Hall and Chapels throughout the Basilica.
Cafeteria, Tours, and Photography
Please keep in mind that our cafeteria is currently closed. Guided tours are available upon request. To request a guided tour, please click here. Audio tours are not offered at this time. The use of photography is permitted at the Basilica. To view the Basilica's Photo Policy, please click here.
Gift Shop and Bookstore
The Gift Shop and Bookstore are open daily from 9:00 a.m. to 5:00 p.m. Please wear a face covering and follow social distancing guidelines.
Thank You for Your Understanding
Thank you in advance for understanding as we all work together to ensure the health and safety of our visitors and staff.  We look forward to welcoming you to Mary's Shrine!  God bless you!